egy.com suggests following articles
Several of my articles on Garden City were plagiarized word for word by novelist MEKKAWI SAID (winner of the Egyptian State price for literature!!!!) and re-published under his own name in a three-part series in El-Masry El-Youm daily in September 2015.
Cheers to our "talented" literature prize awardee. Your pain his gain !!!
EGY.COM - LANDMARKS - CAIRO - HELIOPOLIS
ADIEU SAN STEFANO
by Samir Raafat
Cairo Times, 1 January 1999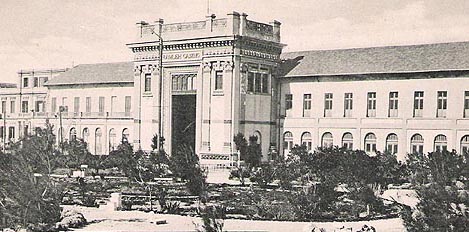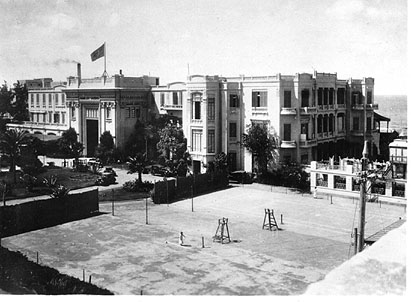 Penciling his recollections of Ramleh, a sandy bayside stretch east of old Alexandria, Dr. Charles Pecnik remarked that Hotel Casino San Stefano was managed by the Egyptian Hotels Company owned by hospitality czar George Nungovich Bey.
"Any one of the hotel's 100 rooms could be rented for 25 piasters per day with a favorable discount in winter. Amenities included a theater, a concert hall and a private beach, certainly more than that which is offered by the nigh yet more expensive Baghdad Hotel belonging to Serpos Bey."
When Pecnik wrote the above words in 1901, the fin de siècle hotel was in its fourteenth year. Constructed in 1886-7, the original Hotel San Stefano (it changed ownership and appearances several times) was conceived by Boghos Nubar Pasha, son of Armenian statesman-administrator Nubar Nubarian, a sometime prime minister of Egypt. A graduate of the Ecole Central in Paris, Boghos was infatuated with the celebrated casinos and seaside resorts dotting the Franco-Belgian coast between the fashionable towns of Deauville and Ostende. Sure enough, the result was Ramleh-Les-Bains's Casino San Stefano.
Renaissance architecture and belle époque ambiance notwithstanding, other European ingredients also made it across the Mediterranean. On 24 May 1906, the Casino's menu featured a range of continental dishes. Sample this:
Baron d'agneau Renaissance
Medaillons de foie gras à la gelée
Petit poids nouveaux à l'anglaise
Aiguilletes de dindonneaux
Rotis à la broche
Salade de saison
Bombe marquise
Friandises
Dessert
No wonder San Stefano was so highly recommended by His Imperial Highness Archduke Louis Salvator of Habsbourg, an Alexandria regular. Another royal gourmet was Egypt's Austrian-educated khedive. Whenever he stayed at his mother's neighboring hilltop saray (later nicknamed Palace of Sorrows), Abbas Hilmi II would pop in for Viennese pastries, a welcome diversion when he was not supervising the construction of his seaside palais de chasse, Montaza Palace.
In Pecnik's days San Stefano was reached by horse carriage via Strada Rossa or "Red Street" (afterwards King Fouad Avenue now Tarik El Horeya), so named because it was covered with reddish potsherds from the ruins of Roman Alexandria. The Corniche would be introduced much later. Alternately, there was the legendary Alexandria tramway which, in 1890, peaked at 24 trains per day. Both the Bacos and Schutz tram lines ended at the San Stefano terminus. A line was extended eastwards in 1909 in time for the inauguration of Victoria College, a school which subsequently made Middle East history, its fate crossing that of the casino-hotel.
Had Pecnik counted the chairs belonging to the seaside casino-hotel he would have found that 5000 chaise-longue were barely sufficient on Sundays. Moreover, the waiting list to join the genteel San Stefano Club was twice as long as its 425 membership. As the Eleusian Riviera --a term used by Pecnik to describe Ramleh-- became increasingly accessible, the casino-hotel owners decided to act in response to these welcome statistics so that Nicolas Sabagh, the Syrian manager, commissioned architect Leon Stienon of the Alexandria Municipality (and part-time Dutch consul-general) to add a new a western wing. In those days, the much-enlarged hotel was run by Alexandria's maverick hotelier, signor Luigi Steinschneider who later became the director of Zamalek's Gezira Palace Hotel (now Marriott). Both hotels were then owned by Les Grands Hotels d'Egypte ex-Nungovich Hotels.
But what about the Baghdad Hotel Pecnik referred to? Where was it and what became of it?
Well, it appears Hotel Baghdad stood a stone's throw from Casino San Stefano thus its main competitor in the Ramleh area. It was managed by Madame W. de Belinsky et Garanilsh who, like George Nungovich, also hailed from Central Europe. For austerity reasons brought on by World War 1 both establishments merged becoming the San Stefano Palace Hotel and Casino which was now fully owned by Les Grands Hotels d'Egypte S.A. ex Nungovich Hotels.
The leading shareholder and director general of the Grands Hotels d'Egypte was Egypt's undisputed hospitality baron the Swiss Charles Baehler. During the interwar period he was responsible for running Egypt's top Hotels and Casinos from Alexandria to Aswan all of which, and up until World War II, were either directly owned or managed by the above company as well as by The Egyptian Hotels Limited also presided by Baehler.
Like what happened during World War I, the following World War also had devastating effects on Egypt's hospitality industry. One of the many collateral damages was Hotel & Casino Sand Stefano.
When he returned from England on 10 October 1939, in time for the new school year, Mr. Walter Ralph Reed, the apocryphal headmaster of Victoria College, learned he was henceforth the quasi director of the San Stefano casino-hotel. At the outbreak of WW2, the British army had transformed his school into a makeshift military and navy hospital. In return, the empty Hotel & Casino San Stefano was 'borrowed' from its new owner, Mr. Albert Metzger (owner of the Cecil Hotel), and transformed into a Victoria College in extremis.
If the new premises were not the perfect substitute, bewildered students soon discovered how a grand ballroom could make an excellent skating rink. Likewise, schoolmasters were more than satisfied with their appointed suites.
Mirroring the post war diminution of Alexandria as Egypt's commercial center and the subsequent departure of the city's powerful taipans, San Stefano fell on hard times. Besides, Alexandria no longer featured on the international cafe society's itinerary. Like many of its European counterparts, the grand old lady of the coast had become a dinosaur kept alive through doses of uneconomical subsidies. For all the airs the hotel's reservation clerks had put on in the past, they were now obliged to cater to undiscerning blue-collar vacationers. Mismanagement by an unimaginative public sector company did the rest.
Today, just as history seems to be smiling on the nation's second capita,l and as our century comes to a close, very possibly, next summer's vacationers will find builders and big cranes in place of the San Stefano. It is no secret that seaside real estate is amongst the steepest in Alexandria fetching the highest average rental rates. Consider too that the century old hotel was in such a state of advanced rigor mortis so that even privatization can hardly resuscitate it. In other words, hang-on-to-our-old-relics advocates are better off eschewing this one.
---
Another Alexandria's hospitality industry icon is the Cecil Hotel built in 1929 by I. Metzger, a Rumanian Jew and sometime owner of the nearby Metropole and Regina Palace hotels. Metzger died at the Cecil on 21 September 1933 and was succeeded by his sons Albert and Mark.
Albert's grandson John is today involved in a court case for the restitution or compensation for Cecil's sequestration/nationalization during Nasser's regime. Although I. Metzger's heirs won all the related court cases, final settlement is still pending.
---
LETTER TO THE AUTHOR
Subject: Mr. Samir Raafat - Adieu San Stefano
Date: Sun, 1 May 2005 21:55:14 +0200 (MEST)
From: Brigitta Mader
I found your name in the internet as I found your very interesting article on the Casino Ramleh –Hotel. And I was very suprised that you mentioned also the Austrian Archduke Ludwig Salvator, because he is not so well known as other members of the imperial Habsburg family. I am researching about Ludwig Salvator, specially on his scientific work, and have already publishes a lot of various articles about him and made also 2 years ago the first exhibition (in the Austrian States Archive in Vienna) about his personality and scientific work in Austria. In the moment I am preparing a book about Ludwig Salvator and Ramleh. And I intend to come to Alexandria in autumn. So it would be very nice to get in touch with you. It would be very interesting for me to know how you found out that Ludwig Salvator stayed several times at the Casino Ramleh-Hotel. Did you find a guest-list or something else?
---
Subject: Fond Memories of Alexandria
Date: Wed, 4 May 2005 17:46:53 -0400 (Eastern Daylight Time)
From: "Douglas Atwood" email:francineatwood@comcast.net

I was born in Alexandria of the Crusader lineage. My father was a "huissier" in the Foreign Courts of Alexandria. He wore the Tarboush, even though we were of French extraction. In 1947 Farouk had given asylum to all the collapsed monarchies of Europe, King Vittoria Emmanuel of Italy, King Zog of Albania, Michel of Yougoslavia, the Houses of Romanoff, the Calvi di Bergolos, the Queen of Bulgaria with her two children, M. Louise and Simeon. Their father King Boris had been assassinated by the Bolsheviks and they came to Alexandria. I went to school with their children and I still am in contact with Marie Louise of Bulgaria who lives in New Jersey. She had married a German Prince and had 3 children. Her brother Simeon is now Prime Minister of Bulgaria. I married an American diplomat while he served in Egypt.
My name is Francine Rock Atwood.
It gives me la warm feeling to read about the Kings of Egypt.


Email your thoughts to egy.com
© Copyright Samir Raafat
Any commercial use of the data and/or content is prohibited
reproduction of photos from this website strictly forbidden
touts droits reserves