egy.com suggests following articles
Several of my articles on Garden City were plagiarized word for word by novelist MEKKAWI SAID (winner of the Egyptian State price for literature!!!!) and re-published under his own name in a three-part series in El-Masry El-Youm daily in September 2015.
Cheers to our "talented" literature prize awardee. Your pain his gain !!!
EGY.COM - LANDMARKS - CAIRO - HELIOPOLIS
ALEXANDRIA'S
MAISON DE SUEDE

by Samir Raafat
Cairo Times, July 23, 1998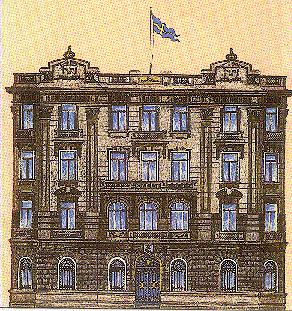 Could it really be that cracking, peeling Alexandria was once --not so long ago-- the pearl of the Mediterranean? In fairness, the new governor is doing his utmost to viagra-te the city from its free-fall plunge shabbiness. First, palm trees are being planted all over the place --on the corniche, at the city's entrance and on the road to Nouzha International Airport. Then there's the widening of the corniche, a project that's being carried out over several tedious phases. And there are new sidewalks, public benches and concrete marquees. But more importantly, that legendary row of handsome pre-modern housing facing Alexandria's eastern harbor is being whitewashed. And high time too, for most of the buildings located on the former Promenade Reine Nazli --the main access road to Ras al-Teen Palace, official residence of Egypt's monarchs and presidents-- were built between 1910 and 1930.Some of them looked like they hadn't been looked after since!
One of these buildings has been skipped by the whitewashers, however. Moreover, it appears that much more than a simple bucket of diluted white paint is in store for it. In fact, Swedish architect Arne Wasslund of the Property Management Group of Stockholm, flew in from Sweden to look it over last June. And why not? The edifice in question is the former Swedish consulate-general, an exquisite 19th century-style building definitely worth listing as an architectural landmark if such a list exists. Regrettably, no one seems to remember the name of the architect who built it. (later it was attributed to Armenian architect Onnig Meras of No. 9 Cherif Pasha Street, Alexandria)
So next time you're on Alexandria's 26th of July Avenue, as you pass No. 57 (formerly No. 110 Promenade Reine Nazli), zero in on that area above the doorway. You will espy the initials CWG engraved just above the iron portico. Look again and you will note a larger-than-life chiseled royal Swedish coat of arms.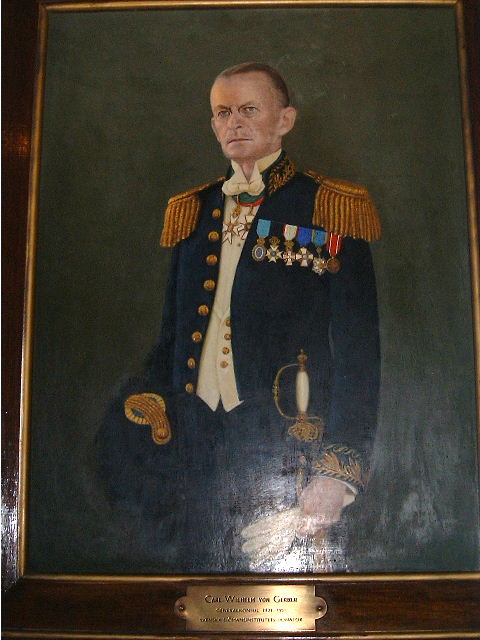 Commissioned in 1924-5 by the German-born Swedish businessman-diplomat Carl Wilhelm von Gerber, the 25-room, four-story hotel particulier doubled as a residence and place of work. In those days it was not uncommon for consuls to practice a trade in parallel with their representative functions. So that besides issuing safe-passage passports and notarizing bills of lading, Gerber was into timber and Shipping--the former being a lucrative trade given Egypt's dependence on wood imports. (Gerber is listed in a leading 1934 Commercial Directory as "dans le commerce de bois et de scierie, agence de navigation, 264 Rue du Mexx (Wardian), tel 1948; Boite Postal 1261).
Beyond his business and consular work, Gerber was a hobby archeologist and more importantly, a philanthropist. He was also president of the prestigious Alexandria Archeological Association and an honorary trustee of a school for the blind which he helped found. His tenure in Alexandria encompassed four decades including the turbulent WW2 years when services from neutral diplomats were in high demand. Hard to imagine queues of endless European refugees outside what is now a lonely dowager building. In any case, Gerber received several post-war decorations for his gallant services.
When Gerber died childless in 1959 aged 76, his brother, Captain Tag von Gerber, donated the mansion to the Swedish Board of the Seamen's Welfare. Hence, to this day the building serves as a Swedish Seaman's Institute along with its original function of consulate general.
"Actually, it served a triple role" remarks Karen Wassef, unofficial doyenne of Egypt's Swedish community. "It is at Maison de Suede that ceremonial sermons are officiated by Reverend Mats Hoegelius, the ranking Swedish priest in Egypt."
Yet a title and deed search will reveal that the building's titular owner is listed as SKUT (Swedish Church Abroad).
With time the Nordic seamen stopped coming. Labor unions and minimum wages made them the most expensive in the world. Today, the Scandinavian merchant fleet relies on cheaper Asian substitutes.
Meanwhile Alexandria's Swedish contingent, never a large one to begin with, either expired or departed. And since traveling by ship is a thing of the past, the Swedish consulate became redundant.
Ever since the departure of Bo Hanson in 1995 there has been no Swedish diplomat in exercise in Alexandria; his functions taken over by an honorary consul. Left with the choice of auctioning off the building--as has happened to many of its Western-owned counterparts--or turning it into something useful in conformity with the spirit of von Gerber's stipend, the Swedes chose the latter.
As the Norwegian-designed Bibliotheca Alexandrina becomes a reality on one side of Alexandria's East Harbor, a Swedish cultural and economic Foundation is taking shape on the other. Headquartered in Gerber's former hotel particulier, the Swedish-Alexandrian Institute will be the first Scandinavian cultural/economic center of its kind in this part of the world. Its primary function will be to contribute to the much needed dialogue between European and Muslim cultures.
The new Swedish Institute will be the fourth of its kind in the Mediterranean region after Rome, Athens and Istanbul. Its other functions will be that of organizing conferences and dialogues between Swedish/European and Egyptian/Islamic scholars while supporting political, cultural and academic exchanges.
A century and half ago, Alexandria's mains seaside square was designated Place des Consuls in honor of the many consulates that opened there--a resounding testimony to the prominence of Egypt's port city. Apart from the WHO (World Health Organization) regional headquarters, the French and Italian consulates are all that remain in Alexandria in the way of continued and uninterrupted European representation. Now Maison de Suede will take its rightful place among the happy few.
Many thanks to Dr. Karima Khalil for her much appreciated comments (below).
---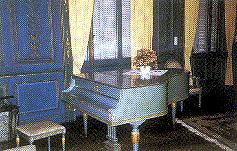 Have just came across the Maison de Suede article on your site. I remember the building very well, having spent many afternoons and evenings exploring it while my mother, a long-standing Alexandria resident (Kerstin Khalil) had coffee and visited with the other Swedes.

The (Maison de Suede) first floor was the consulate, as you pointed out. It was a series of beautiful large rooms overlooking the corniche, with exquisite wood paneling.

Up one floor, on the second, was what was originally Von Gerber's official reception rooms and what rooms they were ! A huge double reception painted in the light blue of the Swedish flag, with all the intricate moldings highlighted in gold paint. Some of the original furniture was still in place, when I knew the building in the seventies, mainly some chairs and a grand piano, all also painted blue and gold. Off one of the reception rooms was the library, with a massive billiards table, in addition to floor to ceiling bookshelves. On this floor also were a room with a ping-pong table and a small room where church services were held for the tiny Swedish community of Alexandria, (which for many years consisted of four women, my mother being one of them) on Sundays and at Easter and Christmas.

The consul/priest (usually the same person) lived one floor up, on the third floor, in a series of also beautiful high ceiling rooms. There was a smaller apartment next to his reserved for the Swedish assistant and his wife who were usually a young couple.

On the roof there was a beautiful roof terrace with a pergola and some guestrooms that had a panoramic view of the sea.

As for Von Gerber himself, I believe that he died in the mid- to late fifties(?) Apparently he slipped in the bathroom. He owned a company which produced matches and was still standing a few years ago in Alexandria's Mexx District It had a crenellated stone tower on which you could make out the three Swedish crowns."
---
The Swedish Institute was inaugurated at 11:15 on 3 October 2000 in the presence of Foreign Ministers Anna Lindh of Sweden and Amr Moussa of Egypt.
The Institute's director: Mr. Rolf Carlman
Board of Directors
Pierre Schori, Chairman, Ambassador of Sweden to the UN
Rolf Carlman, Direcctor of the Institute
John Hagard, Ambassador, Head of the Middle East Departments and North Africa at the Swedish Foreign Affairs
Carin Norberg, Director of Department, Swedish International Development Cooperation (SIDA)
Annika Rabo, Associate Professor, University of Stockholm
Erland Ringborg, Director General Swedish Institute, Stockholm
Monica Sundstorm, Executive Director, Federation of Swedish Community Councils
Peter Weiderud, Director General for International Affairs, Church of Sweden
Karin Adahl, Associate Professor, Curator Museum of Mediterranean and Near East Antiquities. Present owner of building: The National Property Board (Statens Fastighetsverk), Sweden.
Renovated 1998-2000 by Property Management Group and Rex Construction at a total cost of 19 million Swedish Kronor
e-mail the Swedish Institute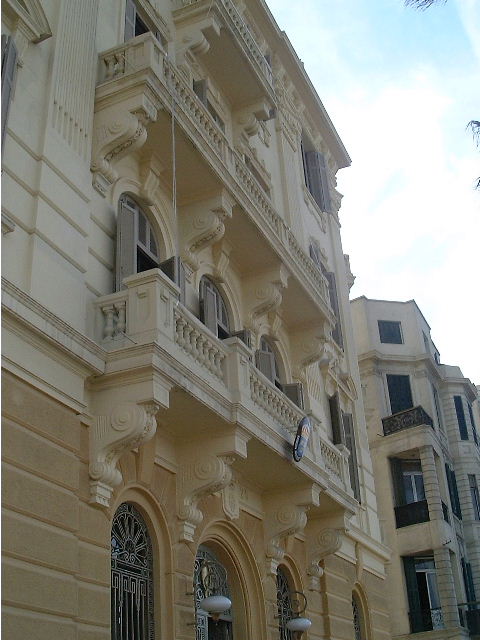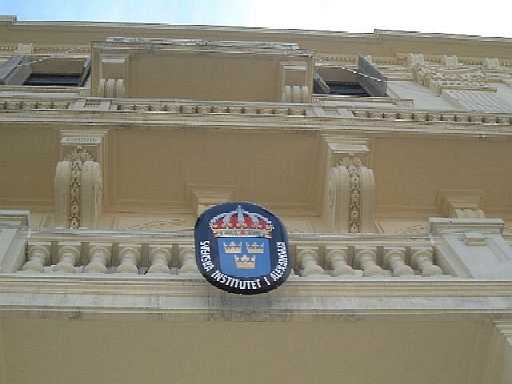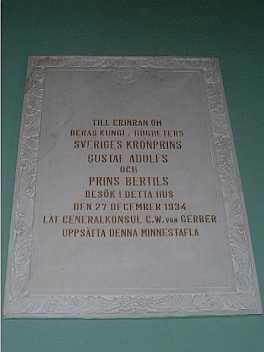 Reader Comments
Subject: General-Consul Carl Wilhelm von Gerber again :-)
Date: Wed, 19 Sep 2001 03:18:14 +0200
From: SVEN LINDEBERG
About the former Swedish General Consulate in Alexandria, I would like to tell You a rather chilling story from the period around von Gerber´s death , autumn 1959. Including Murder allegations and his Returning Ghost ! BUT - I am not doing it as an ordinary mail, attached to Your article. If You are interested, give me a tellephone number, where I can reach You, and I will tell You more about that autumn.

C.W. von Gerber was born 12.May 1883. Born in the small idyllic country-side town of SOLVESBORG, southern Sweden, 120 km NE Malmoe. Please, correct the nonsense about his "German-born" origin. C.W. von Gerber died suddenly in the early hours of 19.August 1959. - There are strong hints in his filed correspondence in the Swedish Foreign Office, that he himself designed his maison particuliere,even if Director Rolf Carlman told us about a blueprint from 1924 with an almost illegible italian name. (Onnig? Meras?Mearaj?). Von Gerber was appointed General Consull during two periods; 1925-26 and 1939-1951.Even after his retirement, he had the right to keep the title, even if E. Dehlin was the new General Consul during the nationalization process of foreign assets, like The Nile Match Company, etc) Respectfully Yours



---

Subject: Inauguration of Swedish Institute
Date: Sun, 22 Oct 2000 16:39:53 +0200
From: Ingvar Skaneland&quot

I have been reading the new article on the Swedish Institute, concerning its inauguration on 3 October. Many thanks for having given this resume´ of the background!
I have been talking to some people in Sweden who were present on 3 October, e.g. to Professor Gösta Vitestam from Lund. As a matter of fact, I was on the point of getting a flight ticket myself to be present. I know quite well Mr. Rolf Carlman who visited the Academic Middle East Association in Lund some time ago. Mr. Carlman is the Director of the Institute.
I hope that my visit to Alexandria will take place in the future.
Best regards,
Ingvar Skaneland

---

Subject: Palais de Suede
Date: Thu, 1 Mar 2001 14:37:47 +0700
From: swedtrade

Dear Sir,
Thank you for an excellent and impressive report on the Palais de Suede. It warms the heart of a former Middle East Director.
Sincerely
Jan Nordlander
Sweden's ambassador to Bangkok
Email your thoughts to egy.com
© Copyright Samir Raafat
Any commercial use of the data and/or content is prohibited
reproduction of photos from this website strictly forbidden
touts droits reserves