egy.com suggests following articles
Several of my articles on Garden City were plagiarized word for word by novelist MEKKAWI SAID (winner of the Egyptian State price for literature!!!!) and re-published under his own name in a three-part series in El-Masry El-Youm daily in September 2015.
Cheers to our "talented" literature prize awardee. Your pain his gain !!!
EGY.COM - LANDMARKS - CAIRO - HELIOPOLIS
LA MAISON DES ARTISTES

Samir Raafat
Cairo Times (unedited version), February 8, 1998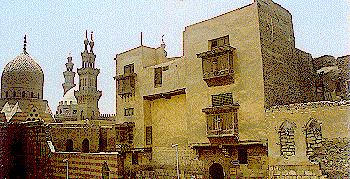 A filthy hara (alleyway) at the base of the Citadel awakened from its Kevorkian slumber last week when it received an anorexic layer of asphalt. And while loaders and backhoes removed tons of garbage from the empty lot facing La Maison des Artistes, gubernatorial flowerpots were laid out outside the nearby homes in an effort to camouflage their advanced state of deterioration. By now the local residents knew the game for the celebrated 400-year old Mamluke house was occasionally used for some major social event.
Some local bigwig would visit it the following day!
Darb al-Labana's inhabitants are used to these shenanigans. For centuries they witnessed the remake of history ever since Saladin built the Citadel in the 12th century. For several centuries the towering compound remained the single most fortified area in Cairo. First the Mamluke (slave kings) and later Mohammed Ali used it as a stronghold. Then, when the British army vacated it after WW2, the Egyptian military made good use of it before turning it over to the civvies. There are also those who remember imposing funerals, bringing colorful corteges to the nearby Al Rifai mosque where Egypt's royals are buried. The last such interment was when the exiled shah of Iran was laid to rest in July 1980.
And there are those who remember the heyday of La Maison des Artistes when, in 1900, the impoverished Ali Labib family leased part of their three-story arabesque house to Beaux Arts graduate and orientalist Monsieur Fils who was shortly after succeeded by countryman Pepi Martin. A French version of the Engllish military doctor Dr. Gayer Anderson, Pepi was so smitten with Cairo's Islamic quarter that upon marrying, he brought his Lyonnaise bride to the area in 1910 "to impress her" recalls his son Pere Martin, a retired priest at Fagalla's Jesuit School. "Here you will live in an ancient Islamic chateau" Pepi senior promised his wife. On her first day the bride discovered a large snake in her wash bowl. And when a snake charmer exorcised several dozen more reptiles out of the house, the Martins moved hastily out. But Pepi continued to use an upper floor as a private studio until his death in 1950.
One of the first artist-tenants back in 1923 was painter Mohammed Nagi who indulged in nude paintings which contrasted sharply with the surrounding religious symbols. Among the other better known tenants were painter Ragheb Ayyad, poet Edmond Jabes and Egypt's architect for the poor, Hassan Fathi. The latter subleased an entire floor while Sanad Basta, a renowned portraitist, took the basement. Many years later, painter Raouf Abdel Meguid, whose trademark was idealized minarets and popsicle-colored cupolas, rented a corner of the celebrated house. Countless others came, and depending on availability, occupied rooms, nooks or crannies. The lucky ones were those tenants with a view.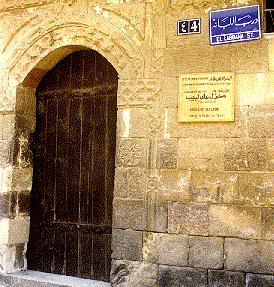 But then who needs a view with such incomparable interiors, remembers Tarek Sharara, a former lodger. La Maison des Artistes is in the same league as Beit Al Harawi, Soheimi and Zeinab Khatoun. Each room is different. If one hall boasts arcades, another is a ceramic-fest and the next one a treasure trove of woodwork. While one room has a gold-rimmed ceiling, the other has the most beautiful arabesque chandelier and the third has no ceiling at all÷only stars and blue sky. And thanks to a network of fountains, shafts and cuppolas, the house is always cool in summer.
Many observers agree it was khawaga Uri Milovitch a.k.a. Milo, an East European Jew, who put La Maison des Artistes on the Cairo social map. Tour leaders and cultural centers booked at "chez Milo" whenever an important group or performing dance troupe was in town. The cinema crowd were also regulars since Milo had spent some time editing subtitles at Titra Film. In a genuine Mamlouk setting they enjoyed the best local fare and entertainment --from kofta and kebab to dervishes, Za'r and Nubian dancers. Guests were invariably met by Umm Sayed, the hunchback gatekeeper who, lantern in hand, directed the new arrivals towards the roof. A view of one thousand years of urban history awaited them!
The not-so-cultural affairs were essentially parties where Milo's stereo÷a novelty at the time÷wowed the wide-eyed novices and titillated the aging, youth-obsessed set. The host seemed to know everyone from Egypt's haute Juiverie (Milo claimed he was related to Leah Nadler wife of Boutros Boutros-Ghali) to its topmost Copterie. At Chez Milo, sons and daughters of pashas rubbed shoulders with the salt of the earth starting with the obliging nearby slumdwellers, most of whom were Milo's friends.
La Maison des Artistes fell on hard times when Milo left Egypt in the late 1960s. A comparable house across the alley (Beit al Dahabieh?) was pulled down the day after its Italian occupant, portraitist Angelo de Riz, moved out. "La Maison des Artistes is with us today thanks to the efforts of the Aga Khan foundation" claims its informal curator, Mr. Ihab Shafik. It was also thanks to Hassan Fathi that the historic house was brought to the attention and subsequent protection of Prince Sadrudin Khan who, for a time, leased part of it.
Today La Maison des Artistes is classified a historic monument dating it back to Mohammed Ali when it was occupied by the Viceroy's treasurer Mo'allem Malty Amin. In its partially rehabilitated state it is used to promote worthy causes such as the one held there recently by UNICEF when it launched the Luginbuhl Legacy Project. A civic project for the benefit of working children. "And," says Shafik who organised the fund raiser, "what better venue to launch a cause benefiting tomorrow's Mamlouks!"
The Pepi Martin collection is on display courtesy of the Hahn Foundation at the renaissance-style Chateau Lourmain in Vaucluse, Aix, France.

Milo's artwork disappeared when the old Omar Khayam Hotel (today Marriott) was destroyed.

Milo relocated in West Jerusalem where he started a new Maison des Artistes.

Of Angelo de Riz works, a paneau still exists at Cairo's cinema Rivoli. He decorated a trendy restaurant in Paris.

Several books were written on Hassan Fathi winner of the Aga Khan Award for Architecture. A mosque and small village designed by him can be found in the state of New Mexico.

Paintings and portraits by Sanad Basta and Raouf Abdel Meguid adorn the homes of Egypt's best.

Ihab Shafik is Cairo's leading interior decorator.

Tarek Sharara is co-director of Cairo's International Music Center (Monasterly Palace). He is also a composer of musical scores and a veteran Radio Cairo presenter of contemporary and classical music.
David Hockney visited and sketched La Maison des Artistes during his 1962 visit to Egypt.
Email your thoughts to egy.com
© Copyright Samir Raafat
Any commercial use of the data and/or content is prohibited
reproduction of photos from this website strictly forbidden
touts droits reserves