egy.com suggests following articles
Several of my articles on Garden City were plagiarized word for word by novelist MEKKAWI SAID (winner of the Egyptian State price for literature!!!!) and re-published under his own name in a three-part series in El-Masry El-Youm daily in September 2015.
Cheers to our "talented" literature prize awardee. Your pain his gain !!!
EGY.COM - LANDMARKS - CAIRO - HELIOPOLIS
C INEMA M ETRO

By Samir Raafat
Cairo Times (unedited version), Thursday, May 15, 1997
---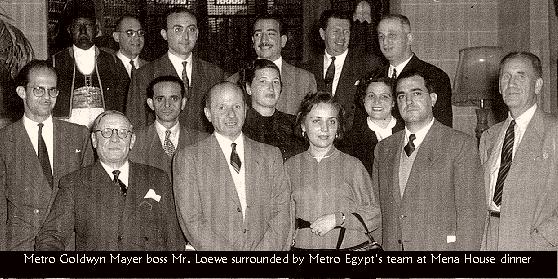 When, in 1939, Hollywood powerful David O. Selznick's "Gone with Wind" blew out of Hollywood, Cairo moviegoers were already queuing up at the newly-opened MGM Cinema Metro theater on 35 Soliman Pasha Street (today Talaat Harb) in order to savor Vivian Leigh's decollete and take in America's steamy south. It was with some justification that Cinema Metro sported the words Îpride of the Orient' under its roaring lion logo. Built according to plans sent from MGM Hollywood - home to Gable, Garland and Garbo - the new art deco theater was the first to introduce air-conditioning in Egypt which made its three o'clock screening the preferred summertime rendezvous for Cairo's white collar professionals.
Pre-dating by some 40 years the 1980s concept of the multiplex, Cairo's MGM complex was a thriving three-story, self-sustaining enterprise. On the ground floor was the city's first ever shawerma diner, the Excelsior. Next to it was the swanky Ford car showroom. On the other side of Metro's entrance there was Cairo's leading shirtmakers "Eid"; The first and second floors provided swish office space for, amongst others, Dominioni, Rossi & Salama Architects, the Metro's builders while across the hallway were the executive suites belonging to MGM.
With their quaint desk top lamps and art deco accouterments, looking more like a newsroom out of an Edward G. Robinson movie than the rep offices of a leading Hollywood studio, MGM's Cairo offices was in charge of distribution rights and the promotion of a popular rent-a-movie service.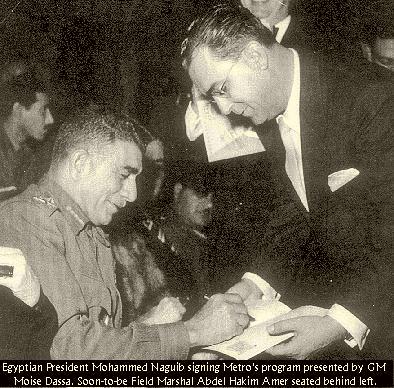 An important home-viewing customer was Gamal Abdel Nasser. Not unlike his opposite number in the White House, he had a preference for Marilyn Monroe, whose crooning of Happy Birthday Mr. President in 1962 must have endeared her to a great many other world leaders. Another Nasser favorite, not an MGM production this time, was Elia Kazan's "Viva Zapata." According to Madame Amirah, a Syro-Lebanese who ran 20th Century Fox's distribution in Egypt, "Colonel Nasser used to watch it over and over again, fascinated with the Mexican Revolution and the peasant's uprise of 1910. Marlon Brando played the part of Emilliano Zapata who was a right hand man of Pancho Villa."
The theater section of the Metro was composed of an upper and lower hall, and a beautifully appointed foyer with a smoking room decorated with paintings. The imported American sanitary fixtures were the talk of the town. The upmarket Îloge' and balcony had upholstered chairs which reclined backwards, inducing the more tired moviegoer into deep slumber. Despite the comfortable seats - and before he became obese - King Farouk would have a special armchair brought in whenever he attended a gala or charity event at the Metro.
Up until the 1960s, MGM dominated the Cairo cinema scene. Runners up were the Middle East Motion Pictures Co. (Abdel Fattah Mansour) agents for Republic Pictures International Corp.; Monogram International Corp. of New York, and Associated British Pathe Ltd. of London. There were also Fox's Cairo Palace and Socicete Orientale du Cinema which ran 40 cinema theaters in Egypt as well as the firm of Gaafar Brothers which managed the handsome Opera, Radio, Kasr al-Nil and Rivoli (ex-RKO) cinema theaters. None were as innovative or as attention getting as Cinema Metro.
The cinema-going gaiety was briefly interrupted in May 1947 when, during the 3-6 showing of Wallace Beery's film Bad Man Bascombe, a bomb planted in the Metro by the outlawed Moslem Brotherhood exploded killing and injuring a number of people. The theatre was closed for several months and it was some time before Fred Astaire, Ester Williams and Tarzan lured Cairo's movie addicts back to the pictures. But once again, political unrest interfered when on Saturday the 26th of January 1952, Cinema Metro, situated diagonally opposite the targeted British-run Turf club across Adly Street, was destroyed by fire.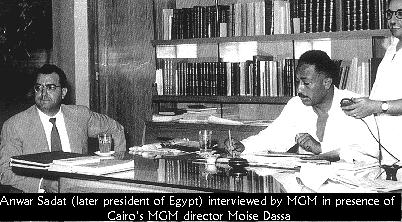 When it was re-built, the Metro's interior resembled an African Savanna with samples of African masks and shields with some wild animals in the background. The re-opening was staged so that a feeling of everyhting was business as usual even though the monarchy had been displaced by the Free Officers Movement led by General Mohammed Naguib. It was therefore a smiling Naguib and a retinue of officers who showed up at the Metro's re-launch received by a smiling Maurice Dassa, who, until his death in July 1955, was Metro's representative and general manager in the Middle East. It was also in the early 50s that MGM boss Mr. Loewe arrived in Egypt. According to architect Victor Salama who shared office space at the Metro theatre compound, one of the movie mogul's first actions in Cairo was the firing of the then-local manager Mr. Shazanz for incomptency and his replacement by Gustave Zelsnick. This was followed by a dinner at the Mena House in Loewe's honor.
The 1950s were good times for Cairo film audiences. They had their first encounter with airborne axes and knives at the Metro's 3D showings - a pair of green and red glasses were handed out with every nine piaster ticket--and there were also popular Friday and Sunday matinees and Xmas day cartoon shows sponsored by the Progres Egyptien when door prizes were given out and when costumed Tom and Jerry look-alikes greeted wide eyed preteens and toddlers as they walked in clinging to an assortment of multilingual nannies.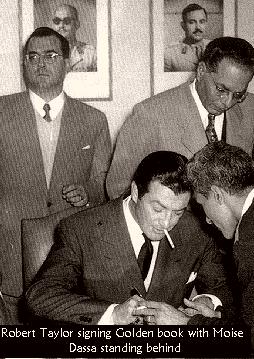 In 1955, Robert Taylor and Eleanor Parker attended the grand premiere of "Valley of the Kings" (directed by Robert Pirosh) which coincided with the festive events that followed the groundbreaking ceremony of the Nile Hilton Hotel on Tahrir Square. It was on that occasion that Samia Gamal dragged Robert Taylor onto center stage where the American superstar, wearing a tarboush and belted the traditional way, danced with Egypt's foremost belly dancer before an enthralled audience. Among the specators watching with amused eyes was Van Johnson.
Despite its nationalization in the Î60s, Cinema Metro had enough clout to make yet another first when it projected the uncensored version of Antonioni's pop culture parable "Blow-up" in which Vanessa Redgrave featured wearing tight Levi's and a naked torso. Even with her arms crossed over her breasts (most of the time) it was considered quite risque at the time. This was a far cry from the days when conservative adults gathered once a week at the Metro to listen to Father Ghorab, a Dominican from Abassia's No. 1 Shari'a Masna'a al-Tarabish (Taboush Factory Street) who lectured on cinema verite; and septieme art or invariably showed a selection of little known Hungarian film. He wold occasionally stamp his foot when he felt his audience had drifted.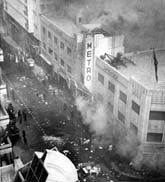 And there were those wonderful midnight seances when selected old movies were shown. These performances had their very own clientele occupying the same seats at each new showing.
The last hurrah of the Cinema Metro came in 1978 when England's Princess Alexandra of Kent attended a special screening of Agatha Christie's "Death On The Nile." But by this time, the Metro was in headlong decline. Even Metro's signature number from John Philip Sousa's march of Sounds and Stripes Forever was no more.
Too long ignored by the state-turned-socialist, the theater deteriorated into a smelly auditorium with stray cats meandering about and a broken acoustic system which struggled to compete with sounds of an undisciplined public eating and spitting pips and fool soudani (peanuts). And with censorship becoming ridiculously austere, going to the movies had become more of a headache than a pleasure.
These days, things are looking up. The buzz word is privatization and cinema is seen as a good investment. Money is currently being pumped into the upgrading and refurbishment of Cairo's downtown cinemas. Near neighbors of the Metro, the cinemas Odeon and Radio have already benefited from being buffed up, refitted and relaunched, and word has it that the Metro is next.
---
Note: Louis Lober was first Metro director in Egypt. Sacha Epstein was another manager at MGM Cairo. After 1949 he became MGM's rep in Perth, Australia.
Pictures courtesy of Clement M. Dassa in Montreal, Canada

Reader Comments

Subject: Cinema Metro
Date: Mon, 11 May 1998 13:28:46 -0400
From: Clement Dassa


To see my dad's name posted in a site from Egypt about the Metro Cinema means a lot to me. Allah yerhamou, he contracted a tropical disease possibly from India while on a business trip there. He was a true son of Egypt who dearly loved his country and who always hoped that the Israeli conflict would be solved by peace. His maternal language was arabic and he new the true soul of Egyptians because he was one of them. He tought me a lot about tolerance and "rahma" which is my actual name! Speaking of names, if it is not too complicated for you I would like to request that you change his first name to MAURICE Dassa. He was not known by his hebrew name Moshe or Moise ! Thank you!
One day, Inch'Allah, I will come and visit my country of birth. When I do, I hope to meet with you and invite you for a nice meal of kebab possibly at Palmyra in Heliopolis!
Best regards, Clement "Rahman" Dassa !!

Photo of Clement Dassa taken by author of this article at a Montreal restaurant, November 15, 2006
Email your thoughts to egy.com
© Copyright Samir Raafat
Any commercial use of the data and/or content is prohibited
reproduction of photos from this website strictly forbidden
touts droits reserves