egy.com suggests following articles
Several of my articles on Garden City were plagiarized word for word by novelist MEKKAWI SAID (winner of the Egyptian State price for literature!!!!) and re-published under his own name in a three-part series in El-Masry El-Youm daily in September 2015.
Cheers to our "talented" literature prize awardee. Your pain his gain !!!
EGY.COM - LANDMARKS - CAIRO - HELIOPOLIS
ADOPT A MONUMENT
HOW ABOUT AN AMERICAN PASHA'S NEGLECTED TOMB?
by Samir Raafat
Egyptian Mail, March 8, 1997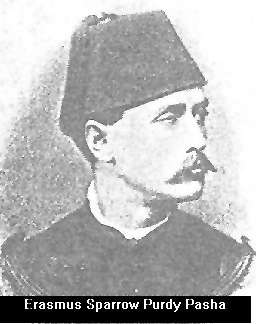 When you ask Soliman Abdallah Mo'awad "Where is al-basha el-Amrikani?" the caretaker of Old Cairo's Protestant Cemetery will automatically direct you to a deteriorating obelisk not far from the graveyard's main gate. Having failed the test of time due to over-watering and neglect one can hardly make out the faded French inscription: "Erastus Sparrow Purdy Pacha, La Société Khédivale de Géographie."
On the obelisk's reverse side it says: "Né dans l'état de NewYork en 1838; Expédition de Colorado 1857-60; Darfur - el Hofra el Nahass 1874-76; Décédé au Caire, le 21 Juin 1881."
There it is, a long forgotten Yankee officer's life story in a nutshell.
At 19 years of age our New York born subject had already explored the Colorado River and less than a decade later he did the same with the sources of the Nile and Africa's Great Lakes. Two great exploits that made it possible for Purdy to join the nascent Egyptian Geographical Society founded on 19 May 1875. And if one were to give credence to his tombstone, he died in Cairo in June 1881 with the lofty title of Pasha implying he had attained the rank of General in the Ottoman Sultan's army.
But unlike Messrs. Nimr and Shoucair, the two Syrian press barons buried next to Purdy's shrine, there is no documented evidence that Purdy actually received the above honorific. We know however that he was the son of lieutenant-governor Samuel Purdy of California and that he did indeed serve under the Khedive of Egypt. But has he actually received a "pashadom" from his generous benefactor? Yet to be validated.
In Hesseltine & Wolf's "The Blue and the Gray on the Nile" (U. Chicago Press, 1961) there is no mention of "pasha" next to Purdy's name. Ditto for "Americans in the Egyptian Army" by Pierre Crabites (Routledge & Sons, Ltd.). However Crabites refers to Purdy 'bey' a title inferior to pasha. No mention either of any American 'pasha' in Mohammed Sabry's book "Empire Egyptien Sous Ismail".
Could the title have insinuated itself posthumously on the tombstone courtesy of a magnanimous Khedivial Geographical Society? It was after all the Society which co-sponsored Purdy's forays into the inky depths of Africa.
Later, when the Society learned that Purdy died harassed and bankrupt leaving unpaid debts of over $1,000, it proposed the erection of a befitting memorial for America's venturesome son. The money for the memorial was raised through a limited public subscription from among the friends and patrons of the Society some of them American.
But let's start at the beginning.
The American Civil War over, a decommissioned Purdy along with 49 other American officers joined Khedive Ismail's army in the 1870s with the objective of establishing a new general staff. If the majority of his countrymen hailed from a disbanded Confederate army, Purdy and a few others were confirmed Yankees. In fact he had served under General Charles Pomeroy Stone of New York. Sharing a passion for geography, together they surveyed the Sonora and Baja California regions.
A graduate of West Point and a man with boundless connections General Stone found ready employment in the Khedive's army and it was on his personal recommendation that Purdy received his commission.


15 April 1877 decree allocating piece of land in Old Cairo for establishment of American cemetery
Yankees and Confederates were thus involved with surveying Ismail's vast uncharted territories up the Nile. Divided into different groups they were also responsible for the expansion of the Khedive's African realm. The frontiersmen from the Far West were now at the vanguard of expeditions into the Sudan and the Great Lakes region to its south. In fact the American contingent in Khedive Ismailís army was important enough so that in 1877, a Khedivial decree set aside 5,000 square meters of state property in Old Cairo for the creation of an American cemetery.
After completion of topographical surveys in the Red Sea's Berenice region, Purdy, Major Alexander McComb Mason and five Egyptian officers set off in 1874 towards Dongola and the capital of Darfour province. One of Purdy's discoveries on that trip was Dar Fertit.
Together with Mason, Major Henry G. Prout and nine Egyptians, Purdy explored the iron mines of Kordofan and completed a minute reconnaissance as far as the Shakka district and Hofrat al-Nahass (south of the Sudan). During these testy expeditions Purdy unwittingly found himself a pawn in the big game of imperial colonialism.
According to the Royal Egyptian Archives, Purdy received orders in 1870 to disembark at Monkas and from there trek towards Lake Victoria by way of the Kenya and Kilimanjaro ranges. His mandate was clear: Anyone--meaning the British or French, contesting Purdy's unannounced expedition into the bush was informed that he was on a rescue mission. Sir Samuel Baker had gone missing and the Khedive was trying to locate his whereabouts.
As it turned out, Baker was located and eventually replaced by General Charles Gordon as Khedive Ismail's governor of the loosely demarcated Equatorial Provinces.
In these days the Egyptian Empire encircled most of East Africa including the Great Equatorial Lakes. But Khedive Ismail's 1873 attempts in establishing military outpost in the Kilima ranges were foiled. The British had gotten wind of Ismail Pasha's expansionist expeditions. At all costs the Khedivial green color was never to manifest itself on the map of Africa. Only British pink!
When Purdy died in 1881 he was no longer in Khedivial uniform. In 1878 most of his American colleagues had either died left Egypt or discharged. Only Mason and Prout remained behind finding civilian employment in the Egyptian government.
Whether Purdy was a pasha, a bey or a colonel doesn't really matter now. What matters is that one of the oldest American landmarks in Egypt is in a very sorry state today. Bringing Purdy's memorial back to its former self doesn't require much in terms of funds or efforts.
There is an American Research Center which has been operating in Egypt (ARCE) for several decades its experts tirelessly supervising restoration works all over the Nile Valley and beyond. Perhaps these same exports can apply some of that 'charity begins at home' cheer especially since Purdy's present habitat is not in distant California but is right under ARCE's nose in Old Cairo.
---
related articles:
New York Times article
Associated Press article
---
Mike Butzgy confirms Egyptian titles given to Americans were based on rank. In his book "Moslem Egypt and Christian Abyssinia" published in 1880, a year before Purdy's death, William Dye states: "In the Egyptian Service, he [Purdy] was promoted to the grade of Colonel and Brigadier-General and received two decorations. This pre-supposes that Purdy must have died a pasha.
---
From: Chris Whitaker <skybluebye@yahoo.com>
CC: cvokral@usaid.gov
Subject: Purdy Pasha
Date: Thu, 12 Oct 2000 21:37:29 -0700 (PDT)

Dear Mister Raafat,

The Saving Major Purdy Project is nearly complete. There will be a dedication ceremony on 6 November and we hope you can attend. Your articles on Purdy were our inspiration!
For the details or an interview, please contact Chuck Vokral. His contact information is:

Charles J. Vokral
Technical Advisor
Office of Privatization and Finance
USAID, Egypt
*** cvokral@usaid.gov ***
516-5505 ext. 3121 fax:519-3005
Home phone:20-2-378-4961

Warm Regards,
Chris Whitaker
---
Date: Mon, 6 Nov 2000 08:56:06 -0500
From:"Shulkami, Nevine (Exchange)" <nshulkami@bear.com>

Beautiful article and beautiful restoration for Purdy. I wish your magic would work on the Egyptian Government like it did on the US. Whether Purdy was a Pasha or not, I think is irrelevant. The idea that a foreigner cared is more important, I think.

Email your thoughts to egy.com
© Copyright Samir Raafat
Any commercial use of the data and/or content is prohibited
reproduction of photos from this website strictly forbidden
touts droits reserves