egy.com suggests following articles
Several of my articles on Garden City were plagiarized word for word by novelist MEKKAWI SAID (winner of the Egyptian State price for literature!!!!) and re-published under his own name in a three-part series in El-Masry El-Youm daily in September 2015.
Cheers to our "talented" literature prize awardee. Your pain his gain !!!
EGY.COM - LANDMARKS - CAIRO - HELIOPOLIS
TIRING DEPARTMENT STORE ON ATABA SQUARE

by Samir Raafat
Egyptian Gazette January 22, 1997; Cairo Times, July 10, 1997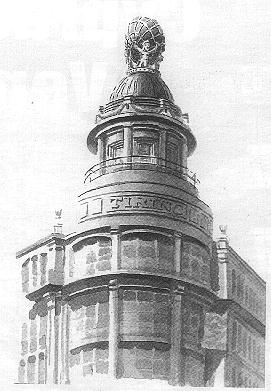 In the recently released Arabic motion picture Al Tofaha (1997), Egyptian superstar Laila Elwi who plays the role of a voluptuous lustful newlywed is in awe of the four statues of Atlas on whose shoulders rests the Tiring department store glass globe. Each morning, to the astonishment of her adoring husband and neighbors, Elwi addresses, implores and cajoles the statues from her slummy one-room shack atop a neighboring building on Ataba Square. Glaring back at her are six faded letters written in Latin script: TIRING.
As seen in the movie, Attaba Square, once the nexus of Cairo's commercial district, is an area where low income dwellers live vicariously among unlimited debris, ragtag shops and wholesale warehouses. The Tiring building is itself the lieu of hundreds of squatters and sweatshops. Yet ask anyone about the history of the building, and the most you'll get is a shrug of the shoulders. One or two will tell you it used to belong to some distant khawagas with unpronounceable names.
Despite the grotesque realities lurking inside and outside the Tiring building, much of it mirroring the urban neglect that characterized the '60s and '70s, in its heyday Tiring's architecture rivaled its Parisian contemporary 'Aux Galleries Lafayette' which still stands proudly on Boulevard Haussman, a shrine of capitalistic enterprise. The architect of the Cairo Tiring - Oscar Horowitz - was one and the same who built many of Europe's commercial masterpieces.
Tiring's original owner was the Constantinople-born Victor Tiring considered by many as the César Ritz of department stores. When, in 1910, he chose Ataba for the site of his Cairo emporium, the famous square stood as a copula between the Cairo of the old and the Cairo of the new. To Tiring's east was the bustling Mousky district, an overpopulated Egyptian casba filled with winding haras (alleys) spewing oriental fragrances and exotic sounds. To its west were the plush French gardens of Ezbekia and the modern boulevard-decked European quarters of Ismailia with its imposing squares, fancy hotels, European style apartment buildings and the Cairo Opera. A tabernacle for Cairo's growing bourgeois culture, Tiring's dominated the whole scene, it's globe shaped glass dome shining brightly into the night.
The Tiring building was completed built in 1912-13 making it the first large selling-floor shop of its kind in Cairo. Its elegant open vistas by far outpaced its older but lesser rival - Stein's Oriental Stores - situated on the opposite side of Ataba al-Khadra Street, (of which only the steel carcass remains today). Tiring's luxurious four floors offered everything in terms of Parisian haute couture and perfumes, English cloth, Austrian textiles and German housewares.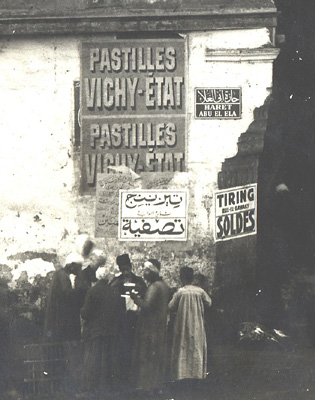 Victor Tiring and his brothers Gustav and Konrad, had joined the leaders of their trade in 1882 when they opened their head office on Praterstrasse 11 in Vienna's second district. Soon after, the firm Victor Tiring & Brothers, Tailors & Exporters branched out all over the Tiring's adopted city and across the Austro-Hungarian Empire. Unluckily for them, just as they set out to open branches overseas, World War I interrupted their expanding activities. Had they consolidated their shopping empire in London instead of Vienna, there could well have been a Tiring on Oxford Street today.
In 1915, Tiring of Cairo, under the management of a Carlo Menasce, was listed - temporarily - as enemy property. The British who governed Egypt at the time had imposed martial law and all properties belonging to enemy aliens had been sequestered. Tiring was eventually granted a conditional license "to trade in Egypt with the British Empire and with the Allies of Great Britain". But due to the loss of its supply sources the sequestered store liquidated its activities in 1920.
Stripped of its original owners, Tiring was in time outstripped by its newer rivals: Cicurel, Sednaoui and Orosdi-Back/Omar Effendi. But in the interlude, and even as the store passed from one hand to another, it was lovingly kept alive by its successive owners. Old-time clients found there a reassuring continuation where shopping remained a form of entertainment and where leisurely ladies could continue to celebrate the rites of unhindered, hassle-free consumption.
As one drives towards downtown Cairo on the Mousky flyover you cannot miss Tiring lurking in the confused skyline to the right. "Look, it's the al-Tofaha building," shouted several youths on a speeding public bus. Evidently they had just seen the movie. Like the rest of the clamorous passengers whose average age was below 40, they had never heard of a Victor Tiring or of a Tiring department store. The six bold letters below Laila Elwi's four Olympian studs meant absolutely nothing.
---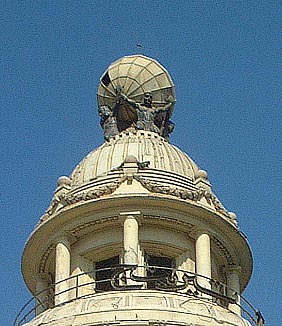 As a result of a local intitiative spearheaded by the incumbent Head of al-Mousky District General Ahmed Adel (al-Akhbar 21 January 2005) Tiring's glass globe was painted over in opaque(!!!) gold and the four Herculean statues carrying it were painted over in charcoal black. So much respecting our heritage monuments!
---
C O M M E N T :

From: Sam (Adolf) Raff - 05/27/99 21:31:26
Email:raffsam@aol.com
Last Address In Egypt: Cairo,in 1946
Presently Resident of: Great Neck, N.Y.
My grandparents lived in Cairo and owned the Tiring department store (begining WW-1) near Ataba Square. My grandfather had the title Raff "Bey" and he lost his business at the begining of WW-1 because he was an Austrian citizen. My parents names were Max Hersch Raff and Anna Raff. My grandmother's maiden name was Stein whose family owned the Stein deptartment store across the street from Tiring. I went to the Jabes school and Lycee Juive. I have two brothers Jacob in N.Y. and Mendel in Israel. I was born in France 1926 and had my Bar-Mitzvah in the Aschkenaze Temple, Cairo. I remember the families: Nadler, Mayer, Banker, Paritzky, maybe the'll see this comment.
---
Email your thoughts to egy.com
© Copyright Samir Raafat
Any commercial use of the data and/or content is prohibited
reproduction of photos from this website strictly forbidden
touts droits reserves