egy.com suggests following articles
Several of my articles on Garden City were plagiarized word for word by novelist MEKKAWI SAID (winner of the Egyptian State price for literature!!!!) and re-published under his own name in a three-part series in El-Masry El-Youm daily in September 2015.
Cheers to our "talented" literature prize awardee. Your pain his gain !!!
EGY.COM - LANDMARKS - CAIRO - HELIOPOLIS
SURVIVING KHEDIVIAL FOLLIES
by Samir Raafat
September 2011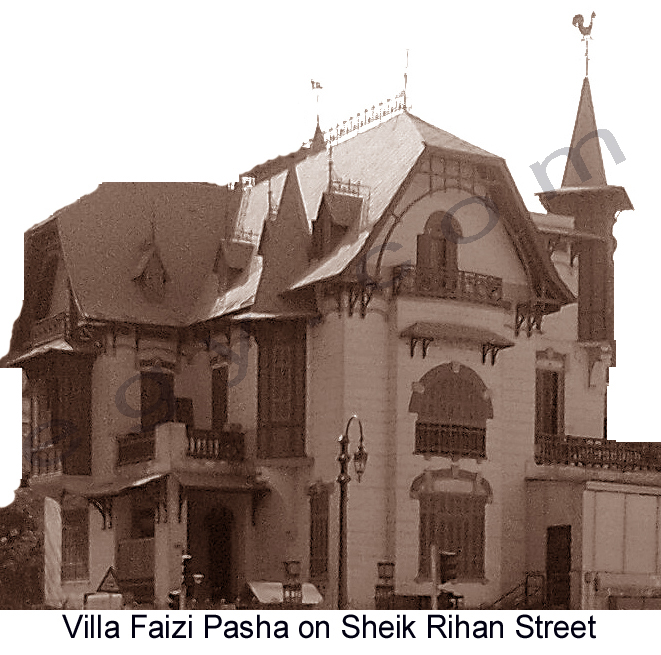 Also known as "Villa Saladin" named after Faizi Pasha's eldest son Salaheldine
Besides being totally out of context, what, one might ask, do these two odd 19th century European-style residences have in common?
For those who never saw them, the rococo shingled-roof, bell-tower Tyrolean villa, nicknamed "Gingerbread House", is located on Dokki's Giza Avenue right behind the Mohammed Mahmoud Khalil Museum.
The other villa, all towers, turrets and trim, stands at the corner of Sheik Rihan and Dawaween Streets in Bab al-Louk, a few meters from the heavily guarded ministry of interior.
To begin with both sport rooster weather vanes flying atop them. At the writing of this paper both are currenty leased to educational institutions. Rococo is currently the Horeya state school and Turret & Trim remains part of the American University in Cairo which had heretofore used it as a co-ed dormitory.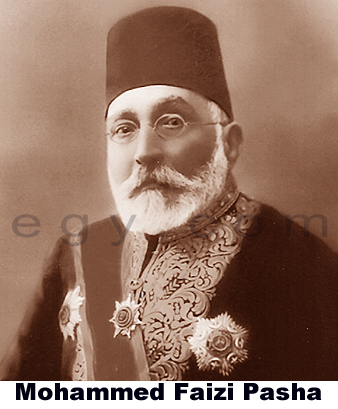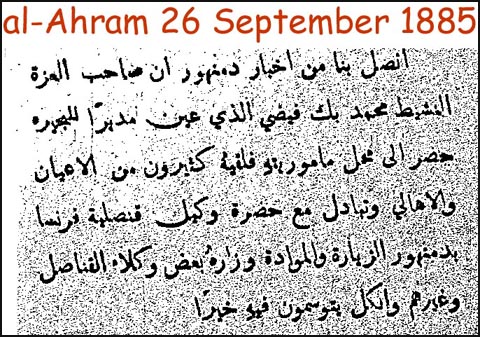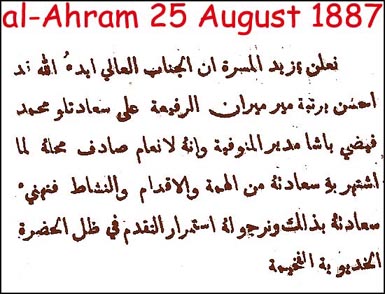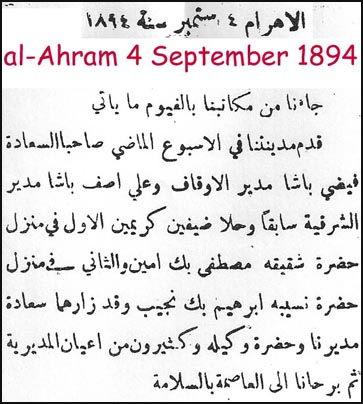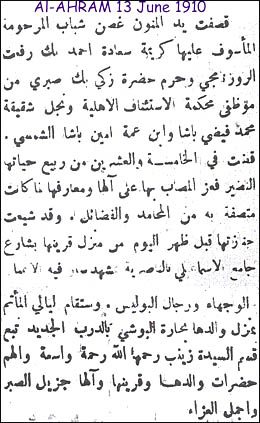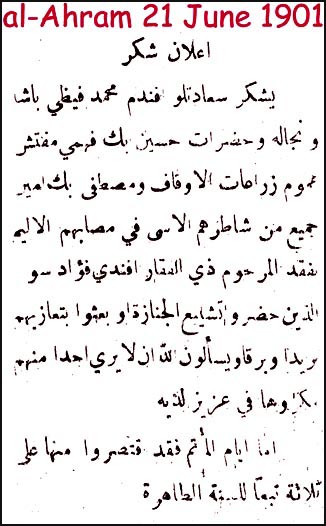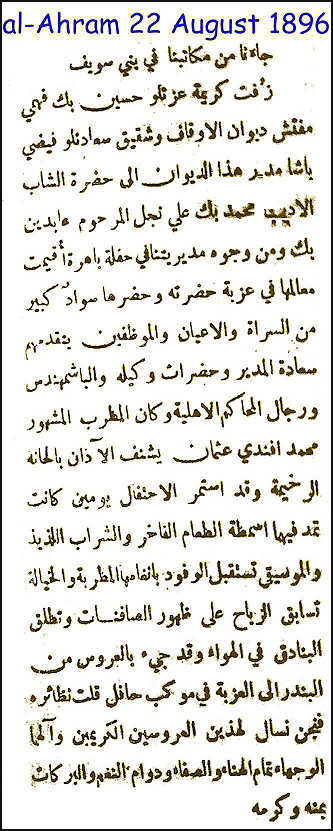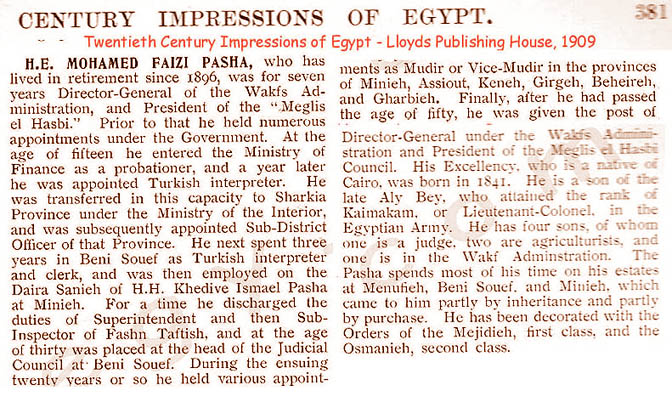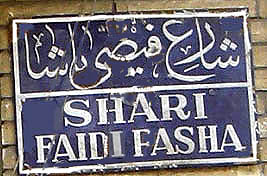 Zapping back to 1901 one imagines their respective owners arriving by horse-drawn carriages surrounded by minions, retinue and liveried footmen befittinh their social status and administrative rank.
Both proprietors were important Ottoman civil servants at the khedivial court. The older of the two, Mr. Turret & Trim, was Mohammed Faizi Pasha, a son of Ali Agha al-Avlonyali ibn Hussein, a Vlöre-born (Albanian) soldier in Mohammed Ali's army.
No pushover, Faizi Pasha ended his career with the rank of minister heading the affluent Awqaf Department from 1893 until 1900. Previously, he was governor of several of the nation's provinces.
Belonging to the inner coterie of Khedive Abbas Hilmi, Faizi was present at landmark events that helped shape modern Egypt. In gratitude, the nation turned out to pay its respects when he died in 1911.
Faizi Pasha's family continued to reside at Turret & Trim up until the 1960s when his grandchildren decided to lease it to AUC.
---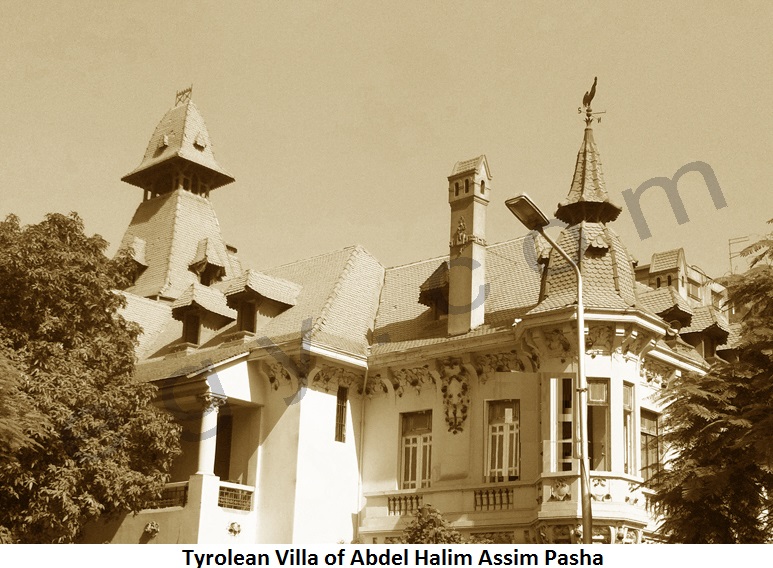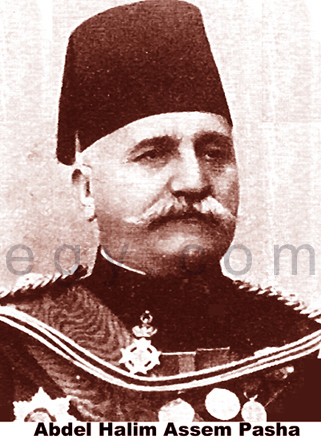 Mr. Rococo, on the other hand, was Ottoman Field Marshal Abdel Halim Assem Pasha. After the Turco-Russian war, the Manastir-born (Macedonia) officer was rewarded with several plum jobs, last of which was head of the Awqaf Department, replacing Faizi Pasha who had just retired.
Like Faizi Pasha, Abdel Halim Assem was an ardent anti-Orabist and a member of the khedive's inner coterie. He sat as judge during the Garimet al-Isyan trials of 1882. Years later, he was rewarded with a regal sendoff worthy of his former military rank.
Field Marshal Assem was blessed with over a half dozen offspring from two different wives--perhaps the reason why his numerous grandchildren thought it best to move out of Rococo and lease it to a leading educational institution headed by the Swedish Ms. Dagmar Berg. When Berg decided to join the nascent American University, Madame Morin, the Frenchwoman who replaced her at Rococo, became famous as headmistress of Giza's leading girls' school.
When and if you drive by these two houses it is well worth a stop for a second look. Having survived against all odds for 110 years, chances are neither of these two houses will make it through this decade…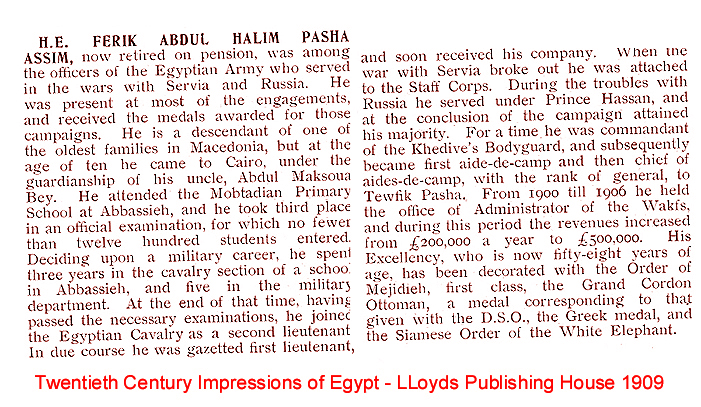 Email your thoughts to egy.com
© Copyright Samir Raafat
Any commercial use of the data and/or content is prohibited
reproduction of photos from this website strictly forbidden
touts droits reserves