egy.com suggests following articles
Several of my articles on Garden City were plagiarized word for word by novelist MEKKAWI SAID (winner of the Egyptian State price for literature!!!!) and re-published under his own name in a three-part series in El-Masry El-Youm daily in September 2015.
Cheers to our "talented" literature prize awardee. Your pain his gain !!!
EGY.COM - LANDMARKS - CAIRO - HELIOPOLIS
RE-LAUNCH OF THE SHUBRA PAVILION
December 2005
researched by Samir Raafat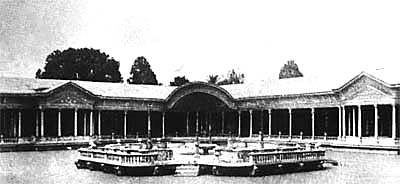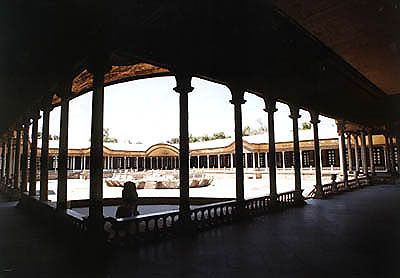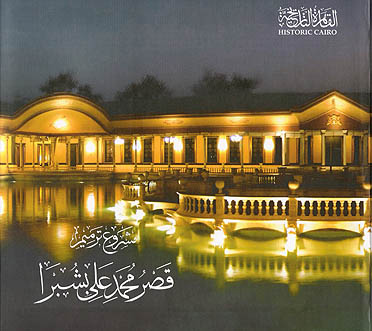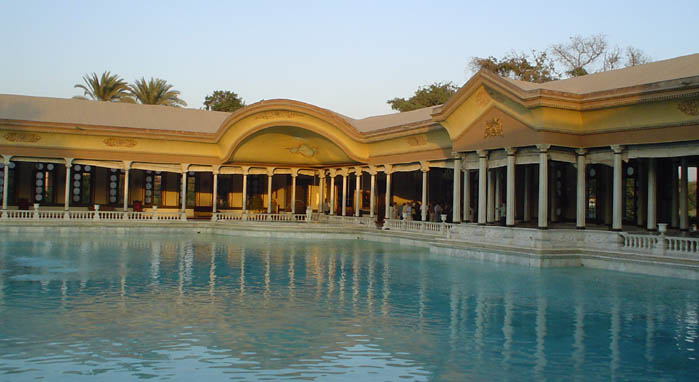 What came to be known in history books as the Shubra Pavilion was for a while at least, nicknamed by French historians as the Nymphaeum. Perhaps it had to do with the prevailing water element, the reflecting pool and the exotic fruit orchards populating the surroundings.
As for the main Shubra Palace gardens that originally covered about 150 acres, these included an elaborate labyrinth crisscrossed by colorful mosaic-laden pebble pathways the work of Greek landscapers hired by Viceroy Mohammed Ali, founder of modern Egypt and later re-landscaped by Gustave Delchevalerie during the reign of Khedive Ismail.
Mistaken in contemporary literature for the Shubra Palace, the Nymphaeum (a.k.a. Central Kiosk or Shubra Pavilion) is a stand-alone piece of architecture created in 1820, in other words 12 years after the construction of the Nile-front Shubra Palace (Haramlik). The haramlik would disapear in the later 1930s when its last occupant driven by nationalistic pique ordered its removal.
As evidenced by a comment he jotted down on the side of one of his blueprints, French architect Pascal Coste was furious at not having been asked to supervise the pavilion's construction especially since he had painstakingly prepared its original layout with elaborate drawings and measurements.
Projet demande de Mehmet Ali Pacha, vice Roi d'Egypte pour l'aggrandissement du jardin de la residence de Choubrah, voulant en faire un petit Versaille. Dresse en 1920 d'apres les programmes comprenant
1. une grand piece d'eau avec fontaines, entouree de galeries avec quatre Pavillions "Diwans"
2. de plusieurs bosquees varies
3. d'un labyrinthe
4. d'un hippodrome pour la course des chevaux est d'une mosquee
Ce projet fut ajourne et pendant mon absence, les architectes turcs et armeniens construisirent seulment la piece d'eau avec ses galeries et les quatre pavillion "diwans" sans une moindre proportion, mais d'une decoration de mauvais gout; dont l'ensemble produit un pittoresque effet.
Janvier 1820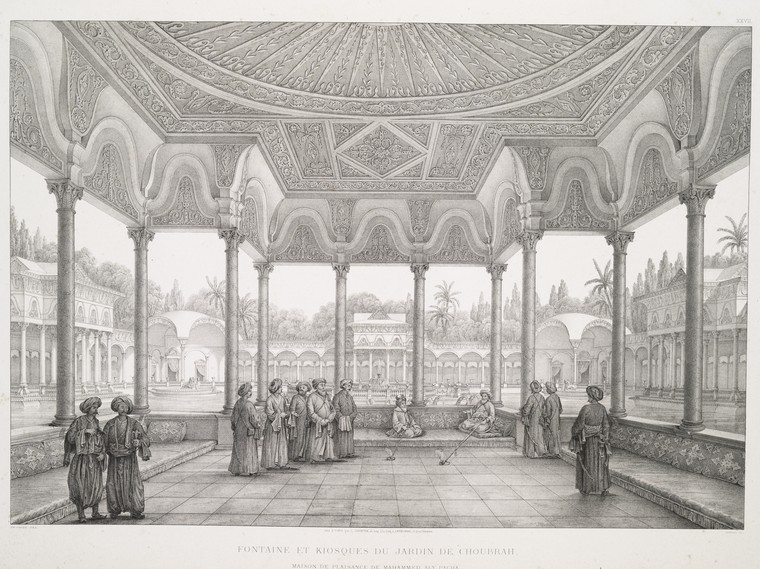 Original design by Pascal Coste of Shubra Pavilion (Typographie de Firmin Didot Freres)
Designed in what is loosely termed "late Ottoman" style, Shubra Pavilion's external architecture is comparable to palaces and summerhouses found in the European part of the empire including Mohammed Ali's hometown of Kavala in eastern Macedonia.
Marveled by all who visited it during his reign, Mohammed Ali's Shubra Pavilion consists of an artificial marble-lined pool with as a whimsical centerpiece, an elaborate octagonal Carrara marble balustrade surrounding a fountain-islet sporting marble statuettes; the whole resting atop 24 raised marble crocodiles spraying water out of their menacing jaws.
Surrounding the pool is a raised wide square gallery fronted by moresque wrap-around veranda with 104 slender load-bearing bronze-based marble colonnades.
Overlooking the pool from the interior of the gallery are 112 low-lying windows with bronze railings.
The gallery built in wood and plaster has four corner salons (diwans or kiosks). As though standing sentinel on these salons are four water-spouting marble lions.
Not unlike the interiors of contemporary palaces built in the Citadel complex including the Bijoux Palace (1814), the Harem Palace built in 1827 (now military museum) and the Daftarkhana (1828), the Shubra palace and its annexes included a melange of styles ranging from faux oriental to gaudy European.
As though to earmark this cultural cross-pollination each of the four Pavilion salons dons a different flavor as dissimilar as the four seasons and as far removed as the four poles.
While one salon has an elaborate wooden ceiling inlaid with gold trimmings and period European decor inlaid with reflecting mirrors and an assortment of symmetrically laid-out French empire furniture, another salon was decorated entirely with trompe-oeil murals featuring bucolic landscapes and aquatic backdrops peppered with mythological figures featured in the distorted or 'grotesque' style. All are closed in by corniches and bowed ceilings some of which include semi-nude paintings attributed to Livornian decorator/builder Pietro Avoscani (1816-91) who is also credited for the original Cairo Opera House which burnt in 1971.
The use of these salons changed over the years whereby a salamlik turned into a billiard room or a visitor's reception quarter was transformed into a dining room.
Equally to be noted on one of the salon ceiling are its serial medallions with what seems to be mythical Greek characters but are actually members of the Mohammed Ali family. Avoscani who worked under several members of the Mohammed Ali dynasty evidenced his gratitude by including his benefactors among the characters he painted at the Shubra Pavillion which is why we find Ibrahim Pasha next to the Medusa and Abbas Pasha and Viceroy Saiid sharing the same ceiling with Jupiter and his wife June or straddling a nude Venus.
Another marvel is the finest French parquet which, 180 years later, remains matchless. And of-course there is the hallmark of most Egyptian palaces-- the oriental diwan.
Besides their elaborate wooden lattices and low lying sofas the Pavilion's diwans also contain the portraits of Viceroys Mohammed Ali and Ibrahim Pasha--indisputable showstoppers for the long list of visiting local and foreign dignitaries last of which was Princess Mary of Great Britain who was entertained at the Shubra Pavilion in the late 1920s by Princess Bahiga Toussoun.
A century earlier French traveler and poet Gerard de Nerval (1808-55) relates his visit to the pavilion in the following terms:
"On visite encore a Choubrah les bains que [Mehemet-Ali] avait construits sur un plan particulier. "C'est, un bassin de marbre blanc, entoure de colonnes d'un gout byzantin, avec une fontaine dans le milieu, dont l'eau s'echappe par des gueules de crocodiles. Toute l'enceinte est eclairee au gaz, et, dans les nuits d'ete, le pacha se fait promener sur le bassin dans une cange doree dont les femmes de son harem agitent les rames. Ces belles dames s'y baignent aussi sous les yeux de leur maitre, mais avec des peignoirs en crepe de soie, le Coran ne permettant pas les nudites".
De Nerval mentions how gas lamps were used to light up the palace. He makes no mention that the royal retreat of Shubra was among the first places in Egypt to entertain electric lighting thanks to British Engineer
In her book Visit to The Holy Land, Egypt, and Italy published in 1852 Ida Pfeifer gives us an idea of the interior of the now extinct Shubra Palace as well as her impressions of the pavilion.
"The park is most lovely; and the rarest plants are here seen flourishing in the open air, in the fulness of bloom and beauty, beside those we are accustomed to see every day. On the whole, however, I was better pleased with the garden at Rodda. The palace, too, is very fine. The ceilings of the rooms are lofty, and richly ornamented with gilding, paintings, and marble. The rooms appropriated to the viceroy's consort are no less magnificent; the ascent to them is by a broad staircase on each side. On the ground- floor is situate the favourite apartment of the autocrat of Cairo, furnished in the style of the reception-halls at Damascus. A fountain of excellent water diffuses a delicious coolness around. In the palace itself we find several large cages for parrots and other beautiful birds. What pleased me most of all was, however, the incomparable kiosk, lying in the garden at some distance from the palace. It is 130 paces long and 100 broad, surrounded by arcades of glorious pillars. This kiosk contains in its interior a large and beautiful fountain; and at the four corners of the building are terraces, from which the water falls in the form of little cataracts, afterwards uniting with the fountain, and shooting upwards in the shape of a mighty pillar. All things around us, the pavilion and the pillars, the walls and the fountain, are alike covered with beautiful marble of a white or light-brown colour; the pavilion is even arranged so that it can be lighted with gas.
According to 19th century historian al-Djabarti one of the earliest visitors to Shubra Palace was none other than Viceroy Mohammed Ali's first wife (buyuk hanem). It was there that the viceroy received her when she joined him in Egypt in 1815. A hundred and some years later the Nilefront palace would disappear as did its last occupant the Princess Aziza Hassan a granddaughter of Khedive Ismail. The pavilion however survived.
Among those who visited Shubra Palace and greatly admired its extraordinary pavilion in 1838 was Prince Maximillian of Bavaria. Heinrich von Mayr portraying an aging viceroy greeting the German prince in full regalia immortalized this scene in one of his orientalist paintings.
During its 180 years the Shubra Pavilion was restored several times. The first such endeavor took place in 1862 when some of the original murals were touched up or painted over by Felix Clement. The French artist had been commissioned to redecorate parts of the palace as well as the Nymphaeum by its then-owner Prince Halim Pasha (1821-94) youngest son of Mohammed Ali. A potential contender to the throne of Egypt he would ultimately be forced into exile by his reigning nephew under the cover of darkness. Halim vacated Shubra Palace through an opening especially made into the perimeter walls enabling him to climb into a special train leaving for Alexandria. From there he was bundled into a boat: destination Istanbul where he eventually died. Which is perhaps why Prince Halim never settled certain outstanding bills regarding the partial restoration of Shubra Palace as evidenced by correspondence inititated by Cav. Carlo Marco Morpurgo and his Mondolfo relation, Jewish craftsmen from Trieste.
Likewise the gardens of Shubra Palace were reorganized in 1870 this time by French landscapers Barillet Deschamps and Gustave Delchevalerie. In a sketch made by the latter he described the pavilion by its then-contemporary Egyptian name "Fasqieh" with the explanation "bain oriental" scribbled next to it. Evidently the pavilion had many names.
Following the death of Khedive Ismail the palace became the property of his third son Prince Hassan who put it up for sale in March 1884 for L.E. 6000. Upon learning of his brother's intention, Khedive Tewfik paid a visit to the Shubra pavilion. "It is too beautiful to belong to anyone else," he was reported to have told his brother who then changed his mind about the sale.
The Shubra Pavilion and its dependencies were listed in 1935 by the Comite de Conservations des Monuments de l'Art Arabe (a predecessor of the Supreme Council for Antiquities). Restoration works on the pavilion were initiated soon after.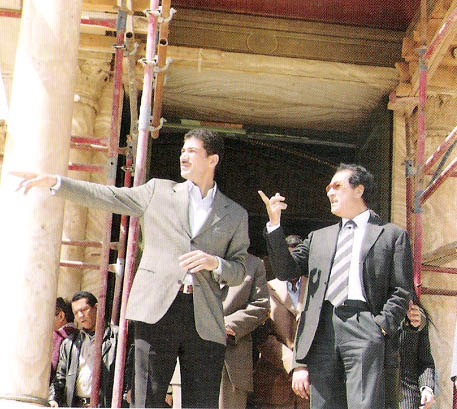 Culture Minister Farouk Hosni (R) inspecting Pavilion restoration works with project manager Ayman Abdelmoneim
photo courtesy Ministry of Culture publication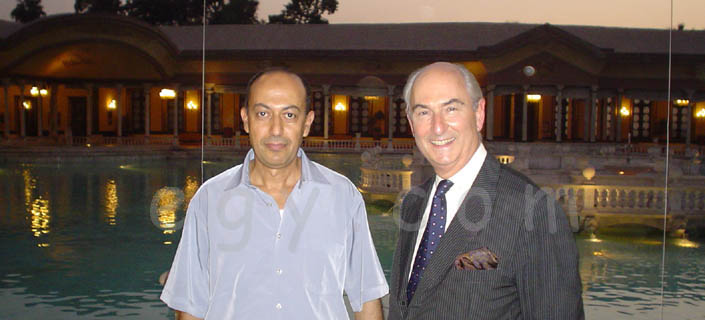 Mohammed Ali descendant Prince Abbas Hilmi (R) with leading Shubra historian and conservationist Mohammed Abou al-Amayem (September 2007)
Sixty years later the pavilion was once more restored to its former splendor with plans for its adaptive re-use as a venue for conference and diplomatic receptions. This brings it full circle to some of its original functions when Viceroy Mohammed Ali received therein foreign envoys and when a century later his great-granddaughter Princess Shevikar used it as an enchanting backdrop for fund-raising events during her legendary tableau-vivants galas.
---
Following is a revealing and detailed description of the Shubra Palace complex in the words of George Jones, a navy chaplain aboard the USS Delaware, during his Sunday, 27 July 1834 visit to Mohammed Ali's royal retreat.
"The gardens at Shubra are under the care of a native horticulturist, who had been sent by the Pasha to France, and had spent six years on an experimental farm near Marseilles. He received us politely at the gate, and ushering us in, we found ourselves in a scene more like the creation of a wild and luxurious fancy, reveling in joyous freedom and without restraint, than a thing of real life. The first walk into which we turned was lined thickly on either side with oleanders in full bloom, mingled with roses and jasmine; they grew to the height of ten or twelve feet, and bending over the path, suspended over us a canopy of flowers, from which the richest odors were distilled. The pathways are paved with pebbles from Rhodes, which, being of different colors, are arranged so as to form a tasteful mosaic work,"
"The vista was terminated by some striking and beautiful object, which I do not recollect, for the mind was too intoxicated to make careful observations, and I desired to look and drink in the rich pleasure rather than to note. The grounds, we were informed, contain one hundred and fifty acres; we rambled over a portion of them, and found every where something to admire. By and by our course was arrested by a lake embowered amid lofty and spreading trees; it is of a quadrangular form, and is surrounded by an arcade of marble, at each angle of which is a kiosk or summer-house richly furnished. In the middle of each of the four sides is a portico, formed of Italian marbles; and here, as well as in the kiosks, are marble figures spouting out water, which is carried around in marble troughs, and made to descend by cascades into the lake. In the centre is an island with a marble edifice, to which is an ascent by a flight of steps of the same material. It is apparently supported by four crocodiles in marble, also spouting water. The water is about four feet in depth, and is also paved below with marble. This is a favorite resort of the Pasha, and we saw a boat in which it is said he sometimes carries out his wives; when well off from the shore, he upsets the boat, and amuses himself with seeing them flounder in the water."
"At the time of our visit the place was undergoing some improvements. There is also a menagerie in the gardens, but the most valuable animals had just been given away, and at this time it did not contain any thing very remarkable. The palace itself, into which we were admitted, and where we were shown over the ladies' apartments, is richly furnished, but not equal to the one in the citadel."
"After rambling about till our curiosity was satisfied, we retired to a large kiosk, whose soft ottomans invited to repose; and our hampers of claret and champagne having been brought in, the corks were made to fly in the very penetralia of the Moslem Pasha; nor were his officers loth to pledge their impudent guests. "
"We had come to a spot where a covered walk, bordered by flowers, suddenly expands into a little open area, paved with pebbles from Rhodes, which, being of different colors, are arranged so as to form a tasteful mosaic work. In the centre is a kind of canopied throne, and the whole spot bears the marks of unusual attention. The superintendent directed our attention to a pear tree growing at one side of the opening; it was slender, but healthful looking, and bearing fruit. "That tree," he said, "was brought by his excellency the Pasha from his native town, and was planted here by his own hand, and he seems to take particular care in nourishing it."

Legend: Google Earth satellite photo of former Shubra Palace grounds with Pavilion circled in red.
Almost five years after all royal assets were confiscated by the state the Shubra property was ceded in 1958 to Ain Sham University's Faculty of Agriculture. Accelerated deterioration of the former Palace dependencies and gardens commenced soon after.
As evidenced by the satellite photo the surrounding area was engulfed and devoured by a growing nation's capital with this particular area of Shubra sprouting with shantytowns providing cheap and illicit labor to the nearby industrial zones.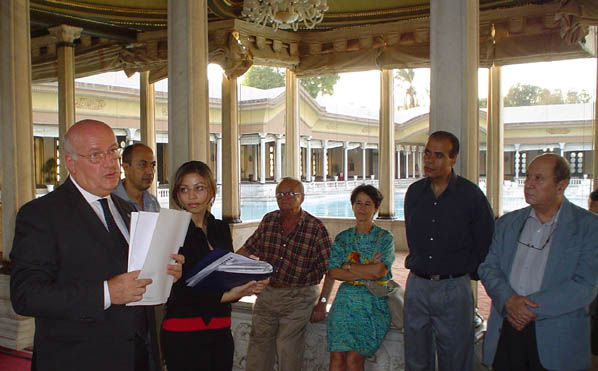 September 2007 lecture about Shubra pavilion frescoes by Italian architectural historian Michelangelo Lupo
Email your thoughts to egy.com
© Copyright Samir Raafat
Any commercial use of the data and/or content is prohibited
reproduction of photos from this website strictly forbidden
touts droits reserves