egy.com suggests following articles
EGY.COM - JUDAICA
MR RABIN, WHERE'S OUR TREE?

by Samir Raafat
The Egyptian Mail, February 18, 1995
Ha'aretz (Israel) November 3, 1995, the day before Rabin's assassination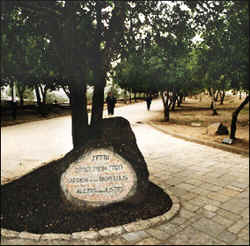 ON THE occasion of the 50th anniversary of the liberation of Nazi concentration camps, hundreds of testimonials have recently come out to honor individuals who stood by Holocaust victims. A keen observer will note that most concerned in this exercise are members of the Christian faith. Except for a few Japanese and Turkish diplomats, hardly any non-Christians are evoked. It was only in June 1990 that Salaheldine Ulkumen, Turkish Consul General at Rhodes (1943 - 1944) was recognized by the Yad Vashem as a Righteous Gentile (hasidei umot ha'olam).
The criteria of Israel's Yad Vashem or Holocaust Memorial Authority in awarding citations honoring the Righteous Among the Nations is that recipients must be "from among the high-minded Gentiles who risked their lives to save threatened Jews during WW II."
To commemorate their memory, the Martyrs' and Heroes Remembrance Committee set aside an area on a West Jerusalem hill, next to the Yad Vashem Memorial, where individual trees are planted during intermittent award ceremonies. Recently remembered is a member of European royalty. Last year a tree was planted in memory of Princess Alice, mother-in-law of the present queen of England for her concealment of three Jews in her Athens apartment during German occupation.
Among the more publicized Righteous Gentiles that come to mind today thanks to Steven Spielberg's Academy Award winning movie Schindler's List are Oskar and Emmilie Schindler.
But in its commemorative drive, the Martyrs' and Heroes Remembrance Committee had limited its recognition to INDIVIDUAL acts of courage thus omitting non-Christian nations as a whole, Egypt being one of them.
But nations are made up of individuals. Just as the Third Reich derived its strength and support from German individuals who sanctioned racial descrimination in its worse form, conversely, the collective citizenry in Morocco, Turkey and Egypt did everything within their power to protect and safeguard their ethnic minorities while guaranteeing safe passage to transiting European refugees most of them Jews.
Even before the days of King Ferdinand and Queen Isabel of Spain, the land stretching from Morocco to Turkey had welcomed Jews. By and large the vast non-Christian nation refused to subscribe to the made-in-Europe brand of anti-Semitism.
Peopled by Semites, inhabitants of what we know today as the Middle East, regarded Jews as distant cousins with a separate distinct status. So that in their hour of need during W.W.II, it was in non-Christian nations that Jews found sanctuary, hospitality and safe passage, attributes denied to them in France, Poland, Italy, Germany, Austria and their satellites.
Yet Yad Vashem and its parallel organizations makes no mention of the Moslem states or their people. Consequently, they are of no interest to the media, the columnist, the novelist, the singer, the Washington lobbyist or the Hollywood producer. There might never be Hollywood "Saladin's List".
It is therefore up to Israel's new historians and revisionists to come forward with a belated recognition. In this instance their best source would be Jews from Egypt, Morocco, Turkey and the Levant. For to this day, they haven't forgotten the pre-1948 golden years which, like everything beautiful, had a precipitated ending.
They remember that when Hitler came to power in Germany, Simon Mani, President of the Cairo Loge of B'nai Brith, saluted Egypt's tolerance and its hospitality. In his Arabic-language statement delivered in March 1933, in Cairo's Ismailia Synagogue on Adly Street, Mani saluted and thanked Egypt's press for its stand against Europe's anti-Semitism. Mani also thanked Egypt's government and monarch.
What Mani did not need to say for it was already public knowledge, was the extent of Jewish-run committees in Egypt's major cities handling the arrival of thousands of Jews fleeing Austria and Germany's anti-Semitic laws. Port Said, then linked by rail to British Mandated Palestine, was the favorite port of entry. Throughout these transits Mani's loge continued to recognize Egypt's benevolence in receiving Jewish refugees. Comparable meetings and eulogies became regular occurrences in Cairo and Alexandria.
Visitors to Egypt's emporiums remember the Megan Star-sporting Blue Box clinking with coins. These were within reach of most of Cairo and Alexandria's shoppers as they browsed the elegant Jewish-owned department stores and pharmacies. Even though it was common knowledge that donations were for the benefit of resettling Jews in Palestine, mainstream Egyptians tolerated these collects. They could not fathom that the migration and resettling of one set of people would one day be at the expense of another. This could only happened in Hitler's Europe.
While Jewish assets were expropriated and seized in Austria, Germany and their willing allies, Egypt's restriction-free policy was steadfastly maintained. Jewish funds could travel anywhere even to Palestine which brimmed with Zionist movements some of which had official branches in Egypt.
As donations multiplied, Egypt's Jewish organizations mobilized themselves to help their desperate European coreligionists launching new fund raisers and organizing charity bazaars and live benefit concerts. Even Yemeni performer Bracha Zfira who like her coreligionists in Muslim countries had never experienced the Holocaust, joined the fundraising crowd as did other talented Sephardic Jews from Turkey and North Africa.
One of the most active organizations in Egypt at the time was WIZO (Women's International Zionist Organization). Its widely attended bazaars were held in Cairo and Alexandria's leading hotels, schools and social clubs. These were organized by society's leading ladies from all faiths. Even Egypt's celebrated feminist Hoda Sha'rawi Hanem lent her support whenever necessary. The widening European trauma had touched everyone. To Egypt's public at large, Eurocentrist Zionism had not yet taken a sinister connotation.
Besides WIZO there were several other Zionist organizations in Egypt. The Young Hebrew ha-`Ivri ha-Tza`ir --the Egyptian branch of ha-Shomer ha-Tza`ir, or the Young Guard was one them. It operated five branches in Egypt during the war before going underground in 1947. There was also the he-Halutz or Zionist Youth Movement.
Alongside the large numbers of Jewish refugees fleeing Europe were those who came in response to alarmed beckonings from relatives already established here. They arrived in the thousands. The tante Sophies from Worms, Germany, the cousin Gedalias from Leopoldstadt, Vienna, and the Hirsch-Finkelstein relations from Cernowitz and places beyond.
As Egypt's Jewish population swelled with arrivals from Eastern Europe and Vichy-dominated North Africa, Cairo and Alexandria saw the emergence of Yiddish theater groups, the creation of several all-Jewish performing bands and the expansion of the ranks of various Maccabi clubs. The latter regularly competed against established Jewish clubs including the Ashkenazim Hakoah recently displaced from Austria.
There were also those mediatized 'sport and fun events' starring the teams of Cicurel and Chemla department stores held under the aegis of the "Cairo Business Houses Association" which included most of Egypt's department-store Jews.
Jewish intellectuals and literary societies meanwhile ran out of editorial and advertisement space in Egypt's prolific foreign-language press. Cairo's synagogues operated on a standing-room-only basis and on several religious occasions one glimpsed leading Zionists including Chaim Weizmann, (the first President of the future State of Israel and uncle of the incumbent).
Weizmann and his aides had made good use of Egypt's hospitality now that most of Continental Europe was barred to them. Even the Paris-based Rothschilds had fleed for their lives. This was one instance where their fortune could not buy them life insurance. Some made it to safety courtesy of the Egyptian embassy's car which shuttled back and forth between France and Switzerland heavily laden with juifs de marque and their precious bounty.
Cairo was also the venue of several publicly celebrated Zionist wartime weddings. It was at Zamalek's No.12 al-Kamel Mohammed Street that officer Aubrey Eban tied the knot in March 1945, to Suzy Ambache. Eban would later Hebraize his name to Abba becomin Israel's Foreign Minister. Attending his wedding were members of Cairo's top Jewry and over 150 friends of the bride's father, engineer Simha Ambache a member of the Yishuv. Among them were future prime minister David Ben Gurion and his wife Paula along with the future mayor of West Jerusalem, Theodore "Teddy" Kolleck, an Austrian Jew no longer welcome in his native Vienna.
As for Europe's so-called sacred charters, constitutions and International League for the Rights of Man, these were as precious as the paper they were written on. As new laws were enacted all over Europe depriving Jews of their basic civil rights, at the other end of the spectrum, in Egypt, laws were amended exempting from internment all Jews from Axis countries. Likewise, they were exempted from sequestration, incarceration or any other form of wartime restraint whether commercial, civil or otherwise. Proclamation No.158 in the Official Journal No.95 of July 17, 1941, Article 3 para (c) states that "Sont exemptés ... les ressortissants allemands ou italiens d'origine Israëlite." These laws even benefitted those Jews who had espoused fascism before its racial implications had come to light.
On May 24, 1944, with the prior accord of the competent Egyptian authorities, the Pidion Chevouim committee was founded in Cairo to rehabilitate European Jewish exiles. Meanwhile dozens of Jewish and Zionist publications including Israel, La Tribune Juive and Aurore continued to publish in Egypt.
While they were being pursued and eliminated in Europe, in Egypt Jewish authors, poets, lawyers and intellectuals were guaranteed a platform from which to broadcast their works and messages. Jewish seminars and conferences were routine events during the 1939-47 period.
It was at one of these seminars held under the auspices of a noted cultural club that the celebrated works of French poet Max Jacob were evoked. Word had arrived that Jacob had died in France during deportation. His eulogy took place in Alexandria in February 1945. The meeting was chaired by Jacob's friend and disciple, the Cairo-born poet, Edmond Jabes, one of the champions of Egypt's thriving Euro-Levantine culture.
Jabes, like many of his Egyptian-born coreligionists, had opted for Italian citizenship which brought with it a welcome degree of extra-territoriality courtesy of a colonial Mixed Court system exempting foreigners from Egyptian taxes and shari'a law. But now that they were branded "Razza Ebraica" by their adopted consulate, there was no longer any advantage of being an Italian Jew. The resultant belated rush for Egyptian citizenship yieded little success, for by now an Egyptian passport had become almost impossible to obtain.
In 1945 Jabes published Max Jacob's letters in Alexandria. In 1947, together with his Egyptian colleague Georges Henein, Jabes launched a literary publication called La part du Sable. In May of that year, his book "Chansons Pour le Repas de l'Ogre" including his poem "Chanson pour une terre promise" were favorably reviewed in the Progrés Egyptien. Edmond Jabes 's journey to literary fame had already begun.
As though a backdrop to the hundreds of Jewish-held conferences, events and visits that went on unhindered in Egypt during the 1933-47 period, the Palestine Symphony Orchestra (now Israel Philharmonic) made its Cairo debut in 1936, under the direction of Arturo Toscanini, just two week after its inaugural concert in Palestine.
The Palestine Symphony's top performers were hand-picked Central European Jews. In all likelihood they would have perished in Treblinka or Dachau had they stayed in Europe. Instead, they played to an appreciative public in Egypt. In November 17, 1941, the Palestine Symphony Orchestra gave their 51st concert in Cairo under the direction of Michael Taube with Pnina Salzman performing at the piano.
With tensions mounting everywhere in the world, there were the occasional downsides in Cairo as well. On November 2, 1945, a gang-led mob pillaged and set fire to Cairo's Ashkenazi Synagogue on King Farouk Street (now Port Said). The date coincided with the November 2, 1917, anniversary of the Balfour Declaration, when British statesman Lord Arthur Balfour pledged to Zionist émigrés Chaim Weizmann and Nahum Sokolov, Britain's aid for Zionist efforts to establish a home for world Jewry in Palestine. Twenty years later, King Edward VIII remarked to Sir Miles Lampson that "old Balfour was a silly old man who promised others something already belonging to someone else!". Britain's ambassador to Cairo couldn't agree more. No surprising therefore that Lampson's Arab hosts had no love for either Balfour or his Declaration.
The Synagogue incident was swiftly condemned the following day. "We do not accept the attack on Egyptian citizenry because they are Jewish. In this nation, the Egyptian Jew is our brother so long as he does not subscribe to Zionism" wrote the Wafd al-Misri. But this incident, although quickly redeemed by government and state, was a prelude to the growing resentment against Zionist extremism in Palestine, some of which had recently reached Cairo.
The previous year, Jewish terrorists who called themselves The Fighters but who were in actual fact connected to the Zionist Stern gang, murdered the British Minister of State, Walter Edward Guinness, 1st Baron Moyne as he got out of his car in Cairo's residential district of Zamalek. The former President of the House of Lords had not 'seen things' the Zionist way. He would pay with his life.
The international outrage and wave of criticism that followed Moyne's assassination served only to fan the growing anti-Zionist sentiment in Egypt which was now openly shared by some of Egypt's top-drawer Jewry. Against an alarming backdrop of mounting political and militant Zionism, a Jewish League Against Zionism (JLAZ) was formed in Cairo in 1947, from among Egypt's bourgeois Jewish community. In its 60,000 anti-Zionist pamphlets written in Arabic and French, JLAZ called for restraint.
JLAZ's actions were a continuum of earlier ones such as the 1935 creation of the Association of Egyptian Jewish Youth (AEJY) whose anti-Zionist rallying cry was "Egypt is our homeland, Arabic is our language."
Notwithstanding condemnation and ridicule by diehard Zionists across the border, JLAZ, AEJY and several like-minded organizations, called for Egypt's Jews to distance themselves from Zionist terrorism and propaganda "which had infected the Jewish movements everywhere with their violent anti-Arab stance."
Instead, Jews in Egypt were asked to take part in Egypt's national renaissance. On November 16, 1945, René Cataui Bey, President of the Cairo Jewish Community and deputy of the district of Kom-Ombo in the Egyptian Parliament, declared, "In my capacity as a Deputy of the Nation I declare that the Jews of Egypt are an integral part of this nation..."
Like so many other respected Egyptian Jewish families, the Cattauis had prospered during Egypt's rapid economic development of the 1890's (cash crops, railways, urban development, Suez Canal). They knew only too well the ultimate price they would have to pay if a Jewish state was created on Egypt's eastern border.
If Eretz Israel was the culmination of European Jewry's dream, the robbing of the rights of the indigenous people in Palestine would inevitably destroy the historic chain of goodwill that had prevailed throughout the former Ottoman Empire. To date Egypt, Morocco and Iraq had welcomed Jews on their own free cognizance, they could not do so under coercion and duress. Tolerance and hospitality were at stake here.
Cattaui's worst case scenario unfolded before him. Called Operation Ali Baba in Iraq and Operation Susana in Egypt, the objective of these terrorist undertakings was to induce the local Jewish population through fear and panic to immigrate to Israel. Both operations were carried out by young local Jewish recruits working under direct orders from Israel's military intelligence. Attracting young Jews in the Arab World was no problem especially since various Maccabi clubs across Egypt were already radicalized by both the WW2 conflict and the War of 1948. Attracted by militant Jewish gangs in Palestine it was no surprise when the local Jewish youth quickly answered the call to arms, even if it meant resorting to terrorist tactics and fatal arson attacks on Jewish and Western targets.
In both Operation Ali Baba and Operation Susana the targets and casualties were innocent civilians. Moreover, the operations were made to look like anti-Semitic acts by an unruly indigenous population wanting to rid itself of colonialism, foreign minorities and specifically Jews.
Cattaui may have found satisfaction that less than two thirds of Egypt's 100,000 Jews ended up in Israel. Despite the interwar wave of anti-Semitism that spread across Europe, given the choice, Egypt's Jewish elite whose Zionist sympathies varied from shallow to none at all, preferred to relocate in a western culture they had already befriended and identified with for almost half a century.
Today, half century after Israel's creation, much water has flowed under the World Jewry bridge. For starters, the Jewish state can no longer portray itself as the "helpless victim surrounded by a sea of Arabs wanting to push it into the sea." As it approaches its fiftieth years, Israel, with the unconditional backing of the United States, has the strongest army in the region supported by an unaccounted for nuclear arsenal pointed in the direction of its Arab neighbors.
Even more reassuring on the non-military plan, is that Palestinians are talking to Israelis for the first time. Meanwhile, in the former Third Reich, thousand of Jews are re-settling in Berlin. Need one say more?
The time has come for Israel to shake off its victimization complex and to start recognizing the role of non-Christian nations during that heinous period when man turned against fellow man.
The time has come for the Martyrs' and Heroes Remembrance Committee to admit that had Egypt's open-mindedness regarding its minorities been duplicated by half in Europe during the 1930s and '40s, there would have been no need for Righteous Gentiles or, for that matter, a Yad Vashem Memorial.
Email your thoughts to egy.com
© Copyright Samir Raafat
Any commercial use of the data and/or content is prohibited
reproduction of photos from this website strictly forbidden
touts droits reserves