egy.com suggests following articles
EGY.COM - JUDAICA
THE VISIT
by Samir Raafat
Egyptian Mail, December 10, 1994
The early morning 50-minute flight to Tel Aviv had the typical mix of international passengers. Rowdy Indians flying home via Israel, a trickle of well to do Egyptian tourists out to see for themselves what it was like on the "other" side and a collection of government officials including the chief of protocol at Egypt's ministry of foreign affairs. There were a few like yours truly traveling to Israel for a specific purpose. For the next three days I was to be this year's (1994) guest of the Kaplan Chair in the History of Egypt and Israel at Tel Aviv's University.
The Kaplan Chair is currently occupied by Professor Shimon Shamir a Middle East expert and one of Israel's leading academics. Relations with Egypt have been and still remain his forte earning him the title of Israel's "Mr. Egypt." Many here still remember when the twinkled-eyed, boyish-looking professor resigned his ambassadorship to Cairo in July 1990 over a thorny foreign policy issue. Shamir's personal beliefs "were inconsistent with the policies of the current Likud government," reported the Jerusalem Post in its July 4 front page. In other words the ambassador had disagreed with his government's intransigent "not-one-inch" stand during peace negotiations with its Arab neighbors.
But long before this publicized controversy took place it was common knowledge both within and outside Tel-Aviv University's campus that Professor Shimon Shamir regarded territorial compromise as the foundation of any peaceful solution. This was in the bellicose days when thinking, let alone uttering the words "normalization" and "coexistence" was tantamount to blasphemy on both sides of the border.
The Kaplan Chair had asked me to give a talk on my recent book Maadi 1904-62; History & Society in a Cairo Suburb, which evokes in some detail the Jewish residents of this well to do Cairo suburb. As the book explains Maadi was home to many prominent Egyptian and resident Jews many of whom were responsible for the suburb's grand villas and parks. Moreover the little which remains of the town's flora was in large part the work of a tireless landscaper who built the small synagogue on Mosseri (now Orabi) Street.
Following the signing of the Camp David Accords, Maadi became the elected place of residence of Israeli diplomats serving in Cairo. The ambassador's residence to date is at No.14 Port Said (ex-Abdelwahab) Street--a large villa constructed in the 1930s by Ahmed Abdelwahab Pasha, Egypt's then-minister of finance (1934-36). Some time following the minister's death, the house was acquired by perfume magnate Hamza Chabrawichi and his wife Celine Mosseri. Its present occupant is Israel's Egyptian-born diplomat David Sultan and his wife Adina.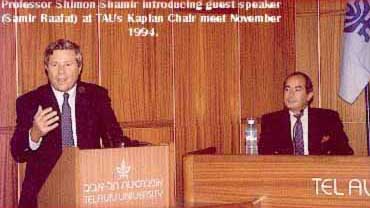 Professor Shimon Shamir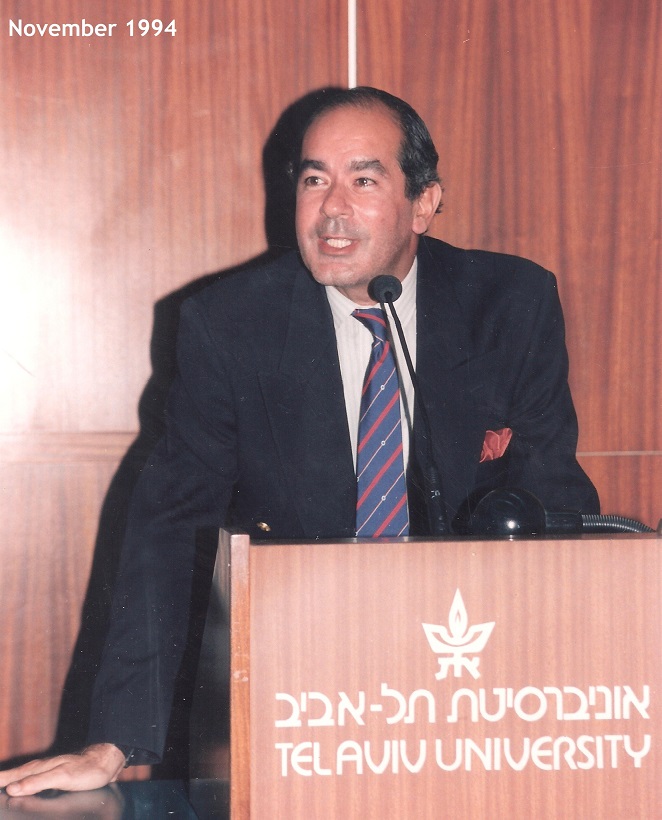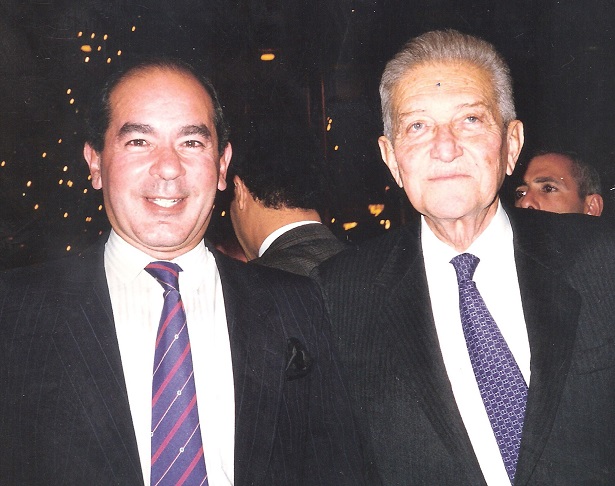 President Ezra Weizman
Sultan's residence happens to be in the section of Maadi informally known in days gone by as the "Jewish Quarter" because of the high incidence of Jews who owned property there. While many of these Maadiites ended up in Europe and America after 1948, a few made it to Israel. A typical case is the family of Israel's present deputy-chief of staff General Matan Vilna'i.
Vilna'i is the grandson of early Maadi resident Dr. Wolff Jacob Margoliasch, a dentist who came to Egypt at the break of the century from Vilalesk, Russia. In 1913, Margoliasch and his wife Bertha Kotler purchased from the Italian Gaetano Gassi a villa at No.7 Midan al-Nahda (ex-Fouad al-Awwal Square). Based on an old survey map the said villa (today occupied by French tenants) was listed as the suburb's 23rd in order of construction. According to Maadi's doyenne the eighty-something Annie Lichternstern, Dr. Wolff's three sons Izzy, Sam and Emanuel, and his daughter Esther-Shalomit, were regulars at the Maadi and Gezira Sporting Clubs. Although she lost track of her childhood friends Annie clearly recalls that the Margoliasch children were excellent swimmers at both clubs and that later, Emanuel (b.1920), became a world famous biochemist in the United States.
Esther-Shalomit, known simply as Esther by her Maadi contemporaries, ended up in Israel where she married archeologist Zvi Vilna'i.
The Margoliasch story is not unlike that of other cosmopolites who had made Maadi their home. My talk at Tel Aviv University aimed at emphasizing the natural and human elements which gave Maadi its unique character and how people of various nationalities lived together in absolute harmony.
Unprepared for a large audience, luckily for me the university's lecture hall was filled with ex-Maadiites, Helwanites, Heliopolites and Cairenes all of whom knew very well what I was talking about. There were the Albert Tam family from Heliopolis, the Boukais and Sachs from Maadi, the Azoulays from Daher, the Fishers from downtown Cairo etc. Some attendees had even come from Haifa including a physically challenged old timer wheeled into the hall by his daughter.
On top of this kaleidoscope of ex-Egyptians were the academics including the present and former directors of the Israeli Academic Center in Cairo along with professors Yoram Meital of the de novo Middle East Department at a Beersheba University and David Sagio of the Hebrew University.
The members of the audience were connected to Egypt in some way or another. In keeping with Egyptian tradition the audience was extremely warm and complaisant. Had I tap danced or stood on my nose they would have been just as enthralled so much was the yearn and longing to hear about the old country. Just as well since during the address I invariably stumbled and was occasionally tongue tied. This was not an every day occurrence, an Egyptian talking to a large gathering of Israelis in a leading academic institution in downtown Tel Aviv. I was therefore entitled to some stage fright.
A lady by the name of Levana "Kamar" Vidal whose mother was a member of the large Mosseri clan, made an imploring closing statement sharing with the audience recollections of her youth in Helwan. It was in this thermal town that her family ran a commercial business. Somewhere in the middle of her brief talk she exclaimed Masr Om al-Donya (Egypt, Mother of the earth!) to which the audience responded with a standing ovation. The evening was charged with palpable nostalgic emotions.
My four-day visit gave me the opportunity to visit the impressive and extremely modern campuses of Tel Aviv and Haifa Universities. Both are research and development oriented and very obviously dedicated towards the scientific and intellectual investment in Israel's future. While Arab students are conspicuously absent from Tel Aviv University--only 500 Palestinian students out of a total of approx. 20,000-- at Haifa the mix is 80% Israeli Jews 20% Palestinians reflecting the country's composite mix. Both universities cater to and interact with the surrounding communities doubling as civic and cultural centers. Memorial plaques honoring financial contributors and donors from the Jewish Diaspora are in evidence everywhere. I soon realized this form of support was not confined to universities alone.
A private tour took me to the ruins of Caesarea, an ancient port city created by King Herod around 30 BC along marked Roman lines and for a time the capital of Roman Palestine. According to my Israeli guide Jerusalem was too conservative and religious for King Herod's taste.
I also visited the old towns of Acre and Jaffa, their skylines studded with pencil-thin mosque minarets and varying church steeples, a reminder that, unlike today, for several hundred years up until the British occupation of Palestine in 1917, this was a multi ethnic, multi religious sanjak or province of a religiously tolerant Ottoman Empire.
My visit also took me to a kibbutz. These are the no-frills cooperatives created by successive waves of European Jewish immigrants many of whom had escaped Russian pogroms and successive waves of anti-Semitism that characterized 19th and 20th century Europe. The kibbutz concept aimed at promoting rural settlements where the "us" replaced the "me". Apparently, this model of anti-individualism produced some of the best minds in the country.
My fourth and last day was spent touring West and East Jerusalem in the knowledgeable company of a young Israeli diplomat I had met briefly in Cairo when he was first secretary at the Israeli embassy. I sensed from Kobe Brosh the appellations "East" and "West" didn't sink well with him. The notion of a split city is anathema to most Israeli Jews. And when I say "most" I am not limiting myself to the frenzied Brooklyn zealots or the theologically-driven fanatic settlers.
In view of the situation on the ground it was obvious there are some very tough uphill negotiations ahead. Until the two-nations-one-capital issue is resolved, Palestinians, including schoolchildren from the occupied Arab and Christian Quarters, will continue to endure daily trepidations of body searches and other humiliations at the multiple security checks as they cross the Old City's invisible demarcation lines.
As though to increase the ante of an already charged up situation, many checkpoints are manned by the "just-landed" Ethiopian Jews now serving in the Israeli army and don't like being referred to as Falashas.
Jerusalem is about 850 meters above sea level and is surrounded by ancient cypress hills. Its superstructure--government and apartment buildings, villas etc. is built with the famous "Jerusalem stone" which turns a pink color when subjected to direct sunlight of which there was very little on that wet and overcast day. After visiting the Islamic and Biblical sites and before the 37 km drive to Ben Gurion Airport there was just enough time for Yad Vashem. No official (or semi-official) visit to Israel is complete without the obligatory stop at Israel's Holocaust memorial.
It was not as though I was about to be Vashemized by the continuous black and white slide show depicting 20th century made-in-Germany atrocities or any of the other eerie testimonials. Yad Vashem's displays were known to me thanks to five decades of virtual holocausting through documentaries, commercial films and every other form of visual and printed media. Despite the heavy overloads the message was nevertheless compulsive.
One of the things which impacted me most at Yad Vashem was a small inscription at the museum's entrance. In a few simple words devoid of redundant prose we're reminded that the inconceivable inhuman atrocities we're about to witness started in the heart of western civilization some fifty-odd years ago.
With these words still on my mind I realized why three days earlier at Tel Aviv University everyone had responded with such enthusiasm when the lovely lady exclaimed "Masr Om al-Donya!". Despite their second precipitated exit from the Nile Valley our former countrymen still recalled how, during recent history, Egypt had been a safe haven for the members of their faith while the so-called 'civilized' nations either butchered or turned their back on their own Jewish minorities.

Email your thoughts to egy.com
© Copyright Samir Raafat
Any commercial use of the data and/or content is prohibited
reproduction of photos from this website strictly forbidden
touts droits reserves