egy.com suggests following articles
EGY.COM - HISTORICA
QUEEN IN EXILE
RAMADAN 2010 - MADE-FOR-TV SERIES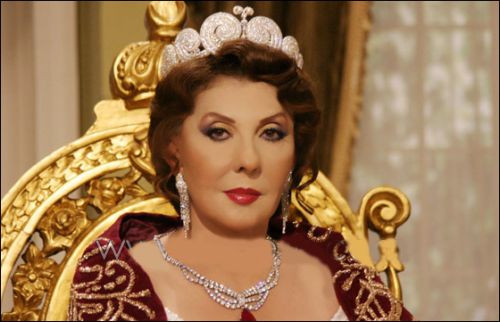 Nadia El Guidni portraying Queen Nazli in "Queen in Exile"

On the whole a good try despite the recurrent buffoon-esque costumes (including miniskirts et al) and exaggerated mannerisms, allegedly depicting court life in the 1930s and 40s. And aside from the injected melodrama and cliches, the series would have been better off had its producers done their homework or hired a capable historian-consultant.

Following are A FEW examples:

Sultana Malak WAS NOT related to Ottoman Princess Neslishah Omer-Farouk.

Queen Nazli WAS NOT related to (future prime minister) Hassan Sabry Pasha.

Ahmed Hassanein Pasha was shot near Zamalek's Pont des Anglais (Kobri Badeea) and not in some countryside backroad.

There was no American Senator by the name of Clarence Larose. On the other hand Queen Nazli was a sometime houseguest of a Clarence S. Rose who lived on the East Coast and whose wife was not called Catherine. In other words the character of Senator Larose is pure made-for-tv invention.

Nayla Adly Yegen, the wife of Sherif A. Sabry Pasha, died in Paris in the early 1930s shortly after giving birth. Therefore who is Samira?

Sherif A. Sabry Pasha DID NOT suffer an incapacitating stroke the result of the King's Privy-Council session condemning Queen Nazli.

Sherif A. Sabry Pasha WAS NOT in Cairo on 23 July 1952 when the military officers launched their coup. Along with several other pashas he was summering in Pontresina (in the Engandine valley near St. Moritz), Switzerland.

Shortly after the abdication of King Farouk, his sister Princess Faiza is seen introducing a member of the Revolutionary Council (presumambly Captain Salem) to members of her family, specifically Princess Amina Toussoun, Prince Mohammed-Ali Ibrahim and Prince Halim. In reality Mohammed-Ali Ibrahim and Amina Toussoun had ALREADY GONE into voluntary exile the first in France and the second in the United States.

King Farouk's cousin Amina Mokhtar, the socialite wife of Turkish ambassador Fuat Tugay, did not steal Princess Faiza's jewels. It was another cousin, Amina Sirry, who laid hands on them. A daughter of Princess Fatma Ismail, Amina Sirry was also the dreaded mother-in-law of Princess Faiza.

When Riad Ghali angrily exclaims to his mother-in-law shortly after the fall of the monarchy that he shall continue to claim his wife's inheritance from the Egyptian confiscation authorities "in the name of his sons Rafeek and Ra'ed..." It is to be noted that Ra'ed was NOT YET born. He would actually come into this world a year and a half later!!!
---
The list of errors is long, so watch this space!
Email your thoughts to egy.com
© Copyright Samir Raafat
Any commercial use of the data and/or content is prohibited
reproduction of photos from this website strictly forbidden
touts droits reserves