egy.com suggests following articles
EGY.COM - HISTORICA
L'Egypte d'un Architecte
by Samir Raafat
Cairo Times, August 6, 1998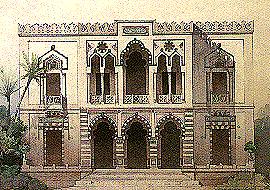 If you think this is yet another expensive Egypt' coffee table book, look again. At long last someone has made the worthwhile effort to produce an excellent --albeit prismatic-- retrospective of Ismail's Cairo, the undertaking for which his administration is most commonly known.
Khedive Ismail returned from his 1865 visit to Paris greatly impressed by its Haussmanian architecture. His promenades there convinced him of Cairo's needs for such grand buildings. Next to the Nile, he would create an entire district named after him. But first, architects and engineers to meet Ismail's demands had to be found. Ambroise-Alfred Baudry (1838-1906) was one of them.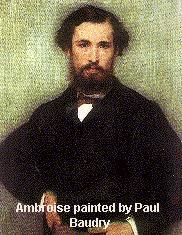 In "L'Egypte d'un Architecte" (An Architect's Egypt), Marie-Laure Crosnier Leconte, Mercedes Volait and others, recount in spellbinding detail the architectural trail left behind by the Frenchman's 15-year passage in Egypt, and how, in turn, his Egyptian sojourn brought him several enviable contracts back home. Among them the draft project of a Paris Mosque and the reconstruction of an orientalist salon for Edmond de Rothschild (France's greatest chateau and hotel particulier builder at the time). Unknowingly, Baudry had become an important two-way bridge across which 'orientalism' invaded France and eclecticism festooned Egypt's capital.
Greatly inspired by Egypt's Mamluke mosques and given carte blanche by his clients, Baudry indulged in "style arabe" dwellings one of which, although disputed by a fellow architect, would subsequently become the French legation on Cherif Pasha Street (ex-Madabegh). His own neoislamic house exemplified a trend that would invariably be reproduced in Ismail's "European" district of Ismailia. Which does not mean Baudry had not first fulfilled that for which he was originally commissioned --several of his Cairo designs could have blended perfectly in any European capital.
In addition to Baudry's architectural deeds in France, Rumania, Vienna and Egypt, "L'Egypte d'un Architecte" provides us with an unblemished retrospective on Baudry, the man. Second son to a farmer-turned-artisan and observant younger sibling to a celebrated artist brother, he was also the youngest recipient in his day to receive the Croix de chevalier de la Legion d'honneur in appreciation for his winning a prestigious international architectural competition.
As the title suggests, "L'Egypte d'un Architecte" zeroes in on Baudry's Cairo years. We meet several of his multiethnic clients many of whom are captains and kings of Egypt's nascent economy such as bankers Cattaui, Suares and Nahman. We also run into the Armenian Nubars in whom Ismail had confided much of his administration. We visit the "okels" of French diplomatic agents, French art collectors and French archeologists. All, at one time or another, had recourse to Baudry for renovations, decorations and structural changes to existing mansions or for the outright construction of handsome new dwellings.
The book not only abounds with exquisite pictures, architectural drawings and reproductions of Baudry's discarded sketches, but also includes family portraits and paintings by Paul Aubry and other family members. Cairophiles will relish dated pictures of Cairo streetscapes, monuments and squares plus a few non-extant khedivial palaces and administrative buildings. Islamic art lovers will find an entire section of the book devoted to Baudry's private collection of oriental artifacts, woodwork and ceramics.
"L'Egypte d'un Architecte" starts with an introduction by author Robert Solé (Le Tarbouche, Egypte Passion Francaise...) and ends with a detailed chronology that walks you through Baudry's hall of fame, his achievements as well as his setbacks.
Like I said earlier, definitely not for the coffee-table.
Pictures of Baudry and House reproduced from L'Egypte d'un Architecte. Picture of Mercedes Volait from Samir Raafat private collection.

Email your thoughts to egy.com
© Copyright Samir Raafat
Any commercial use of the data and/or content is prohibited
reproduction of photos from this website strictly forbidden
touts droits reserves