egy.com suggests following articles
EGY.COM - HISTORICA
UNVEILING A CHAPTER OF WW2 HISTORY

by Samir Raafat
Egyptian Mail, Saturday, July 5, 1997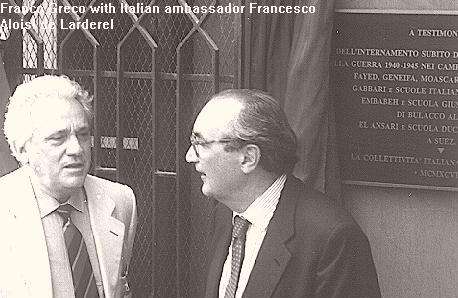 WHEN Italy's ambassador to Egypt, Francesco Aloisi de Larderel, unveiled a 75x50cm bronze plaque last Sunday at the Italian Consulate-General in Boulak, he exposed a little known chapter of WW2 history. Some of it droll, the rest unfortunate.
Shortly after Mussolini announced from a Venice balcony on June 10, 1940, that Italy was entering the war on the side of the Germans, orders were given in Egypt to round up tens of thousands of able bodied Italians. Many had never been to Italy and were second or third generation Italian residents of this country. Yet, according to the recently unveiled plaque, they were interned in special camps scattered all over Egypt: Fayed, Tantah, Mansura, Moascar as well as the Italian school Giuseppe Garibaldi; of Boulak which is today the seat of the Italian consulate at the corner of 26th of July and al-Gala's Street.
It was common knowledge at the time that despite the Egyptian government's decree to round up enemy aliens, the orders to apprehend Egypt's Italians had come straight from British Ambassador Sir Miles Lampson, Egypt's de-facto wartime ruler. Besides ridding the terrain from possible subversive elements, Lampson was satisfied in the knowledge that King Farouk whom he referred to as 'the boy,' would invariably loose some of his court favorites, many of whom were Italians.
Furious and helpless, Farouk's only option to vent his anger with the patronizing British envoy, was to purposefully step on the feet of Lady Lampson whenever they paired up at a palace dance. The irony here is that Lady Lampson, born Jacqueline Castellani, was herself Italian her father being the well-known M.D. Sir Aldo Castellani. Caught between an overbearing husband and a frustrated young King, Lady Lampson was the proverbial pawn in the game of life.
Food at the internment camps in Egypt was looked after by the Swiss Legation, the International Red Cross, the Vatican and several local charity and humanitarian organizations.Yet, according to some of the former internees who attended last Sunday's unveiling ceremony, life could have been easier at the camps had Lady Lampson extended them with the same courtesies she bestowed upon British and Allied war casualties. On the other hand, Egypt's internment camps were holiday resorts compared to the ones in the Far East and those in Germany and German-occupied territories. They were also better than the ones set up in the United States for America's Japanese population.
The real enemy in Egypt's camps was boredom according to some of the ex-internees. "I was in my mid-teens when the police dragged me out of my family home in front of my mother and sisters. I was taken for interrogation and later incarcerated in what had been until recently my school" says former internee Rosario de Maggio referring to the Italian School in Boulak which for the duration of the war was turned into one of several internment camps for Italian civilians.
De Maggio who now lives in Trieste was part of the small group that traveled to Egypt to attend the unveiling ceremony. With him was Alexandria-born Arrigo Mieli who had also studied at the Italian School. An athlete in his younger days, Mieli spent much of his internment playing basketball. After the war he was snatched up by the al-Ahli Club and became part of their star basketball players. "I met a lot of fellow Italians during my internment days" says Mieli. "Like me, they were born in Egypt and like many of my generation were members of the fascio and affiliated with the camice nere or black shirts. Our parents came from all walks of life: plumbers, mechanics, clerks, contractors, doctors and lawyers. There was even the court musician, Matteo Melani, who, only a year before his internment, conducted the Royal Orchestra during the wedding of Princess Fawzia of Egypt to the crown prince of Persia."
Mieli recounts how after the war most internees remained in Egypt. They realized that Egypt and Egyptians had little to do with their internment; that it was purely an affair of British wartime interests and policy. The mass departure of Egypt's foreign minorities came after 1952. Mieli and his Alexandrine wife relocated in Torino.
According to Franco Greco, there are over 2,500 Italian families in Italy who are active members of the Italiani d'Egitto; an association that groups together former Italians from Egypt. Greco is the incumbent head of the association and the promoter of a publication entitled Gli Italiani d'Egitto Nella Seconda Guerra Mondiale which tells the story of Italian internment in Egypt during the war. "The laying of the plaque in what used to be an internment camp was a long-standing objective for our association" says Greco.
The Italians interned in Egypt survived the war intact and healthy. Not as lucky were those whose remains are buried under shifting dunes in Egypt's Western Desert and those whose individual and collective plaques are on display at the Italian memorial of al-Alamein. They are the ones who could have attested to the real horrors and destruction of war. Alas, they would never live to see any unveiling ceremony held in their honor.
READERSCOMMENTS

Subject: Italians in Egypt
Date: Thu, 31 Jul 1997 07:47:09 +0100
From: Mike Stamford

Have just read your report in the Egyptian Gazette regarding the memorial to the Italians and the Lampsons and King Farouk.

Most interesting, but the King wasn't the only person who was furious with the treatment and the detention of the Italians.

My father employed two in his insurance brokerage office in Alex. It had rather a small staff, and his two key members were removed with out notice. He went mad and laid into everybody he could reach.

His arguments were that nobody had requested him to stand surety for them; but mainly, he asked what the authorities thought that two Jews would do supporting the fascists.

He got them out, but was not permitted to employ them for the rest of the war! I wonder why they were always in his office, and that they had enough to live on and support their families. Not only Nelson turned a blind eye!! My father must have got unofficial clearence at a very high level to look after their welfare, and I suppose keep an eye on them.

Neither my mother or I can remember the name of the younger man, but old Mr. Bihar retired to Paris at Suez, and our families exchanged greetings at Christmas until he died over ten years ago.

My brother is too busy to visit us at the moment so I will try to chat to him by fax (he is computer illiterate) and knock something together for you.

I see that the Cairo temperatures are slightly below normal for the time of year --- I trust it doesn't get too hot again.

Michael G.R. Stamford
14-A Pelham Road
GRIMSBY, Lincolnshire
UK-England DN34 4SU
stamford@mgrs.demon.co.uk
Tel & Fax: +44 1472-354273


Email your thoughts to egy.com
© Copyright Samir Raafat
Any commercial use of the data and/or content is prohibited
reproduction of photos from this website strictly forbidden
touts droits reserves