egy.com suggests following articles
EGY.COM - HISTORICA
HISTORY OF MOTORING IN EGYPT

by Samir Raafat
Egyptian Gazette, March 2, 1997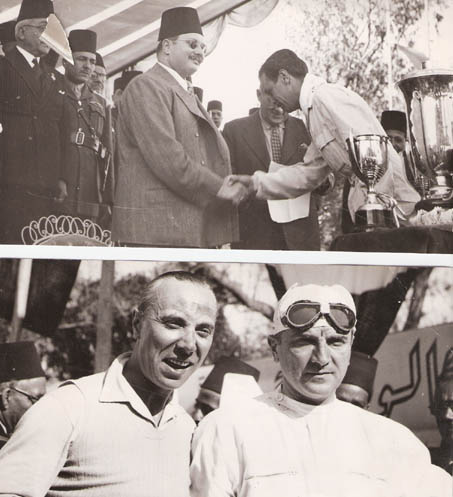 King Farouk offering trophy to winners of motorcar gymkhana
photos courtesy Tarek Makeen
ONE OF THE FIRST cars brought into Egypt was the French Dion-Bouton belonging to Khedive Ismail's grandson, Prince Aziz Hassan. In 1904, accompanied by two friends, the prince made the 210 kilometer journey from Cairo to Alexandria in over ten hours despite the hundreds of difficulties due to the absence of roads and bridges. It was a costly trip since the adventurers had to reimburse the heavy losses sustained by the felaheen left with damaged crops and cattle.
After this tour de force, Egypt was gradually invaded by these horseless carriages some of them called Peugeots, Renaults, Panhard-Levassors, Clement-Bayards and Darraqs. They rolled exclusively on Michelin tires until Le Gauloir made its appearance. There were even electrically driven cars promoted in Alexandria by the Société d'Entreprises Générales d'Électricité.
At year-end 1905, there were around 110 motorized vehicles in Cairo and 56 in Alexandria. Also, about 50 motorcycle sidecars and two Dietrich type omnibuses belonging to the newly formed Cairo Omnibus Company. Yet, still no signs of new roads linking Egypt's principle cities, at least none that could be engaged by motor vehicles.
In view of Egypt's strong economy, with its healthy balance of payments, the French Chamber of Commerce suggested the government spend part of its surplus on road construction, especially one that would relay Alexandria to Cairo thus allowing for 80-100 HP buses to carry tourists back and forth. Meanwhile, the first taxi company was formed in Alexandria in 1907-8 running Unic cars.
It was thanks mostly to the French Automobile Club of Paris that a sister club, opened in Cairo. Located at No. 25 Madabegh (later Cherif) Street the Club Automobile d'Egypte was under the patronage of Khedive Abbas II (reigned 1892-1914) with an annual subscription of L.E. 5 and an entrance fee of L.E. 6. Naturally, the presidency went to Egypt's first car owner Prince Aziz Hassan. The Treasurer was an influential Cairo businessman, Gustave Moise Cattaui.
Similarly, Cairo's first service station and garage, the Cairo Motor Company, previously a bicycle dealer, opened in Cairo doing brisk business. However, the financial crisis of 1907-8, followed by the outbreak of World War I, put an end to the struggling company which was absorbed in 1918 by the Eastern Automobiles Supplies & Transport Company E.A.S.T. The new owners were six Englishmen, two of whom, Alfred and Edward Flower, would become the pioneers of modern motoring in Egypt. When they first opened shop, they were concessionaires for the emerging automotive giant Ford. Later, they would become the dealers of the top names in the business.
The Royal Automobile Club of Egypt (R.A.C.E.) opened in April 1924, at No. 3 Chawarbi Street, in the villa belonging to the former Coptic Prime Minister Youssef Wahba Pasha, under the patronage of King Fouad (reigned 1917-36). Its first President was Prince Djemil Toussoun. The post of Secretary went to a Greek, Alex Comanos, and the first Honorary Secretary was leading Cairo banker, Elie Nessim Mosseri. The Club opened with 50 founding members.
A few months later, the R.A.C.E absorbed the older Egyptian Motorist Association of Alexandria, formed in 1920 by a group of enthusiastic motorists. By 1927, the R.A.C.E. boasted 600 members, indicating that cars had become the transport vehicle of the future. For a long time zfterwards, the R.A.C.E's roster read like Egypt's Who's Who. Cars had become a status symbol. The annual drivers license cost all of 10 piasters!
With everyone becoming car crazy, drastic changes befell Cairo and Alexandria's streets, sometimes entailing the razing of trees as thoroughfares were widened and asphalted to accommodate the new Lambdas, Aureas, Delages, Auburns, Isotta Fraschinis, Studebakers, Talbots, Nashs', Brescias, Ansaldos and naturally, Fords. Shell, and later Mobil, service stations, were becoming city landmarks. New roads were laid out linking most of the country's cities, towns and heretofore inaccessible tourist attractions and resorts.
In August 1925, the R.A.C.E. held its first motor Gymkhana in San Stefano, Alexandria. The lottery was over a Buick car. The two events that drew most interest were the "Slow Race" covering fifteen meters. Drivers had to start up their engines and keep going without stopping. The competitor crossing the finish line last was judged the winner. The "labyrinth race" called for lady drivers to negotiate a track lined with bottles. In March of the following year, another Gymkhana was organized at the Mena House. Car racing had become an established part of the entertainment season in both Cairo and Alexandria.
---
Date: Wed, 8 Mar 2006 16:56:10 -0000
From: nick pellett
Subject: de dion bouton in Egypt


I write from the de Dion Bouton Club UK.
The car you feature in the article is a 1903 (possibly 1904) de dion boton, probably 8 hp, with a four seater tonneau body. This car could not have been imported to Egypt until 1903/4 and therefore the claim that it was imported in 1890, when all they had not started builing proper cars (just bikes, trikes etc) is obviously wrong.
Enjoyed the article.
Nick Pellett
de dion bouton club uk
---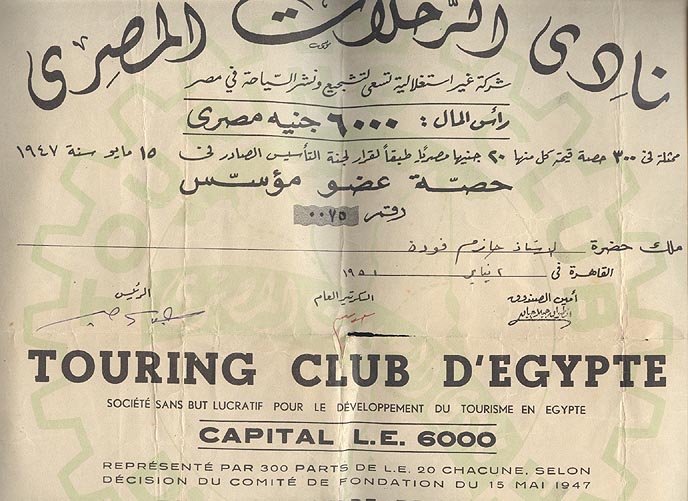 photo courtesy Hazem Foda
Date: Tue, 24 Aug 2010 16:41:46 +0300 [Tuesday, 24. August 2010 03:41:46 PM EET]
From Wael Hazem Foda

In the above Article you never mention anything about the touring Club of Egypt ???
---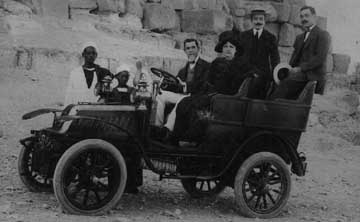 Subject: Motoring History Article
Date: Mon, 5 Mar 2001 11:03:40 -0500
From: "A Jendrzejewski"

I just discovered your article, History of Motoring in Egypt, on egy.com, which has provided me with clues to questions I have had for several years. I am fascinated with the subject because my Grandfather, Andreas Chalkiopoulos, was a mechanic in Alexandria from about 1908 to 1936 when he died. I have a picture of him on a Dion Bouton in Cairo with the son of the famous English touring agent, Thomas Cook, also named Thomas Cook, posing in front of a pyramid, as you see here:

Cook is the man driving; my grandfather is the man in the rear without his hat. The other gentleman is unknown.

Before I ask you questions, I present to you some facts about my grandfather:

1.His name was Andreas Chalkiopoulos (also transliterated from the Greek to Khalkiopolis, Halkiopoulos):
2.His nationality was Greek.
3.His home, as far as I know, was exclusively in Alexandria between about 1907 and 1936.
4.He had some friendly relationship with the Englishman, Thomas Cook, Jr., owner of the famous touring company by the same name.
5.He came from a school in Europe (France or Belgium?) possibly as a civil engineer to build bridges in Egypt.
6.He was thought to be one of the first people to assemble a Ford motor car in Egypt (or at least in Alexandria?)
7.He was later a personal mechanic and driver for an Egyptian Bey in Alexandria.
8.It is thought that the first employer of Andreas was Turkish.

I am hoping that your knowledge, research and resources about the history of motoring history in Egypt might help me to clarify the history of my grandfather's work, as well as the history and economic climate of Egypt during this interesting period of your country. Perhaps you can help me to answer the following questions:

1.Are their records of any organizations or businesses that would list my grandfather's name and describe more fully what he did? Where would I write for information about them?
2.Is it possible to find out which Egyptian Bay employed my grandfather in the 1920's or 1930's?
3.Can you provide me with more details about the introduction of the Ford motor car in Alexandria, Cairo or Egypt in general?
4.Did these Ford motor cars come in kits to be assembled?
5.What companies or organizations in Cairo and Alexandria assembled these Ford motor cars?
6.Would you know the name of any Turkish companies that might have recruited my grandfather for work in approximately 1907, either to build bridges or to build motor cars?
7.Can you clarify and provide more details about the Thomas Cook Touring Company before World War I.
8.What institutions in Europe provided Egypt with engineers and mechanics during the first decade of the 20th century?
9.From what other experts might I find help for answers to these questions?

I do not wish to be overwhelming, but I am seriously curious about finding out this information. I admire the history of my family in your country. We are indebted to Egypt for providing my family with a culturally rich and interesting beginning and many fond memories, something not so possible from their own country at the time,unfortunately. My family has always had a special love for your country and its people for this reason, so I wish to celebrate our feelings toward Egypt by publishing a book. I would be glad to give you credit for what ever information that you can help me to find. I sincerely hope to hear from you. Salaam.

Andrew Jendrzejewski
ajend@vincennes.net
404 North Fifth street
Vincennes, IN 47591
USA



Email your thoughts to egy.com
© Copyright Samir Raafat
Any commercial use of the data and/or content is prohibited
reproduction of photos from this website strictly forbidden
touts droits reserves