egy.com suggests following articles
EGY.COM - HISTORICA
WHEN DOCTOR GOEBBELS CAME TO TOWN

by Samir Raafat
Egyptian Mail, 30 September 1995
---
CAIRO ZEITGEIST Spring 1939

Even as WW2 loomed on the horizon Egypt remained firmly cosmopolitan although still within the British sphere of influence. In many ways, events of the first half of April 1939 typified the country's colorful socio-political calendar. For one thing, the capital was recovering from a titanic hangover brought on by the month-long festivities celebrating the fairy tale wedding of the beautiful Princess Fawzia of Egypt to the heir of Persia's Peacock Throne, Mohammed Reza Pahlavi. Celebrations ended when the imperial couple embarked from Port Said to Iran with Queen Nazli, the queen mother, in tow along with a large retinue of courtiers and hangers-on.

Meanwhile from his impregnable headquarters in Kasr al-Dubara, the high-handed British ambassador Sir Miles Lampson continued to dictate advice to the servile government of Mohammed Mahmoud Pasha. The latter was mercilessly heckled by opposition leader Mustafa Nahas. As usual, the wily Nahas was scheming a momentous comeback for his Wafd Party.

It was business as usual at Abdine palace where Ali Maher Pasha, chief of the royal cabinet, submitted and withdrew his resignation during 24-hour interludes. Likewise, his brother Ahmed Maher Pasha, the incumbent minister of finance, was making his own waves at Government House calling for the transformation of that most British of clubs, the National Bank of Egypt, into a Central Bank.

On the social side, the King's maternal uncle, Sherif Abdelrehim Sabri Pasha hosted a splendid tea party at his Giza villa on Abdelrehim Sabri (now, Nawal) Street attended by all of Cairo's feuding politicos.

Across the Nile in Zamalek, lording it in their prize Gezira Palace (today the Marriott Hotel) the Lotfallah-Sursocks, Palestine's largest single landowners and parvenu bearers of a doubtful princely Syrian title bestowed upon them by the temporary ruler of that country, entertained Lady Austen Chamberlain, sister-in-law of the British prime minister. Altogether is was just another day in prewar Cairo.

Stopping in town for an extended visit during their return trip home from the Palestine London Conference were Princes Feisal and Khaled al-Seoud (later they would take turns at being Kings of Saudi Arabia).

Also transiting through Cairo on his way to Palestine after attending the same fruitless conference was head of the World Zionist Organization Chaim Weizmann. Accompanying him was his second-in-command, David Ben Gurion. Tagging along was fawning admirer and self-proclaimed Zionist Blanche Dugdale. Her notorious uncle Lord Arthur Balfour had promised the Jews land which already belonged to someone else.

Since both the Arab and Jewish protagonists were in town, an eleventh-hour meeting was arranged on April 12 at the Egyptian prime minister's office with the intention of narrowing the chasm separating the warring parties. As expected, nothing came out of the meeting.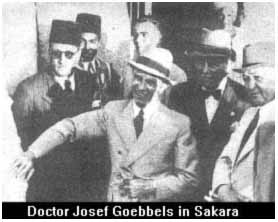 On the lighter side, German tennis champion Gottfried Von Cramm trounced America's W. D. McNeil at the Gezira Sporting Club cheered on by an adoring public. Once again, Von Cramm won the prestigious Egyptian International Tournament.
Because it was Easter- Sham al-Nessim season, festivities were a-plenty. The Cairo Arts Circle held a brilliant performance at the Giza Pyramids under the gaze of the Sphinx. The pharaonic deity had seen it all before. But what the Sphinx didn't know then was that in a matter of months the largest Allied Army would pass right under his broken nose.
PREPARING FOR WW2 - 1939
After each one of Adolph Hitler's frenzied speeches the international borders of the Central European countries changed once more. The Fuhrer's insomnia kept Europe's chanceries wide-awake.
During Easter weekend and not to be outdone, Mussolini was gobbling up whatever he could lay hands on. Albania's King Zog had barely a few hours to escape with his young bride and their newborn heir before strutting Italian troops took over his small Moslem Balkan state. For the bewildered Zogo this was a Red Easter. His next Easter would be spent in Egypt.
On the other side of the Levant, King Ghazi of Iraq died of a car accident catapulting his Alexandria-educated preteen son onto another wobbly throne.
Amidst all these Easter holiday events, a Condor-type tri-motor Focke-Wulf 200 plane bearing the German swastika and a large inscription Max Von Muller (a German flying ace) on its fuselage landed at Almaza Airport at exactly 11:20 on the morning of Thursday, April 6. The Max had flown directly from occupied Rhodes Island. On board was Doctor Paul Joseph Goebbels (1875-1945) accompanied by eight aides. Among the passengers was the director of a leading German picture studio, Von Waldeck.
On hand to receive the Fuhrer's protégé was Von Hunting, minister at the German Legation in Cairo. He had just replaced Baron Von Wehnher who walked out on his job because his wife had been targeted as a Semite. On the receiving line were the German consul, Alfred Czibulinski and his press attaché Von Roentgen. The latter arrived in Cairo a few weeks earlier bearing the Fuhrer's gift to the Royal-Imperial Wedding.
While the next next morning's papers made no mention of Johann Ivo Theiss who, aside from being the German Legation's lawyer, headed the NSDAP in Egypt, they nevertheless pointed out that the Reichminister was welcomed at Almaza Airport by ranking members of the Austro-German community including the director of Dresdner Bank, Baron Leonard Von Richter.
In his capacity of president of the German Chamber of Commerce in Egypt, Von Richter made the most memorable speech of his career a few days earlier to a packed German audience. He announced that since September 1938 and for the second year running, trade between Germany and Egypt was at a deficit of 4 million marks. While Germany made clear its readiness to increase cotton imports from Egypt, its exports were declining due to adverse propaganda spearheaded by "certain bought newspapers guided by self-defeating propaganda."
"The fact that Austria and the Sudeten merged into the Reich failed to improve trade figures." Announced Von Richter. "Germany is the third largest user of the Suez Canal after England and Italy, yet, most of Suez Canal profits are for the benefit of France and England. It is only fair the Company return to Germany its voting seat which it lost in 1889."
In a way Von Richter was right for the Suez Canal directorships at the time were distributed into 19 French, 15 English, two Egyptians and one Dutch. The third largest canal user--Germany--was altogether absent. Von Richter and the German Chamber were hoping to see a reverse in the trade pattern and "would continue to pursue their objectives conforming to the Fuhrer's belief in long term peace."
Another important member on the Reichminister's Welcome Committee was Baron Von Richter's Maadi neighbor, Wilhelm van Meeteren, the local director of Siemens. A long-term resident in Egypt, Meeteren was president of both the German community and the German Club in Boulak, not far from the German School.
The van Meeterens were patrons of Cairo's various music circles where Mrs. van Meeteren and their daughter Clara performed regularly. It was at one of those meets that Clara met her husband-to-be Hans Pilger, the German consul in Cairo who lived at Villa Basque in Maadi.
Pilger and Meeteren made front-page headlines in January 1934 when a libel suit was brought against them by the local chapter of LICA the Jewish (Ligue Internationale contre l'antisemitisme) on charges of spreading vicious publicity.
Somehow Goebbels propaganda machine met more than its match in Cairo! Local gossip claimed the van Meeteren-Von Richter-Pilger threesome were closet Nazi agents. And even if these innuendoes were never actually proven by the powerful Cairo-Judeo clique, the fact that subversive elements were promoting Nazi propaganda all over the globe was no secret. Why, only recently senior Siemens and Krupp representatives were apprehended in Patagonia, Argentina, for illegal dissemination of seditious anti-Semitic information. And was it not in Cairo that incriminating documents were found some years ago in the cabinet of prominent lawyer Maitre Fritz Dahmm?
Egypt's influential Jewish community was forever vigilant!
Some among the thriving Jewish community were talking about bizarre desert picnics that ended with pyre burning and Prussian chants. These were complemented with demonic dances. The whole scary scene evoked medieval Teutonic apparitions! Those in the know claimed these diabolical celebrations were organized by the local NSDAP or Landesgruppen.
As though to fan these weird rumors, a report published in the Journal d'Egypte on April 6 claimed 25,000 Germans had converted to Islam and were en-route to various countries in the Moslem Orient in an attempt to de-stabilize Franco-British influence. According to General Niessel, Germany never relented on its old quest to establish footholds in North Africa and the Near East as evidenced earlier by Kaiser Wilhelm's controversial trip to Palestine (staying at Orient House) and his celebrated stop in Tangiers concomitant to the arrival in Constantinople (Istanbul) of Generals Goltz and Liman Von Sanders. These visits took place just before WW1. Was history repeating itself?
Now, on the eve of WW2, a series of suspenseful visits and developments were taking place to which the British were not making light of.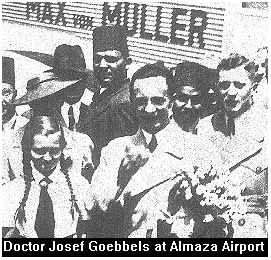 To the British the first unwelcome development was the introduction of the Spree-Nile connection consolidated on April 1 by Lufthansa's maiden flight to Egypt. This was the German flag carrier's second stop in black Africa. The first was Bathurst in West Africa--a refueling stop for Lufthansa's South America connection. The new air service via Cairo allowed for a faster link-up to the Far East via the Bremerhaven steamer from Suez. The 35-day trip to Yokohama was reduced by 10 days! A precious gain for the growing Germano-Japanese Alliance.
The second unwelcome development was the unexpected visit of Doctor Goebbels to Cairo. And if one paid attention to the latest intelligence reports, it was to be followed by a visit of Reichmarshal Hermann Goering to the Italian dependency of Libya.
All that remained was for Hitler's other zealous advocate, Rudolf Hess, de hinterhaeltige Aegypter or crafty Egyptian, to return to his birthplace Alexandria.
What the British ignored was that a month later, in May 1939, it would be the turn of Air Marshal Italo Balbo, the Italian Governor-General of Libya, to visit Cairo. He even found time to drop in at his Fascio countryman Signor Carlo Grassi in Zamalek's beautiful Villa Nedda (now the Moroccan Embassy). Meanwhile, across the Nile in Garden City, Count Mazolini, the cocky Italian minister in Egypt, was flushing his feathers.
THE VISIT
On April 6, the Richter-Meeteren clique were surrounded at Almaza airport by what looked like a platoon of hand-picked rosy-cheeked Aryans from the German School of Boulak. As athletic males shouted Heil in true Hitlerjugend style, their fair fraulein counterparts curtsied and presented the diminutive Doctor Goebbels with flower bouquets as he made the handshake rounds.
The only tarbouches seen on the tarmac were those of Mahmoud Dessouki, the Oriental Secretary at the German Legation and the one belonging to the director of the Tourism Department. No other Egyptian officials were anywhere to be seen. The visit had been listed as private.
Following 'advice' from Sir Miles, the Egyptian council of ministers made it clear to the German Embassy that Doctor Goebbels was to refrain from making any press statements or accord interviews while in Egypt. Moreover, a request to fly across the Western Desert was rejected since the area had been declared a no-fly zone the week before. Aside from these two minor pre-conditions the Doctor's entourage was free to tour the sites and meet at will with the German colony of Egypt.
The reichminister's program was as follows:
DAY 1

arrival at Almaza Airport
signing Visitors Book at Abdin Palace
signing Visitors Book at Manial Palace (crown prince)
lunch at Mena House
visit Giza and Sakara Pyramids
reception German House in Boulak
dinner at German Legation (Garden City)

DAY 2

depart Mena House 09:15
Cairo Museum
German School in Boulak
Cairo Citadel
Khan al-Khalili/ Mousky
lunch at German Legation
departure Almaza Airport
There were to be no meetings with Egyptian politicians whether in government or in opposition. There were no courtesy calls to the head of the government or to his foreign minister Abdelfatah Yehya Pasha. However, court protocol required Doctor Goebbels to sign the Visitors Register at Abdin and Manial Palaces. In his characteristic Gothic script the German visitor entered: "Dr. Goebbels, Reichminister."
According to press reports, during his visit to the Giza plateau Goebbels expressed to Professor Hermann Junker of the Deutsches Institut his deepest admiration for ancient Egyptian civilization. Standing in front of King Tut's collection at the Egyptian Museum, the Doctor reiterated his admiration. Al-Ahram's front page on April 7 tells how Goebbels was in awe of all the golden paraphernalia exhibited in the young pharaoh's chamber and how he was so taken in with the Giza pyramids that he opted for a moonlit camel ride before tucking in at the Mena House. (One wonders if the suite occupied by Goebbels was not the same one later christened the Montgomery Suite.)
According to Germany's Volkischer Beobachter, the fresh-orange-juice-totting reichminister accepted to have tea in the desert tent belonging to the Archaelogisches Institut. Later in the afternoon he met with the German colony at the German School in Boulak (Deutsche Evangelische Oberschule Kairo) then under the directorship of Karl Ehmann.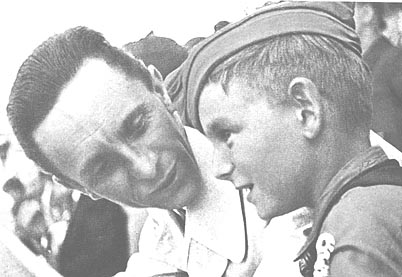 Josef Goebbles at German School
In those days the school was situated next to the German Church and what is al-Ahram's present headquarters. But since the meetings were held in camera it was difficult for the press to make out what message the reichminister was bringing from Berlin. Nevertheless, the weekly Akher Sa'a magazine claimed in its April 23 issue that Doctor Goebbels complimented the gathering for their splendid performance and announced that "the reich recognizes your valiant services and believes you should be rewarded. When I saw young British soldiers walking the Cairo streets I asked myself, wouldn't it be wonderful if they had been our schmucksoldaten marching out there? This could well be the reward for your services."
The meeting was followed by a reception at the German legation at (Villa Kyriazi) No. 7 Sheik al-Arbein Street (off Simon Bolivar Square). Attended mostly by Germans it was conspicuously devoid of Egyptians. The only one who left his card was Abdelhamid Abaza, a large fruit exporter to Germany. Even the pro-German elements of the palace such as Mohammed Taher Pasha, Prince Ismail Daoud and Medhat Yeken Pasha had had cold feet. None called on Herr Goebbels feigning prior engagements. Likewise, they turned down personal invitations to visit Berlin for the coming April 20 celebration of the Fuhrer's 50th birthday. By so doing they missed one of the biggest military rallies in history.
With everyone staying away, it was left for the anti-British Nabil Abbas Halim to show up at the legation dinner. Halim, a former Ulan and a recipient of the Iron Cross from the Kaiser during WW1, had studied at the Imperial Academy in Berlin before joining the Kaiser's own officer corps. The gutsy outspoken prince would pay a dear price for his audacity when Sir Miles Lampson would order his internment during most of WW2.
The second day of Doctor Goebbels visit included a tour of the museum, the Citadel, the Sultan Hassan Mosque ending with a stroll in Khan al-Khalili's bazaar where he purchased a roll of cotton cloth and a silver trinket for his wife Magda.
With time running out, Herr Goebbels declined an invitation to visit Studio Misr, Egypt's answer to Hollywood. Deepest regrets were expressed to Herr Kremp, the studio's German manager. Goebbels knew only too well the importance of celluloid and its powers of persuasion.
By 01:15 on April 7 the visit was over. The Max Von Muller, which had been guarded at Almaza Airport by three policemen, took off with Doctor Goebbels--a fruit basket by his side--and his elated retinue to the cries of Heil, Heil.
WW2 was declared five months later.
WHAT BECAME OF THEM DURING WW2
The German Charge d'affaire was handed his passport and left for Greece with his staff. A Swedish flag flew over the ex-German Legation at No. 7 Sheik al-Arbein.
German and Austrian subjects excluding Jewish refugees were asked to report at the nearest police station. Many were detained in the premises of the sequestered German School of Boulak pending investigation of their political backgrounds and affiliations.
Baron Von Richter was interned in Boulak throughout the war. In the makeshift prison-hospital he fell in love with an Egyptian Copt relief worker (Aida Semeika) and later married her and had a child. Meanwhile, his villa in Maadi was taken over by Joshua Green, a Jewish pharmaceutical importer.
In View of his representing the Baltic States, Wilhelm van Meeteren claimed diplomatic immunity and was spared internment. He disappeared just before the Ribbentrop-Molotov Agreement became public resurfacing in Maadi after the war.
German property in Egypt was sequestered. The sequester was Ahmed Sadik Bey who was married to Vicky, a redheaded Jew and member of the international café society.
The Deutsches Archaelogisches Institut on Zamalek's No. 5 el-Kamel Mohammed Street was closed. The villa was bought by Ovadia Mercado Salem, a rich Jewish businessman. His wife later leased the house to Egypt's ex-queen, Farida Zulfikar. Later it was sold to the Canadian government, which turned it into the ambassador's residence.
Paul Joseph Goebbels survived Adolph Hitler by 24 hours. On May 1, 1945, the reichminister's six children were poisoned in their Berlin bunker. Complying with his superior's orders, Doctor Goebbels' orderly shot the reichminister and his wife Magda that same night. Their unburied charred bodies were found the next day by the invading Soviet army.
---
Note:
Almost five years after the appearance of the above article in the Egyptian Gazette the German School in Cairo celebrated its 125th anniversary. On that landmark occasion a 208-page book "125 Jahre DEO Kairo" was published chronicling the development of the German School in Cairo from a small makeshift classroom in a priest's house to what it is today. Despite its momentous importance to the local German community at the time, the visit of Josef Goebbels to the school was subtly omitted from the book.
The fact that the German School in Cairo remains an institution that teaches 'liberal' arts and science it is unfortunate to note that selective memory is still very much in force. Disregarding or denying events however sinister will not change the outcome of history. What happened has happened. If one embarks on writing the story of an institution, particularly an academic one, then one cannot afford the luxury to be discriminatory.
---
COMMENTS:
Subject: Goebbels Article
Date: Fri, 19 Aug 2005 22:38:45 -0700
From: Stephanie Hager

I enjoyed your article. My husband Kirk von Meeteren is related to Van Meeteren. He was his grandfather's half-brother who changed his name from von to van in order to appear less German in his world travels. Do you have any photos of him or any more information about him or his family? Thank you.
---
Read it with interest, though its emphatically English-style irony & "humor" (Durrell's Yougoslav experience?) contained its dose of poison by implication and innuendo -- very much what the post-script deplores (the omission in the 125-year celebration book, of G's visit to the German school). Perfect symmetry.
The lesson here clearly is that Jews spread false rumors about Nazis -- exaggerating, by implication, innocent events into conspiracies.
Correction :
1. In 1939 Rhodes was an Italian (not a German) colony/possession or equivalent -- belonging to Turkey until the end of WWI, the Dodecanese (=12 islands) were awarded to Italy by the Treaty of Versailles --if I remember correctly. These islands (of which Rhodes is the largest) reverted to Greece after WWII.
A tout Seigneur tout honneur
Raymond Naar


Email your thoughts to egy.com
© Copyright Samir Raafat
Any commercial use of the data and/or content is prohibited
reproduction of photos from this website strictly forbidden
touts droits reserves