egy.com suggests following articles
EGY.COM - HISTORICA
ANATOMY OF A PHOTO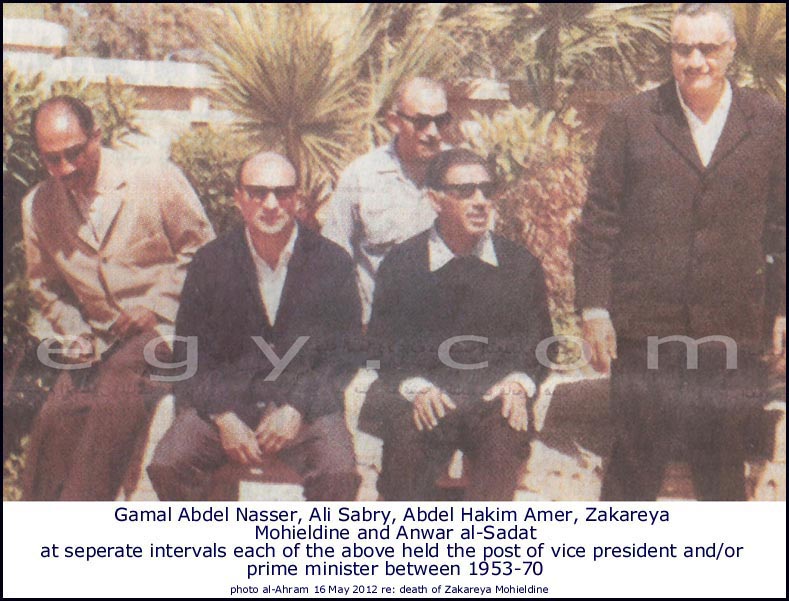 What makes the above photo special is not so much that all of the above were military instigators of the coup that toppled the monarchy in 1952; or that at different intervals between 1953 and 1970 each held the post of vice president and/or prime minister with two out of the five becoming president. What makes this photo singular is how their careers ended, which in itself should be a lesson to future Egyptian dictators.
Here's why...
TWO OF THE ABOVE WERE MURDERED

The already caged Field Marshal Abdel Hakim Amer was allegedly poisoned in 1967 by orders of President Gamal Abdel Nasser following the Arab-Israeli war when Egypt lost Sinai, its army and its world prestige in all of 6 days.

President Anwar al-Sadat was shot in cold blood by his officers during the 6th of October victory celebrations of 1981 with the gruesome spectacle aired on live television.
DEATH OF THE THIRD CLAIMED TO BE AT THE INSTIGATION OF HIS SUCCESSOR

A daughter of Gamal Abdel Nasser publicly indicated more than once that his successor Anwar Al-Sadat was responsible for her father's "precipitated" death in September 1970 and that Sadat was actually an American agent. The matter ended in court where Sadat's daughter Rukaya sued Hoda Gamal Abdel Nasser for defamation.
ONE OF THE ABOVE IMPRISONED BY THE OTHER FOR 10 YEARS

Ali Sabry, former vice president and prime minister of Egypt accused of high treason in 1971 by a specially-orchestrated tribunal on charges of fermenting a coup aimed at toppling Egypt's new president, Anwar al-Sadat. He received the death penalty later commuted to life-imprisonment. He was released from Torah Prison ten years later for medical reasons but when he died from lung cancer in 1991 none of his former cronies came to the funeral.
MARGINALIZED INTO OBLIVION BY HIS COMRADES

The only one who escaped an actual or anticipated un-natural death was Zakareya Mohieldine. He was however brutally marginalized, first by his comrade in arms including Nasser and Anwar al-Sadat, and later during the 30-year reign of another military officer (Hosni Mubarak). His recent passing at age 94 came as a surprise to a nation which thought Mohieldine had died decades ago.

Although officer Mubarak was too young to appear in this photo, we all know how his career ended!


Email your thoughts to egy.com
© Copyright Samir Raafat
Any commercial use of the data and/or content is prohibited
reproduction of photos from this website strictly forbidden
touts droits reserves