egy.com suggests following articles
Several of my articles on Garden City were plagiarized word for word by novelist MEKKAWI SAID (winner of the Egyptian State price for literature!!!!) and re-published under his own name in a three-part series in El-Masry El-Youm daily in September 2015.
Cheers to our "talented" literature prize awardee. Your pain his gain !!!
EGY.COM - GARDEN CITY
GARDEN CITY:
A Retrospective PART 2

by Samir Raafat,
August 20, 1998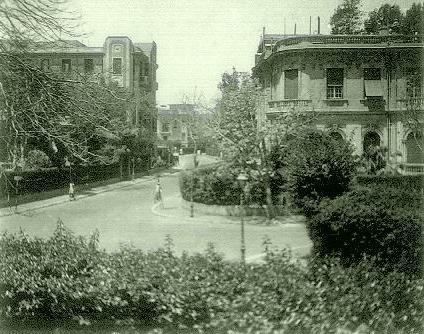 If banker Aziz Bahari, Prince Ahmed Seif al-Dine and the Yegen cousins owned prime Garden City real estate, they were not the first to move there. In fact they were seen as newcomers by the town fathers themselves a motley crew of senior palace officials, goverrment officials and, civil administrators many of them British.
Yet curiously absent were Nile Land & Agricultural Company's founders, prominent natives of Alexandria where an entire district was named after one of them. In fact, Garden City had almost ruined Messrs. Bacos, Maksud and Sofio. Two years into their Cairo project they were hit along with other developers by the 1907 economic crisis.
Also missing in Garden City were the company's senior executives Hans Mog (a Charles Bacos in-law), Henri Molho and Jose Lamba who preferred the bustle of Emad al-Dine, Midan Kasr al-Nil and Midan Ismailia respectively.
The distinction of first diplomatic legation to move into Garden City goes to the Germans. The Hohenzolern emperor's colonial aspirations may have prompted Baron Falkanhausen to move into the Prampolini-designed building at No. 10 Ahmed Pasha Street.
Large, gray, foreboding with columns in evidence everywhere, the neoclassical German legation had all the Teutonic trimmings. From the upper floor the baron had an unencumbered view of both Citadel and pyramids. Under the circumstances he could also espy across an empty tract of land the colonial-style British Agency where Lord Kitchener that most formidable of imperial foes, ran Egypt's affairs before he became Britain's minister of war when hostilities broke out between Britain and Germany.
Likewise, it was probably from his home at No. 9 Ahmed Pasha Street, directly across from the former German legation, that the British commanding officer, Major-General Julian H. Byng supervised the sequestration of all German and Austro-Hungarian properties in Egypt. Over the decades, Byng's mansion would become home to a Levantine businessmen--Emile and Soheil Boulad, Premier Mustafa al-Nahas and now the Higher Council for Islamic Affairs.
Following the Germans' hurried departure from Egypt, a succession of residents moved into their former legation beginning with the heirs of Credit Foncier's Carlo Beyerle and culminating with Shahin Pasha, a rich landowner from the Delta. His son Fouad Serageldine Pasha, the incumbent leader of the New Wafd party, occupies the house to this day. In between, during the early 1920s, the mansion was leased to a Swedish-run school for girls.
Prior to WW-1 Garden City's postal addresses seldom referred to street names. Designations like "Mr. Carl Hasselbach, Villa Olga", "Monsieur Vincent Mandofia, Sharia Ritz" and "Legation d'Allemagne" were all the uniformed postman went by for the 40+ residents of Garden City and Kasr Al-Dubara combined. Other quaint names included Villa Marica, Larter Cottage, Mog House and Immeuble Badaro.
With a wave of post-war arrivals the neighborhood's street names finally caught on. Most names referred to objects or landmarks predating the Garden City project. Viceregal estates come to mind with names like al-Saraya al-Kobra (grand palace), Harass (guards), Diwan (ministry), Salamlik (reception quarters), Bergas (equestrian sport), Faskia (fountain), Nabatat (plants), and Hadika (garden).
Local industries also left their legacies with Warchet al-Tambak (guilded pewter factory), Tolombat (pumps) and Maamal al-Sukar (sugar mill). More mundane or simply strange features left their names as well such as Madrab al-Nichab (roller), Hod al-Laban (milkman's basin), Salsoul (source), Dar al-Shefa (house of recovery).
A few streets were named in honor of lofty personalities: Khalil Agha, Ismail Pasha, Ibrahim Naguib Pasha, Walda Pasha (khedive Ismail's mother) and Ahmed Pasha. Noticeably absent was a street named after Khedive Abbas Hilmi or Sultan Hussein Kamel. Both had ruled Egypt during Garden City's accouchement so to speak.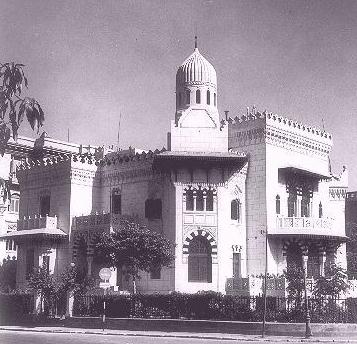 Many street names changed once or twice, particularly after 1952. And for almost fifty years Garden City and Kasr al-Dubara each had their own Walda Pasha (Khediva Mother) Streets. Garden City's named in honor of Khedive Ismail's mother became Aicha al-Taymouria. Kasr al-Dubara's named after Khedive Abbas Hilmi's mother turned into Fatma al-Zahraa and then into Sharia Amrika al-Latinia. This latter name-change was motivated less by the presence of the Brazilian Legation (before it moved out of Mahmoud Fakhry Pasha's mansion; today Banque du Caire et de Paris) than by the desire to pique the then-unpopular British and American embassies which have far greater frontage on the street. What didn't change however, was Garden City's quaint English name.
The elite neighborhood was almost free of royal residents save for Princess Fatma Fazil who died in 1933. Her mansion eventually became a family daira (estate office) and later a worker's employment union before being replaced by an apartment building. Every so often, her relation Princess Iffet Hassan would lease a Garden City house, bringing along a large retinue and truckloads of priceless furniture and paintings. One of her transitory abodes is now the Greek Embassy (previously Iraq Embassy) on Aicha al-Taymouria Street.
Another member of the royal family was the controversial Prince Abbas Halim at No. 3 Tolombat Street. But then the palace belonged to his father-in-law Medhat Yegen Pasha whom we met earlier. Neighbors were sporadically alarmed by workers demonstrating outside the palace to show support for their royal advocate whom they dubbed the "Blue Collar Prince".
But if royalty was practically absent from Garden City, Cairo's fashionable neighborhood boasted a multi-denominational coterie of pashas, many of whom had a hand in shaping Egypt's artistic, finance, commercial, military and political destiny for almost half a century. By virtue of their collective clout, Garden City had become--between the two World Wars-- Egypt's main center of power.
Top photo courtesy of Princess Ulvia Abbas Halim (granddaughter of Medhat Yegen Pasha). Taken by her sister Nevine Halim in 1948 from the upper floor of their grandfather's palace, it faces Tolombat Street towards the villa of Princess Fatma Fazil (now replaced by apartment building). To the right is extant villa built in the 1920s for the late Doctor Sir Ali Ibrahim Pasha, dean of faculty of medicine. To the left is the art deco building No. 8 Tolombat Street which hides Nos 10 & 12.

Medhat Yegen Pasha's palace was disposed of by his daughter Tawhida Yegen in 1949-50 prior to her permanent relocation at Massachusetts Avenue, Washington D.C. after her divorce from Prince Abbas Halim. It was soon replaced by 15 ugly apartment buildings.

Bottom picture: Arabesque villa allegedly designed by Garo Balyan. Situated at No. 12 Tolombat Street... (for more details click here.)
Email your thoughts to egy.com
© Copyright Samir Raafat
Any commercial use of the data and/or content is prohibited
reproduction of photos from this website strictly forbidden
touts droits reserves