egy.com suggests following articles
Several of my articles on Garden City were plagiarized word for word by novelist MEKKAWI SAID (winner of the Egyptian State price for literature!!!!) and re-published under his own name in a three-part series in El-Masry El-Youm daily in September 2015.
Cheers to our "talented" literature prize awardee. Your pain his gain !!!
EGY.COM - GARDEN CITY
O N D EATH R OW

by Samir Raafat
Cairo Times, 22 January 1998
---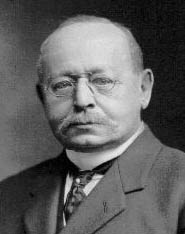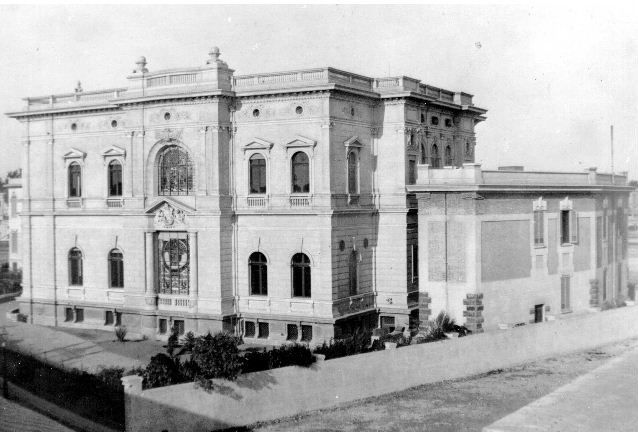 Mr. Karl Heinrich Beyerle; Beyerle Palace under construction 1906-8 later to become a girls' school in 1924; below: Beyerle honored by Ottoman Sultan with the title of "Bey"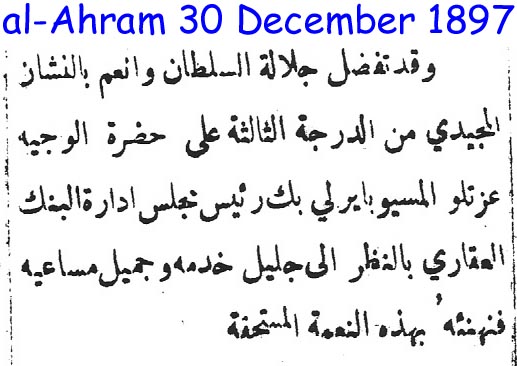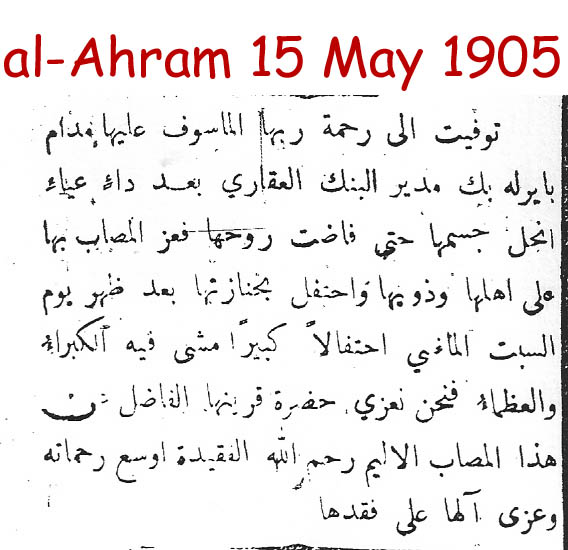 above: death of Madame Beyerle followed a year later by the death of Charles Beyerle Jr. (below)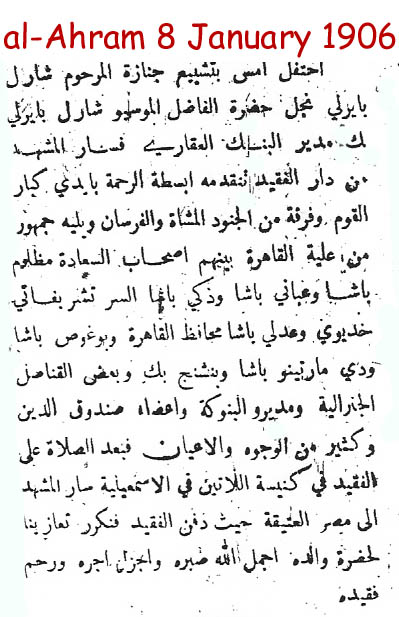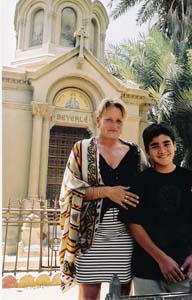 Beyerle's great-great granddaughter Dorothee von Brentano and her son Giacommo in front of Beyerle mausoleum at the Catholic Cemetery in Old Cairo (2004)
---
One hurries past without ever noticing the rusty faded initials "CB", "GW" and "EM" intrinsically engraved on massive iron porticos, some of them adorned with thistles and griffins, as though standing guard between a predatory world and the well-kept secrets of three unobtrusive Garden City mansions.
CB is the oldest of the three. The mansion in question was once very briefly occupied by real estate magnate Carl Heinrich Beyerlé of the Credit Foncier Egyptien. Designed by Carlo Prampolini using the then-revolutionary "adernach" volcanic cement technique (electric fittings provided by Thomson-Houston), this colossal gray edifice sporting outlandish gargoyles and fantastical accouterments, evokes a Wagnerian opera rather than a habitat for ordinary mortals.
According to the Egyptian Gazette dated 14 December 1908 Charles (Carl) Beyerle passed away at the ripe age of 71, succumbed to heart failure at his newly erected villa at Garden City into which he had moved Wednesday last. He remained in bed on Thursday on account of a cold and his condition did not give cause for anxiety. The body of the deceased has been embalmed and the funeral will not take place until the arrival from Europe of his two daughters, Mmes Loehr and Garcias, who have been notified by telegram. The Credit Foncier was closed on Saturday.
Since the funeral took place on December 17 by the looks of it Beyerle sejourned in his palace more dead than alive!
An erroneous tale that has been floating around for decades is that Germany's Kaiser was expected to stay there on his first ever visit to Egypt. The fact of the matter is that Wilhelm II so-called planned visit to Cairo was never in the offing and he most certainly never commissioned the building of this house! Sadly one of the perpetuators of this stale rumor is none other than the niece of the present occupant of the mansion. In her publication entitled A Cairo House, rather than properly research the history of the house sought instead to present family lore as a fact along with countless other fabrications.
Sometime after the war, CS was transformed into a school for well-bred girls. Its Swedish headmistress Ms. Dagmar Berg thought she could compete with the nearby Mère de Dieu. With time, the temporal lost out to the divine and CS had to find new owner--this time a rich feudal landowner, Shahin Serag el Dine Pasha and his large brood.
Today, a latter day tottering Kaiser occupies the now-defiled mansion.
Seen at eye level from the junction of Garden City's Ahmed Pasha and Nabatat Streets, CS lies hidden behind dusty rotting foliage and massive overgrowth. The present lord of the manor is Egypt's last pasha. He also happens to be the wily octogenarian chairman of the opposition Wafd Party. Fouad Serag al-Dine's advanced aged and flailing health, not unlike that of the party which he runs like a private fiefdom, has everyone speculating on the fate of his subverted palace. What will happen to it after the pasha goes? Will developers transmogrify it into a Disney-esque casino or will a Gulfionaire turn it into a week-end Shangri-La?
There is of-course the option that while Cairo's governor and his cronies look the other way, the palace abruptly disappears and a Four Season's tower goes up in its place. So long Kaiser! Hang in there ya Basha!
---
EM is located at 24 Gamal al-Din Abu al-Mahassen Street. Its original owner, an Italian-Egyptian Jew, died the day Mussolini entered the war on the side of Hitler. One of the richest men of his day, Elie Mosseri Bey's boardroom control extended from Tora Cement Company to the Hotels Company of Egypt including the Mena House in Giza and the King David Hotel in Jerusalem. Through his second marriage Mosseri acquired shares in France's mega department store Galleries Lafayette.
An accommodating arrangement between Denise Dreyfus-Harari (Mosseri's only daughter and heir) and the Helvetic Government made it possible for Villa Mosseri to become the property of the Swiss Embassy in Cairo. This strategic move ensured the survival of the villa and saved Garden City's last garden from certain extinction. To this day, Mosseri's resplendent park can be enjoyed by Cairo's best whenever the Swiss host a garden fete. But can it all end soon?
It is no longer a secret that Nova Park Co. of Zurich is going ahead with its long standing project of erecting a mammoth Nile view plaza right across the street from the Swiss Embassy property. Injunctions for a stay of execution have met with naught. Can one blame Villa Mosseri's occupants if they refuse to live under the shadow of a 40-plus story tower, notwithstanding that the original project was ... yes, Swiss!!!
---
The third blighted property, GW, stands opposite the Meridien Hotel. Although it is not proven, the villa's design is attributed to Italian architect Mario Rossi, the same man who designed many private homesteads as well as the famed Sidi Morsi Abou al-Abbas Mosque of Alexandria.
This handsome Nileside villa dates back to the close of WW1 when court physician Mohammed Shahin Pasha lived there with his family. It was only when his wife died prematurely in the mid 1920s, that the pasha moved to Zamalek selling his house to George Wissa Pasha, an affluent Coptic landowner from upper Egypt.
Wissa enjoyed several honorifics including that of America's 'consular agent' in Assiut which is why, in his days, the house was a regular stop for important politicians and visiting statesmen. It was also there that the Pasha's daughter-in-law, Marie Fanous, entertained many an officer and a gentleman. As heir-presumptive of Gezira Club's teatime crowd, Edward G. Wissa's widow gave uppity parties in either her ornate salons or in her basement-turned cabaret nicknamed "Chez Marie". Indeed, GW was a favorite pre-Revolutionary venue for Allied generals and high-hat diplomats. All were inclined towards Marie's well-laden buffets which seemingly took precedence over hobnobbing with Egypt's fawning Anglophiles. Conversation invariably went from Monty's routing of Rommel to Avocado ranching, a delicacy introduced to these parts by none other than the obliging hostess.
Today, drawn out litigation among GW's heirs will decide the fate of the fallen villa. Flanked between two mountainous skyscrapers the villa is on the dreaded death row.
And as one century gives way to another, CS, EM, GW are among the last receding residences which attest this was once a villas-only district.
---
For full story of Garden City click on: History
"CS" stands for Chahine Serageldine (father of Fouad Serageldine Pasha). Chahine Pasha purchased the mansion from Beyerle estate.
Fouad Serag al-Dine Pasha's obituary
---
Subject: 24 Gamaleddin Abul-Mahassin
Date: Fri, 25 Mar 2005 05:22:21 +0000
From: Pia Erismann

I was so happy to read that 24 Gamaleldin Abul-Mahassin (Villa Mosseri) has become a historic landmark! I lived in that hourse from 1982 to 1986, my father was the number 2 at the Swiss Embassy at that time, and I remember his constant battle with "Berne" who wanted to tear the building down and build a more modern Embassy. I am sure glad he persevered and managed to change their minds! I was between the ages of 13 and 17 when I lived in that villa and havevery fond memories of it.
So glad the villa is now forever protected, good article!
Best regards,
---
Subject: Re: Serag Eldin Pasha
Date: Tue, 16 Jan 2001 08:05:32 -0500
From: Mohamed ElShafie

As of Serag Eldin's house, I think the only one left from Shahin Pasha sons is Yassin (I knew Fouad Pasha, Aneas Bey and Gamil who are all dead).I hope Yassin will make a good decision and convert the house to either a museum (as Mohamed Mahmoud Khalil) or trusted to the party (El Wafd) as a symbol of the family history. Who knows? Mohamed ElShafie
Oracle Corporation Canada




Email your thoughts to egy.com
© Copyright Samir Raafat
Any commercial use of the data and/or content is prohibited
reproduction of photos from this website strictly forbidden
touts droits reserves