egy.com suggests following articles
Several of my articles on Garden City were plagiarized word for word by novelist MEKKAWI SAID (winner of the Egyptian State price for literature!!!!) and re-published under his own name in a three-part series in El-Masry El-Youm daily in September 2015.
Cheers to our "talented" literature prize awardee. Your pain his gain !!!
EGY.COM - GARDEN CITY
PALACES ON THE NILE

by Samir Raafat
Cairo Times (pre-edited version), December 25, 1997


palace designed by Antonio Lasciac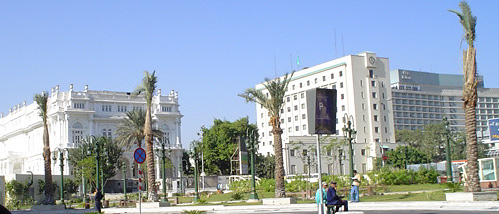 Kemal Al Dine Palace, Arab League, Nile Hilton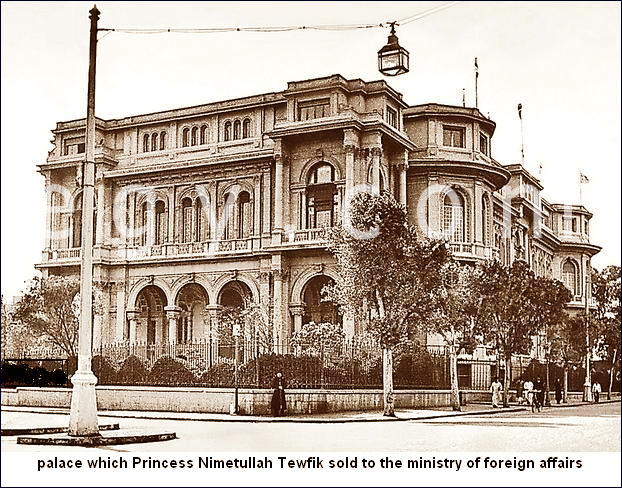 Viceroy Ibrahim Pasha (1789-1848) was the first member of the Mohammed Ali dynasty to move his living quarters to the banks of the Nile. First, on the garden island of Manial al-Roda and later, when he built Kasr al-Aali on what had been marshes and sandbars, next to Tel al-Akraba (Scorpion Hill).
His descendants followed suit and soon the area between Masr al-Ateeka (Old Cairo) and Boulak abounded with kasrs-palaces.
One of Ibrahim's sons, Khedive Ismail, built for his wives and concubines the palaces of Kasr al-Nil, Kasr al-Dubara and Kasr al-Ismailia. Meanwhile, a daughter-in-law lived in Kasr al-Walda Pasha.
Somewhat removed from the Nile as we know it today, were several other palaces many of which were turned into ministries or headquarters of government departments. There are also the palaces of Kasr al-Mounira that became the French archeological center (IFAO).
And let's not forget Kasr al-Amira Iffet Hassan that was later purchased by Princess Shuvekar Ibrahim (and her husband Seifullah Yussri Pasha) before becoming the official seat of the council of ministers. During and interim period, in 1926, it was home to the Turkish Embassy.
Whether or not these palaces still exist today, their names live on either as districts, bridges, streets and squares.
Kasr al-Aali, once the scene of many royal weddings, imploded making way for the curvy district of Garden City.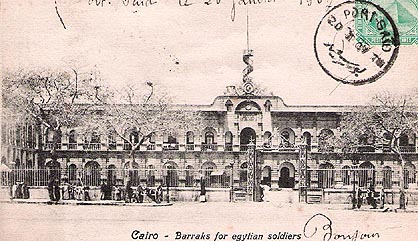 Kasr al-Nil, built circa 1854 during the reign of Viceroy Saiid Pasha. The work of Italian architects Pantanelli and Piattoli it was restored in 1868 during the reign of Khedive Ismail and earned itself the nickname of 'The Nursery' since it was there that he sent his pregnant wives. For a while it became the temporary seat for the council of ministers and later HQ for the minister of war before being turned into barracks for the British Army of Occupation. In the 1950s the barracks were replaced with the Nile Hilton Hotel and the Arab League.
Kasr el Nil was the only Nileside palace linked to the rest of Egypt by rail and it was from Kasr el Nil station that nationalist leader Ahmed Orabi Pasha was sent to exile in Ceylon back in 1883.
Kasr al-Incha originally home to Princess Tawhida (favorite daughter of Khedive Ismail) and her husband Mansour Yegen Pasha. Today it is the official HQ of the Ministry of War (or is it Defence?).
Kasr al-Walda Pasha in the district of Kasr al-Dubara. It disappeared when Prince Mohammed-Ali Tewfik (of Kasr al-Manial fame) sold it to developers in 1947 following his mother's (the Walda Pasha or Queen Mother) death in December 1931. Six buildings including the new Shepheards hotel came to replace it.
Kasr al-Ismailia, where the Mogamaa building stands today. Before it disappeared it was the official residence of Ghazi Mokhtar Pasha the Ottoman High Commissioner to Egypt. Part of the Kasr's garden was ceded over to the city forming the southern perimeter of Midan Ismailia renamed in the 1950s Midan al-Tahrir.
The lone survivor this side of the Nile is Kasr Kamal al-Din. It stands opposite the Arab League. From the mid-1930s and until quite recently it was the principle headquarters for the ministry of foreign affairs.
This box-shaped 100 year-old structure was built on land which had once been the estate of Viceroy's Ibrahim's eldest son Prince Ahmed Rifat. Killed during a train accident (when his Cairo-bound train fell off a Nile barge at Kafr al-Zayat) Ahmed missed his chance to rule Egypt. It was his younger brother Ismail who would make it to the throne of Egypt.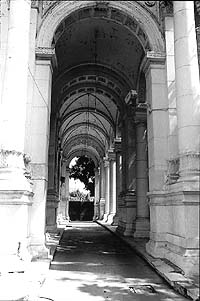 Upon Ahmed's demise his father's Nileside domain reverted to his heirs who ultimately sold it within the family. Among the new urban developments that appeared on the now fragmented estate was a box-shaped 52-room palace designed by Italian court architect Antonio Lasciac for account of Princess Nimetallah, youngest daughter of Khedive Tewfik who ruled Egypt between 1879-92.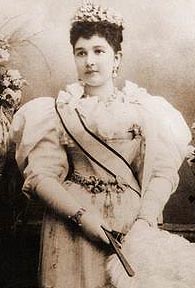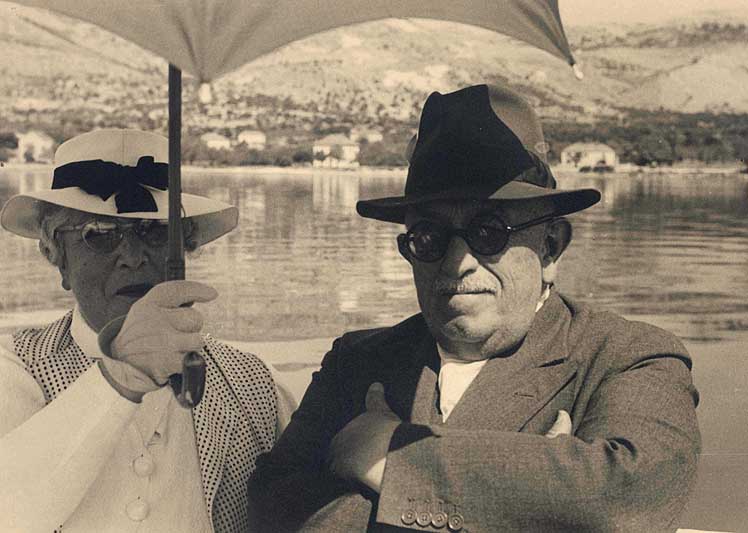 rare photo of Princess Nimetallah Tewfik with her brother the deposed Khedive Abbas Hilmi at Lake Geneva, Switzerland. (photo courtesy Prince Abbas Hilmi)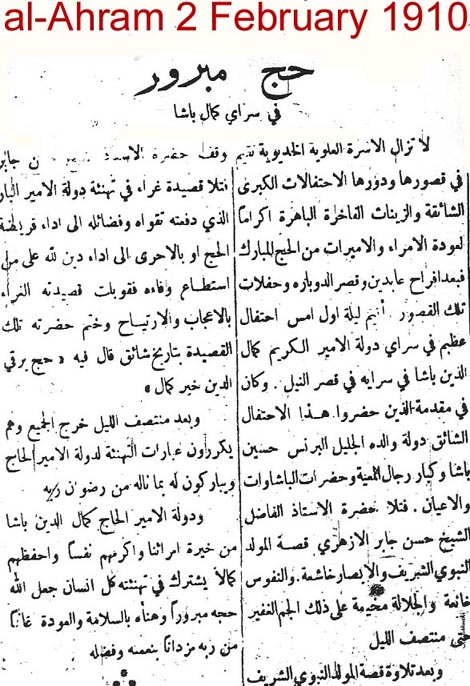 JUST FOUR HOURS AWAY FROM BECOMING QUEEN OF EGYPT
Betrothed at age 15 to her diplomat cousin Mohammed Gamil Toussoun the marriage lasted a handful of years ending with divorce in February 1903. The separation was amicable and the princess was allowed to keep the Nileside palace along with the custody of their infant son Prince Adil Toussoun. Moreover Gamil Toussoun returned to the princess her dowry of 1300 feddans adding some feddans of his own rounding up the figure to 2000 feddans. The rich divorcee was a good catch.
Princess Nimetallah soon remarried another fist cousin, this time the esoteric Prince Kamal al-Din Hussein. Henceforth the palace was dubbed Saray Kemal al-Din
Prince Kamal al-Din was an only son to the man who became Egypt's first modern-day sultan. In fact, it was from the princess's Nileside palace that Sultan Hussein Kamel led his inaugural procession in December 1914. Under normal circumstances that should have been a happy entry in the palace diaries. Yet it was quite the contrary. Egypt's new sultan had, by order of the British, replaced the princess's brother--Abbas Hilmi-- as Egypt's new ruler. Hilmi had been summarily exiled for his alleged German sympathies and would never set foot in Egypt again.
Another unhappy occurrence is that the newly married couple was not blessed with children. With time the palace haramlik became a somber empty nest.
As the palace of Egypt's heir presumptive and sometime commander of its army, Kasr Kamal al-Din was the scene of many official comings and goings. Yet instead of taking up his princely responsibilities, Prince Kamal al-Din preferred trekking the desert or traveling around the world spending little time in the nuptial palace. Collecting oriental artifacts was far more absorbing than attending affairs of state!
A Sufi mystic to boot, the prince subscribed to the traditions of the Bektashis, that reclusive sect which claimed concealed origins in Albania. Having donated considerable financial support to the saintly Order, Kamal al-Din was made one of the sect's honorary brothers. Many a time the palace was the scene for Sufi meetings and mystical meditation.
Either because he shunned public life or because he had no temporal ambitions of his own, Prince Kamal al-Din renounced the throne just a few hours before his father's death in 1917. He would not be Sultan and his wife would not become Egypt's first lady.
On the other hand Egypt's was none other than the paternal uncle of both Prince Kamal al-Din and Princess Nimet Tewfik. They would soon be related to him even more.
In 1924 the palace was the scene of a big wedding when Prince Adil Tousson married Amina Abdelrehim Sabry, sister of Queen Nazli. A year later disaster hit the palace when Amina died following childbirth. The now widowed prince moved to London where he was attached to the Royal Egyptian Embassy. Another happy entry was thus aborted from the palace diaries.
The man who would be King died in Toulouse, France in 1932 at age 58, a result of leg amputation complications. Prince Kamal al-Din's only wish was to be buried in a specially built vault in the Mokatam Hills near where the Dervishes dwelled leaving no instructions as to the fate of his Nileside palace.
Kasr Kamal al-Din went into mourning and the queen that never was no longer enjoyed her large palace by the Nile. Time for change.
Following up on negotiations initiated as early as February 1927, Prince Kamal al-Din's widow sold her palace of sorrows in 1938 to the Egyptian ministry of foreign affairs heretofore located in cramped quarters on Bostan Street (today a multilevel car park).
Once again the palace by the Nile would become an active participator in Egypt's history.
---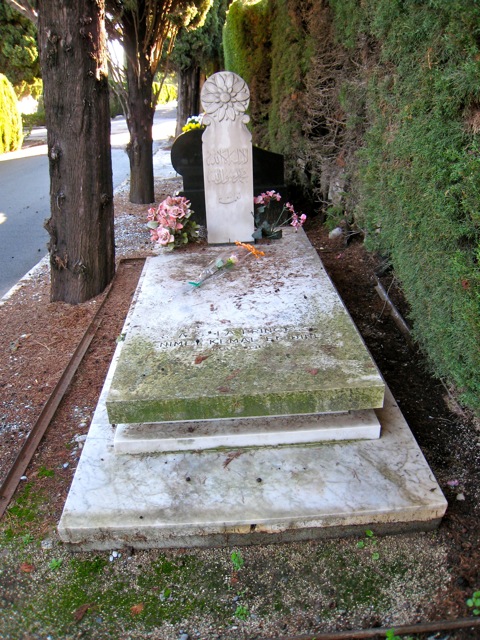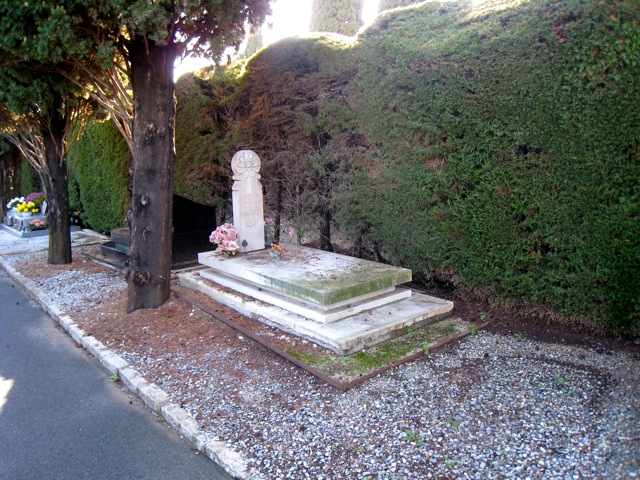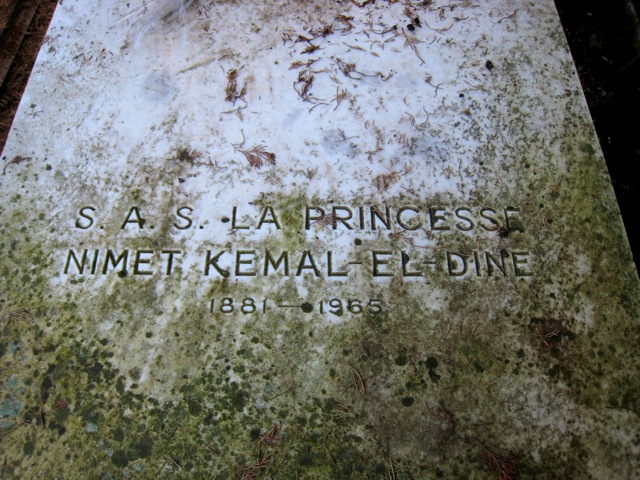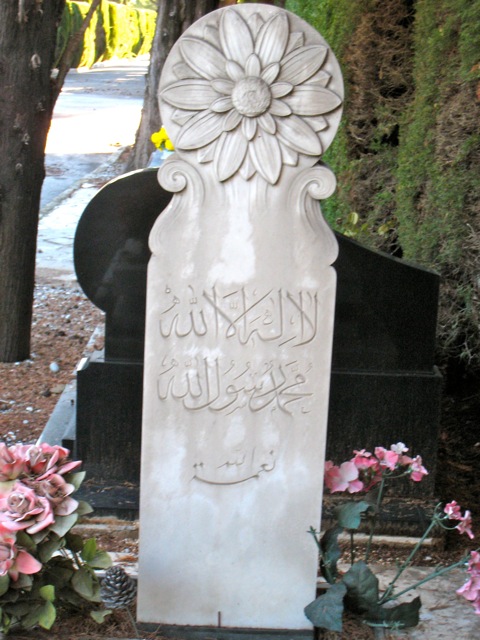 above photos of Princess Nimetallah's tomb in Nice, South of France, courtesy of Mr. Max Kargeji
Notes:

In February 1927 the Egyptian government offered Princess Nimet Kamal al-Din the sum of LE 66,000 for the purchase of her palace in order to turn it into the new headquarters of the Council of Ministers. Her asking price being LE 70,000 she turned down the offer.
the palace occupies 5640 sq.m.
in 1926 Prince Adil Toussoun resigned from the ministry of foreign affairs and took on a new wife, Nagiba Moheb, a daughter of former minister and sometime diplomat Mohammed Moheb Pasha. They had no children.
---
For interior photos of restored palace click here
---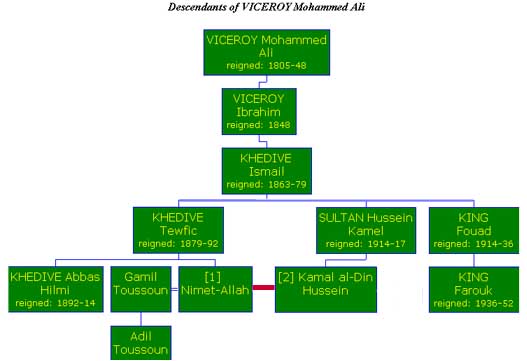 ---
Below is a list of the official khedivial palaces and dependencies in 1900
Abdeen
Ismailia
Koubbeh
Boulak Stables
Ras al-Teen (Alexandria)
The above were maintained by the state with a special allocation mentioned in the budget.
Gezira (Marriott Hotel)
Kasr a-Aali (extant, now Garden City)
A section of the Qanater Palace
These three palaces were maintained by its royal inhabitants
Giza (today Zoo)
Nozha (Shubra)
Citadel Kiosk (extant)
Al-Ramleh (palace of khediva Mother Amina Ilhami, extant) Al-Max (extant)
Suez
Ismailia (Ismailia, extant)
Saray of Edfina
were for account of the government to use or dispose of as it see fit.

Reader Comments

Date Sent: Thursday, March 21, 2002 2:59 PM
From: Tino
Subject:

Antonio Lasciac is italian name for Anton Lascak (spel. lush-chuc). He was italian citizen as were many Slovenians at that time. His origins are Slovenian where his surname comes from.
YS
Tino Mamic

Email your thoughts to egy.com
© Copyright Samir Raafat
Any commercial use of the data and/or content is prohibited
reproduction of photos from this website strictly forbidden
touts droits reserves