egy.com suggests following articles
EGY.COM - COMMUNITY
NEW BROOMS SWEEP CLEAN

by Samir Raafat
Egyptian Mail, October 18, 1997
PEOPLE OF CAIRO, Rejoice! The newest arrival on the newstands is Al-ASSEMA (Nation's Capital), a monthly Arabic magazine dedicated to the city of Cairo. Its wistful motto "beautiful - clean - gleaming" are sorely needed attributes for our ailing city of 16 million. Words wisely chosen by the magazine's publisher, General Adel Shabaan Ph.D. director general of the Cairo beautification and cleanliness department. The appearance of this publication comes a few weeks after the appointment Dr. Abdelrehim Shehata to the all-important post of Cairo governor. A decisive civilian who proved his metal during his Giza tenureship, Shehata promised to repeatedly ro get things moving in the right direction. But don't they all say that?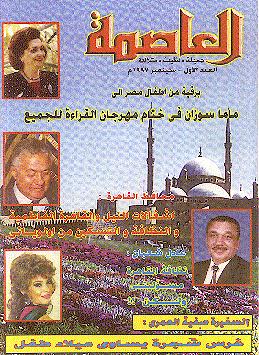 The difference here, is that the governor reiterated it in AL-ASSEMA, for one assumes this magazine will be the governor's unofficial mouthpiece. Well Mr. Governor, we've been holding our breathe for so long, we're blue in the face. At long last our dispirited and suffocating existence is being taken into consideration.
AL-ASSEMA is a specialized magazine which promises to tell us what's going on. The beauty of this publication is that it could later be used as exhibit A in the court of good intentions. Here is a public domain instrument that on one hand will act as a forum for commitments, tasks and objectives, and on the other, will act as a report card on the accomplishment and achievements by those who govern us.
Leafing through the one pound, 50-page, colored magazine is like discovering everything you wanted to know but didn't know who to ask. Almost everything, that is. AL-ASSEMA's lead article is an interview with the governor where Dr. Shehata spells out his priorities. In a nutshell these are: sanitation, redressing Fatimid Cairo, addressing the Nile, rejuvenation of selected districts, and the ever present housing issue. All vital to Cairo's well-being. But for Band-Aid measures, most have grossly ignored ever since the days when Africa's oldest and largest capital was inhabited by 3 million people in the 1950s.
Somewhere in the interview, Shehata denounces nepotism and the buddy system, endemic afflictions that predate our millennium-old city. Of paramount importance too, is the governor's candid endorsement of privatization ÷ in certain districts ÷ of the garbage collection system. It is estimated that Cairo produces 8,000 tons of garbage per day. A separate section of the magazine deals with the entire privatization issue.
There is the problem of the Nile. The distressed Nile that Cairenes, including the governor, can no longer see because of the multiple transgressions on its banks including those by the state and the governorate!!! Also to be considered are the 150,000 mobile salesmen who are forever squatting, polluting and encroaching on Cairo's sidewalks, plus the 13,000 private mini-buses belching toxic emissions. There are the seven million trees waiting to be planted over the next five years, and those hundred of thousands of building infractions wanting to be resolved... Good luck Mr. Governor!
Browse on because AL-ASSEMA has more goodies in store. One column that promises to be all-revealing is 'shakawa' (naughty). Using a shock, rock and defrock formula, shakawa reveals the shenanigans that go on inside the governorate. How refreshing that people are being named (or framed) so that now we'll be able to call-up and ask for the culprits in person. To this day, most of our public officials have reveled in the anonymity provided them by our titanic bureaucracy. Well, no more secrecy because Shakawa is here to flush them out.
Another section of the magazine 'Capital City News' enlightens us on what's hot and what's not. It spells out the Who's Who in the governorate and informs us on who's been compensated and why, and who's been fired and why not. Readers are invited to send their input, horror story or feedback to 'Letter to the Editor'. Public officials might not like to get advice, but they have to listen if they want to succeed and get on under this new administration which offers a certain degree of transparency through AL-ASSEMA.
The must-keep-beside-the-phone section of Al-ASSEMA is the 'services' pages which includes a 'how to' sub-section. Example: How to get rid of your garbage. Where (and where not) to dump it. Who to call when you want to get rid of an antediluvian O-Zone pollutant fridge. The complete list of by-laws concerning waste ÷ for instance did you know law No. 37 of 1967 forbids washing and/or peeing in public fountains and ponds?! And for those bent on setting up a private waste management / garbage collection company, look no more. It's all in there on page 15: The fifteen permits, approvals and endorsements you need to set up your own Garbage Collection company.
AL-ASSEMA's centerfold is dedicated to the publisher's message with pictures and all. General Shabaan divulges his own program on tidying up the city plus additional tidbits on privatization. In other words, the graffiti is on the wall: private waste management companies are coming. Besides, General Shabaan makes a solemn declaration that the old broom system is about to become history as modern and mechanized machines make it into the streets of Cairo.
Surprisingly, the magazine made no worthwhile mention of our antiquated donkey carts still roaming the streets of Cairo. Either they'll be around in 2000 AD or the donkeys will be the centerfold of one of AL-ASSEMA's coming issues.
The rest of this bang-up magazine is dedicated to feature stories, individual interviews, discussion of problems and their ultimate solutions. There are messages from various officials and how they are coping with the impossible. There is a whole set of detailed accounts on what the law says per case by case infractions. There is a wonderful account on Cairo roof-tops, that other city we hardly know exists... but it does. More on Cairo's black belt and squatter towns encircling the nation's capital. And to wrap things up, there's the riddle that won't go away: What's to be done with the statue of Ramses?!
AL-ASSEMA tails off with a sentimental message from actress Safeya al-Emary, lead star in Layali al-Helmiya (Nights of Helmeya District) and soon to be released Hawanem Garden City (Ladies of Garden City). "Artists, performers and stars must share in the responsibility of making Cairo a better place to live in. We've done it before during the War Effort of the 70s, so it's time we did it again for Om al-Donya." Right on, Safsaf!!
One sincerely hopes AL-ASSEMA will live up to expectation and not turn into another politics-as-usual pumpkin. The last thing we need is another magazine choc full of platitudes about how great we are and about new potent forces airbrushing Cairo's skyline. Just tell it like it is and we'll all be supportively grateful.
Under the circumstances, one can only applaud the Governor of Cairo and AL-ASSEMA's publisher for this latest arrival in the nation's capital, wishing it longevity and success. And since Cairo, "one of the oldest population centers in the world", is a multi-cultural hub, we look forward to the incorporation of a modest English section so that all of Cairo's residents can participate in what promises to become another milestone in the history of this great city.
Email your thoughts to egy.com
© Copyright Samir Raafat
Any commercial use of the data and/or content is prohibited
reproduction of photos from this website strictly forbidden
touts droits reserves