egy.com suggests following articles
EGY.COM - COMMUNITY
11. ADOPT A MONUMENT.
WHERE ARE THE PLAQUES?

by Samir Raafat
Egyptian Mail, Saturday, May 17, 1997, Cairo Times, November 12, 1998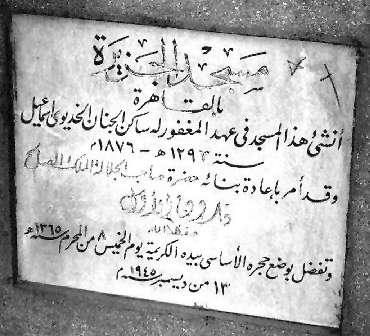 What strikes London visitors is the city's sense of history. Walk down any street and you're bound to run into a circular blue plaque."Lillie Langtry 1853-1929 performed here" or "Prime Minister Lord Palmerston was born on this site" or better still "Jack the Ripper committed his first murder in these premises."
In some countries plaques appear on public benches informing you Mr. & Mrs. Somebody donated funds so that you could rest your rump while feeding the pigeons.
There are the goodwill or status-seeking plaques. "This auditorium was made possible by a generous gift from the Alzheimer Foundation in memory of [a loved one]."
And there are the heart-wrenching war memorial plaques, examples of which can be seen at the Commonwealth War Graves in Egypt.
While plaques are plentiful in London, Paris and Vienna, they are remarkably absent in Egypt. Strange, given the rich history of our cities. More strange if you realize how epoch-making plaques were once available.
Notwithstanding their detailed references in contemporary articles but the two commemorative plaques belonging to the Aswan Reservoir--which celebrates its 100th groundbreaking anniversary next year--are missing! Likewise, the plaque of my alma mater, Victoria College, has vanished along with the school's liberty-type bell that could be heard across Maadi when it was still a quiet suburb.
While in Maadi, does anyone know what happened to the World War II memorial obelisk offered by the New Zealand army in recognition of the town's gracious hospitality? The same could be said about the plaque indicating King Farouk's inauguration of the suburb's first official mosque.
Walk around Cairo and it is as though Egypt's Greats never lived in houses worthy of their rank or intellect. Where are the plaques on the homes of Sirry, Maher, Nokrashi, Abdelhadi and Hilali Pashas, all of them prime ministers in the days of constitutional monarchy.
Are we also supposed to deny that Egypt's first president lived in a house or was General Mohammed Naguib a homeless unworthy of mention? Where is the clue that world-renowned author Andrée Chedid was born and raised in what is today the Nilefront Embassy of Lebanon in Giza? Where are the plaques honoring members of our literati, media stars, suffragettes and inventors: Al Akad, Um Kalthoum, Dalida, Idriss, Moustaki, Sharaawy (Hoda) et al.
And WHERE is the plaque acknowledging the Arab World's only Nobel Laureate?
As crazy as it sounds, O.J. Simpson's L.A. house has become a shrine of sorts yet none can tell where Alexandria's legendary murderesses Rayya and Sakkina lived. Students attending Cairo University's School of Oriental Studies on Giza's Al Ramah Street wouldn't know that Cairo's biggest society murder took place in the upstairs bedroom (today a dirty classroom) when the owner of Cicurel, the largest department store in the Middle East, was murdered in the 1920s by his Greek driver and two foreign accomplices.
Are patrons of Zamalek's popular Four Corners restaurant aware that in November 1944 Churchill's wartime cabinet minister for the Middle East (an ex-leader of the British House of Lords) was murdered in front of his villa (now al-Abd Building) by two Zionist Stern gang terrorists who came from Palestine with the express purpose of assassinating him? And yet if these same patrons travel to Israel they will discover that Tel Aviv and West Jerusalem are nothing short of Plaquevilles where each fallen individual is commemorated whether on street corners or above coffee shops.
And how about the names of famous architects and builders? Surely we're all interested in knowing the names of architects responsible for Cairo's grand buildings.
What would it actually cost to have metal or marble plaques attached to landmark buildings so that everyone can share the knowledge that the Mubarak Public Library was built by George Parcq circa 1932 and that it was once the property of Egypt's oldest commercial bank--The Credit Foncier--that it later became the home of Egypt's vice president and field marshal. Or that the Greater Cairo Library was once the home of an important Banker-Baron-Pasha and that the celebrated French poet Edmond Jabes was married there. That before it became a library the house was owned by another little-known poet, the Princess Samiha, daughter of Sultan Hussein who ruled Egypt earlier this century.
And how about a plaque on President Anwar Sadat's house, which welcomed so many of the world's top leaders through its iron gate?
Examples abound. Our historic buildings are screaming for attention and recognition. Certainly, it is not too late to launch an open competition for the design of a standardized bilingual plaque to be adopted by a competent association (e.g. Cairo Architectural Heritage Trust). We owe it to this great city.
As Egypt's first lady continues her crusade to introduce libraries for the young across the country, it goes without saying that appending worthwhile plaques on the city's landmarks will invariably give history textbooks a whole new dimension.
A tour of plaqued landmarks is a fascinating experience. So without further ado let the plaquing of Egypt begin!
Email your thoughts to egy.com
© Copyright Samir Raafat
Any commercial use of the data and/or content is prohibited
reproduction of photos from this website strictly forbidden
touts droits reserves