egy.com suggests following articles
EGY.COM - COMMUNITY
ITALIAN CULTURAL INSTITUTE
IN CAIRO CELEBRATES 100th ANNIVERSARY
OF MARIO ROSSI

Samir Raafat
Egyptian Gazette, Friday, March 28, 1997
SINGER Tino Rossi, Italy's star kicker Paulo Rossi and Rossi wines are names and terms we have often heard, but Mario Rossi? What did he do that warrants a 100th anniversary celebration with le tout Caire culturel in attendance? If we ask ourselves this question it's either because we know little of our cultural heritage or that we are simply not architecturally conversant with regards to buildings we often observe or visit.
For instance we all heard of the mosque of Omar Makram on Cairo's Tahrir Square where so many of our Greats were eulogized. This imposing structure was designed and built by Mario Rossi. Likewise Sidi Morsi Abou al-Abbas, Alexandria's awesome house of worship to which pilgrims come from all over. Al-Tabakh mosque in Abdine? Again signed Mario Rossi.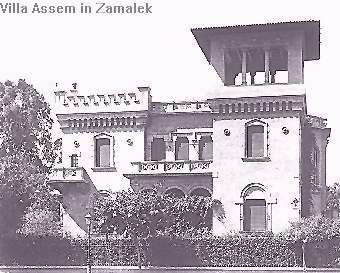 Italian-born Rossi (1897-1961) was one of the most prolific mosque builders the first half of this century. A student of the Scuela di Belle Arte in Rome, Rossi came to Egypt in 1921 as an assistant decorator at the invitation of Ernesto Verucci Bey when the latter was till Chief Court Architect and responsible for many of the changes and additions to Abdine Palace. Eventually, Rossi became his own master taking on individual assignments from the Ministry of Public Works as well as from Moustafa Fahmy who had taken over Verucci Bey's post. Another source of contracts was the Wakf Administration where Rossi became its Chief Architect.
Besides the mosque of Omar Makram, Rossi's other works include al-Fouli mosque in Minieh, Al-Ka'ed Ibrahim Mosque in Alexandria, and the Zamalek mosque (across the Nile from the Balloon Theater). He also took part in the restoration of the Mohammed Ali mosque in the citadel and the Rifa'a mosque on Citadel Square. Besides mosques, Rossi built smart homes and apartment houses. In Zamalek, during the interwar periods, he designed the arabesque-ish apartment building Gabalaya House at the corner of Hassan Sabry and Ibn Zanki Streets. On Ismail Mohammed Street stands one of his masterpieces Villa Assem (located next to the Mobil Petrol Station) currently being restored by Orascom. Rossi experts go as far as claiming that the neighboring mansion, Villa Tewfik, home to Cairo's Music Institute (at the corner of Ismail Mohammed and Shagaret al-Dor Streets), is also the work of Rossi even though it was presented as that of Ernesto Verucci Bey, Rossi's sometime benefactor and employer.
In Giza, Rossi was commissioned by Ahmed Afifi Pasha to build him two Nile side Arabesque villas, one for his son Wafdist senator Atta Afifi Bey and another for his daughter the wife of Bahi al-Din Barakat Pasha. The latter villa was destroyed in the 1980s and replaced with a mammoth high rise. Villa Afifi, today the headquarters of Vitrac Jam, became the property of Bank Nasser when Afifi's Spanish widow, Isabella Casanova died intestate.
Architect and Rossi expert, Ahmed Sidky, suspects that Villa George Wissa on Garden City's corniche (opposite the Meridien Hotel) was also designed by Rossi. "It has all the Rossi elements and bears a striking resemblance to some of his other works," claims Sidky. Together with the Pakistani Ambassador's residence, Wissa's is the last villa standing on the corniche today.
Rossi also designed large downtown apartment buildings the most famous being that of G. Weiser near Midan Tewfikia. It is not sure how many of these designs materialized into buildings however. The pinnacle of Rossi's career was the inauguration in 1944, of his greatest achievement, the Alexandria mosque of Sidi Morsi Abou al-Abbas, for which he was personally congratulated by a grateful King Farouk. In a sign of submission and gratitude, Rossi converted to Islam two years later at the same mosque.
In "The Works of Mario Rossi at Alexandria" published in the Italian periodical Environmental Design (Vol. 8 No.9/10), James Dickie discusses Rossi's great achievements in this city, namely its three greatest mosques: Sidi Morsi Abou al-Abbas, Ibrahim and Ras al-Tine. In the same issue, architect Magdi M. Moussa describes Rossi's perceptual aspects such as his choice of high elevations and playing with local topography in order to emphasize the mosque as an urban landmark.
Among Rossi's other public works is the WW-1 Italian memorial in Abbasia. After he converted to Islam, Rossi built fancy mausoleums for Egypt's elite in Cairo's Northern and Southern Moslem cemeteries.
Email your thoughts to egy.com
© Copyright Samir Raafat
Any commercial use of the data and/or content is prohibited
reproduction of photos from this website strictly forbidden
touts droits reserves