YOU may remember Norman Jewison's comedy film "The Russians Are Coming! The Russians Are Coming!" in which a Soviet navy ship is marooned on the holiday resort island of Nantucket off the American New England coast. Very quickly its Soviet officers and crew struck up a friendship with wide-eyed young American teen-agers.
The other day, just as I watched President Boris Yeltsin crack a joke live on CNN which seemingly tore Clinton apart, the phone rang. It was Vladi inviting me to a reception at his embassy in Cairo. This was a first. I don't ever recall having been invited there in the last three decades. Somehow, the Soviet embassy was austere and impregnable just like those Cold War era descriptions in Frederick Forsyth and John Le Carré's spy novels.
Because I arrived at the reception late, the entire area was surrounded with double parked cars, real fancy ones. None of the tatty old Moscovitchs and aging Zils were in sight. Neither were there the large Volga clunkers. All of Russia's automotive industry presumably ended up in a giant scrap heap next to the Moscow river or in an icy crater in a Siberian gulag.
Inside the large compound, the main mansion swarmed with Ruskis. Never had I seen such a high concentration of smartly dressed boyars. It seems when grouped together they are a merry, jocular lot. Mind you, the multiple bars and endless buffet tables looked like they had been wiped out early on in the evening. Somewhere in the palatial house the effects were starting to manifest themselves as a tuxedoed gentleman played a popular Russian melody-Kalinka-on a grand piano in lieu of the balalaika. Meanwhile an eager babushka sang raucously while tap dancing. She was admired by all who passed through the large hall.

Participation in the festivities were welcome and some of the more vocal guests joined in. There was even a visiting metropolite (bishop of the Russian Orthodox Church) in evidence giving his blessings to whomever.

I could swear I also saw a Gregory Rasputin look-alike: piercing eyes, unkempt long hair with beard to match. His black robe, large crucifix and all added to the ethereality of the place.

The eat, drink and be jolly atmosphere was novel and refreshing. None of the embarrassing British Embassy deja vu or the Swissair-catered cocktail edibles which characterize those boring National Day receptions at those small-to-medium sized NATO or EU member states. And none of the heavy networking that goes on in these places as each guest angles his way for a slice of turkey or a piece of whatever foreign aid is being peddled at the time.

According to Vladi, this gathering was to celebrate the "Days of Nizhny Novgorod Region in Egypt" or so the unpretentious card said. In attendance was a large visiting delegation from the Nizhny Novgorod region (400 km from Moscow) including the members of its chamber of commerce. They were in town presumably to promote trade and tourism between our two countries. We are talking here pure private sector. All this barter chat and government-to-government deals are either dead or on their way to the morgue. Remember, this is the age of Prikhvatizatsya (privatization à la Ruski) and infitah

The impressive Russian delegation hadn't come all the way to peddle hammers and sickles or faulty socialist-built agricultural combines. More likely they came to cut deals on caviar, silver samovars and sable furs for our expanding rich-raff. And while Egypt's businessmen--you know the ones I mean, that flashy self-important gang that hangs around in perpetuity at the American Chamber of Commerce, were conspicuously absent, conventional wisdom says they'll be cueing up soon at the Russian Trade office.

A Russian journalist who seems to have been in his profession since the Yuri Andropov days and has nothing to show for it, told me he was reviewing a tourist guide book on Egypt published in Russian. Not a day too soon since, at the writing of these lines, Russian tourists are swarming the Red Sea coastal town of Hurghada and making a highly visible debut in Cairo. They are definitely not to be confused with the lead-toothed Soviets one used to encounter in Khan al-Khalili bazaar huddling over the counter peddling silver and gold. These well-groomed new wave Russian tourists belong to the second tier level of their country's new rich come to visit Egypt fist full of dollars and video camera in hand.

As for Russia's robber barons and power brokers, they prefer to start their outing with holidays in the côte d'Azur, the Costa Brava and New York. When they eventually make it to Egypt--every person de marque must visit our ancient civilization at least once in a lifetime--they will arrive in grand-ducal style, just like old times.

History books abound with tales of Russian aristocracy visiting Egypt in the 19th century. Up until the demise of the Russian monarchy in 1917, Czarist Russia had an important diplomatic mission in Egypt situated at No. 2 Emad al-Din Street. The minister plenipotentiary around 1907 and years thereafter was A. Smirnow, former Chamberlain to Nicolas Romanov, Emperor of all the Russians.

Russia even maintained consulates in Port Said, Suez, Alexandria as well as agencies in Damiette, Mansourah, Tantah, Assiout, Guirgeh, Esneh, Beni Souef and Zagazig.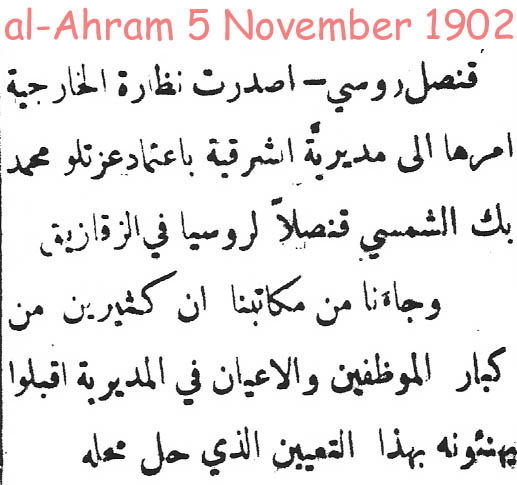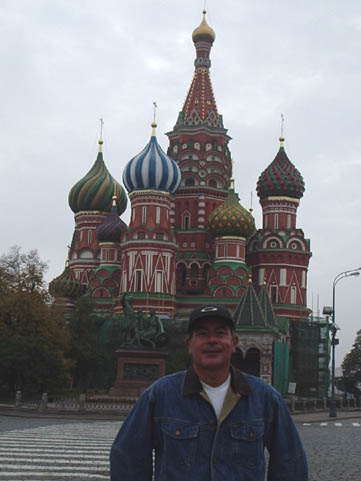 above: son of Amin Chamsi Pasha appointed Russian consul in Zagazig in 1902
below: great-grandson of Amin Chamsi Pasha in Russia
I know about the one in Zagazig because the honorary consul there was my great grandfather, Amin Chamsi Pasha. In those days the family was very obviously pro-Czarist. Much later, in the Nasser years, one of Chamsi's grandsons, Ali Sabri, would be labeled Egypt's man from Moscow.
Sabri would rise to become Egypt's several times prime minister and vice president. It was even said he was such a good friend of the Soviet-era nomenklatura and received a Tchaika car compliments of some Soviet party boss. The rest of his extended family made a statement to the contrary and drove about in Nasr-Fiats. But all this is in the distant past. It is the future that concerns us.
For instance, did you know that in the next decade we may have ethnic Russians influencing day-to-day policies in the Middle East? No, you didn't. Well, let me tell you something you overlooked.
With all the Russian-Jewish migration to Israel, you may well find that in the coming days a Sharansky or Pasternak or worse still, a Zhirinovsky influencing the right-winged Likud Party. Mind you, not all those who immigrate to Israel from the banks of the Neva or the shores of Odessa (now part of the Ukraine) are bona fide Jews. Some of these make-believe sons of Abraham are actually opportunists who are after the Mediterranean warm waters. But as they come to grips with democracy, these clever white collar immigrants are bound to politicize and seek their share in Israel's power stratum.
And were you aware that certain Russians are muscling in on what used to be primarily Cosa Nostra (Sicilian Mafia) territory in the US-of-A and the Far East. Crimebusters all over the Western world are now required to learn Russian in order to intercept messages on internet and track down Belorussian kingpins who reside as near to us as Cyprus?!
I say its time you brushed up on Who's Who in the crime world. You'll find Italy's Guilio Andreotti is an inconsequential has-been compared to the rising Russian godfathers.
And like Vladi says, it's a whole new Russia out there and no one knows where it's all going to lead. So take it from me, the Russians are coming. Start icing the vodka!
Email your thoughts to egy.com
© Copyright Samir Raafat
Any commercial use of the data and/or content is prohibited
reproduction of photos from this website strictly forbidden
touts droits reserves