egy.com suggests following articles
EGY.COM - COMMUNITY
PRE-WW2 CAIRO ART SCENE
researched by Samir Raafat
December 2004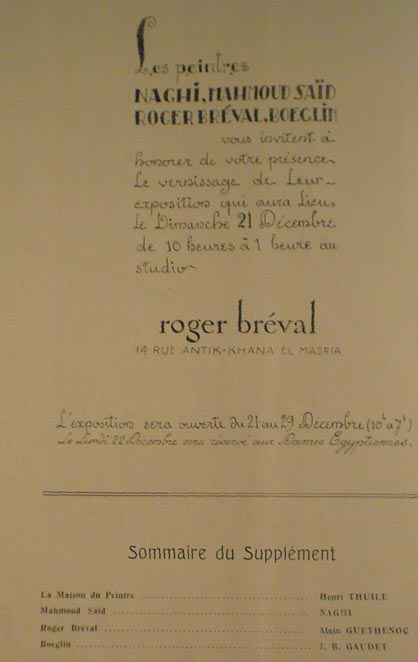 1925 brochure
Contrary to a prevailing notion that Mr. & Mrs. Mohammed Mahmoud Khalil (of the museum by the same name) held a quasi copyright to French impressionism this side of the Mediterranean, during the interwar period Cairo and Alexandria abounded with art collections. So much so that in the 1920s three complimentary and sometimes overlapping institutions were created; their primary task was to catalogue, exhibit and disseminate the appreciation of this rarefied form of art, which, thanks to many private art collectors, had become an integral part of Egypt's cultural landscape.
1. The Society of "Les Amis de l'Art" of Cairo was founded in 1921 under the patronage of avid art collector, Prince Youssef Kamal. Founding members included Emile Miriel, the long time director of the Credit Foncier Egyptien Bank; Senator Mohammed Mahmoud Khalil; former finance minister Youssef Cattaui Pasha; Mohammed Taher Pasha; Sir Ali Ibrahim Pasha; Henri Naus Bey of the Industrial Federation; banker Sir Robert Rolo; Engineer Aldo Ambron; Fouad Abdel Malek (secretary-general of the Society); Charles Boeglin; and finance minister Ali Chamsi Pasha. This male-only society partnered with Le Salon du Caire which was itself patroned by Princess Samiha Hussein. Among its female members we find Hoda Sharaawy and several other feminists. Eventually Le Salon merged with Les Amis de l'Art.
Before it moved to more permanent headquarters in ex-Tigran Palace on Nubar Street, the Society des Amis de l'Art's first locale was on Antikhana (later renamed Mahmoud Bassiouni) Street in the building designed by Ambroise Aubry for the French Archeological Mission to Egypt (IFAO). The Society lost no time in launching a series of lectures, exhibitions and art and musical seminars.
1928 saw the first exhibition in Cairo of a large collection of contemporary French paintings and sculptures courtesy of the Paris Louvres, the Palais Luxembourg and the Petit Palais as well as a side exhibition of Sevres, Gobelin and Beauvais.
It is thanks to the Societe des Amis de L'Art that Egypt saw the creation in 1928 its first Museum of Modern Art. On 8 February 1931 King Fouad officially inaugurated the Museum then situated in the ex-Palais Mosseri at the corner of Fouad al-Awwal (now 26th of July) Avenue and Emad al-Din Street.
2. The museum itself had been in operation since 1928 collecting and receiving works belonging to the Dutch, French and Italian schools--many of which were donated by private collectors.
On the museum's ground floor was a permanent exhibition for Egyptian paintes and sculptors including George Sabagh, Mahmoud Saiid Bey, Dikran Garabedian, Mohammed Naghi, Ragheb Ayad, Amy Nimr, Mohammed Hassan and Mahmoud Mokhtar. On the same floor were the works of Orientalists who had made Egypt their second home such as Innocenti, Beppi Martin, Edmond Pauty, Gabriel Blessy, B. Barbur and Roger Bréval. The latter would soon open his personal atelier at No. 14 Antique-Khana Street.
Aside from the fabled paintings there were ceramics, statuettes, vases and glassware with labels evidencing a variety of origins: from Rod al-Farag in Cairo all the way to Lyon, France.
The museum's centerpiece was allocated to Jacquemart's scaled down reproduction of Mohammed Ali's statue on the square by the same name in Alexandria.
But all was not modern in the newly opened museum. Among the older pieces were 15th century works by Italian and French masters including Alumon di Foligno, Verrochio (Leonardo De Vinci's teacher), Francesco Mazzola and Panini. The Dutch school was itself represented by Beerstrtaten, Cornelius Dusart, Van Goyen and Jan Steen, all of them from what is known today as The Netherlands. Contemporary Belgian work on exhibit belonged to Alfred Stevens, Franz Courtens, Louis Artan and Emil Baes.
English works of art included Gainsborough, Peter de Wint, Sir William Beechy and Richard Bonnington.
Several halls were dedicated to 19th and 20th century artists, too many to be named here. Suffice to mention: Largillière, Géricault, Descamps, Henri Regnault, Daubigny, Jules Dupré, Sisley, Cottet, Eugene Boudin, Herni Martin and Dégas.
3. The creation in the late 1930s of Ecoles des Beaux-Arts in the then-fashionable district of Shubra. Eventually, the school transferred to Palais Princess Khadiga in Giza (where it is today) in bucolic surroundings near Cairo University. Consisting of five departments: architecture, sculpture, painting, decorative art and gravures, the school was first under the directorship Signor Innocenti from Italy.
Meanwhile in Alexandria a separate Society of les Amis de l'Art was founded in 1925 with poet-Prince Hassan Haidar Fadel as its honorary president and Antoine Benachi as its acting president. Hassan Nachat Pasha was named vice-president. Founding members were Baronne L. de Benoist, M. Furness, Michel Zogheb, Adolphe Cattaui, M. de Rougemont, José Caneri and Henri Thuile.
---
Oswald J. Finney of Alexandria owned one of the most important art collections in Egypt. His five-storey home on Rolo Street was nothing short of a private museum. It included porcelain from Saxony, Louis XV furniture and a unique collection of Jade vases. Aside from his many paintings signed by English and French masters the showstopper was the collection of 17th century tapestries from the Jose de Vos workshops in Brussels.
Whether competing with or complimenting Finney's art collection Edwin Goar's mansion on the elegant Sultan Hussein Avenue burst with yet another enviable collection composed of potteries from Rhodes, Janina needlework, Flemish tapestries, Italian renaissance pieces of furniture, Chinese screens and choice Chippendale. And if all this were not enough, Goar was the proud owner of Islamic art treasures including a priceless Mihrab stella from Qum in Iran.
Max J. Rolo's collection of Moroccan, Chinese and oriental potteries and artifacts were the talk of the town for he was also a round the clock host at his beautiful Ptolemy Street villa in Alexandria thus sharing his treasures with the international cafe society.
Another Alexandria art collector was Jacques O. Matossian whose sumptuous villa on Neroutsos Street coveted a unique collection of ancient Coptic textiles second to none.
Hanging on the walls of Baron Charles de Menashe's nearby home were paintings by Paul Potter, Thomas Lawrence (portrait of Lady Caroline Lamb) and George Morland alternating with Gobelins from the royal manufacturers by the same name.
Still in Alexandria we evoke the Islamic art collection on a mansion overlooking Mohammed Ali Square belonging to Arthur Morrison which included 16th century ceramics from Damascus and Turkey.
On Residence Hill near Alexandria's Mustafa Pasha tramway station was the ceramic collection of Alexander Benachi. Gathered from all across Asia Minor his glass cabinets abounded with treasure troves composed of inestimable platters, goblets, vases, shards etc…
Charles A. Nomico was another collector in Alexandria specializing in ceramics, plates, lamps and vases from Asia Minor and Rhodes.
Leon Rolin head of the large contracting firm by that name was an avid collector in Cairo. In his large villa in Koubbeh Gardens he assembled precious artifacts from all over the Orient.
Inside Cairo's villa Nedda, located on al-Kamel Mohammed Street in Zamalek, were untold art treasures belonging to Signor Carlo Grassi, the wealthy Greek-born Italian merchant of sorts. His collection included paintings by Italian masters plus a Turner from the UK. Carlo's wife Nedda Mieli would later donate part of the Grassi collection to the city of Milan in memory of her son Gino Grassi who died in action during the battle of Alamein in 1942.
Levi de Benzion owned a very large house on the island of Gezira-Zamalek so space was of no consideration for his vast art collection. From pre-dynastic Egyptian vases we travel down the centuries to the French impressionists with Monets, Pissaros and Corots passing by Chinese artifacts from the Han dynasty.
A collector of Dutch and Flemish art was Cairo's Fortune Martino. Side by side with his paintings were ivory Tanagra statuettes from Alexandria and old coins from the Greco-Roman period of that city.
In search of a separate cultural identity several collectors specialized in Islamic Art. Foremost among them was Madame Hoda Sharaawy whose Islamic-style villa on Kasr al-Nil Street abounded with Persian and Damascene masterpieces intermingled with inimitable pieces from Yemen, Kutahaya (Turkey) and Central Asia.
Unlike Islamic art afficionada Hoda Sharaawy her brother Mohammed Sultan was a collector of ancient Egyptian artifacts. His house on Gamea Sharkass Street in downtown Cairo was nothing short of a depository of canopies, vases, statuettes, coins and papyrus scrolls. Coming down a few centuries we find old Quran manuscripts.
Kamel Osman Ghaleb's preference was for woodwork having saved many objects from condemned old homes and wekalas in the Mousky and Azhar districts. In fact his house was a refuge for beautiful yet unwanted and discarded mashrabeyas.

Find out what La Bourse Egyptienne had to say about Egypt's art scene in 1933 listing Cairo and Alexandria's leading collectors.
A Tortillia
---
For Cairo's contemporary art scene click
Leila Izzet
Chafik Charobim




Email your thoughts to egy.com
© Copyright Samir Raafat
Any commercial use of the data and/or content is prohibited
reproduction of photos from this website strictly forbidden
touts droits reserves