egy.com suggests following articles
EGY.COM - COMMUNITY
THE MAKING OF CD2
CLEO Monthly Magazine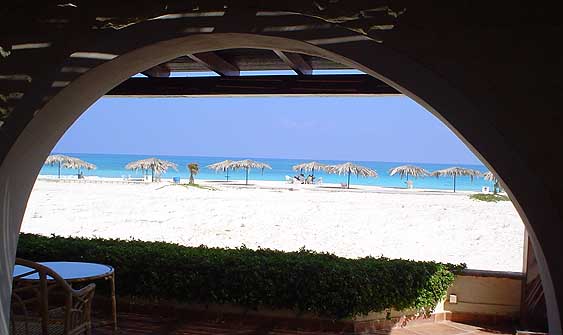 Overlooking Sidi Abdelrahman's scenic bay, Karyet al-Diplomassiyeen-II is one of the most sought after pieces of real estate. Aside from its white sand, turquoise sea and Knotts Landing ambiance, it is a tranquil riff-raff-free resort where stylish like-minded people meet for a rubber of bridge or a brisk sunset walk along its 1.2 km seaside promenade. Hard to imagine this was the scene of one of history's fiercest tank battles when Rommel and Montgomery fought it out under the blazing sun.
From its name one assumes Karyet al-Diplomassiyeen (a.k.a. CD2--a play on the word 'Sidi' and 'Corps Diplomatique') is associated with Egypt's Ministry of Foreign Affairs. Well, not quite for although it is colonized in part with current and retired diplomats, it is in fact an independent housing cooperative run by an elected board of directors from among its 620 chalet owners.
For a brief history of how this elite enclave came to be Egypt's most desired summer resort one has to refer to its founding chairman Ambassador Taha al-Farnawani. A maverick sort of man his accomplishments range from captaining Egypt's basketball team at the 1952 Helsinki Olympics to nominating himself as presidential candidate--a daring first in Egypt's modern history!
According to Farnawani the idea to set up a resort in what was then terra incognita started in the late 1960s "when my wife Magda and I realized that our preferred summer destination was going downhill." Famous for its slopping dunes and sandy white beach Agami was created shortly after WW2 by a cosmopolitan group of Alexandrians. During the '50s and '60s, it was Egypt's answer to St. Tropez, a quaint settlement with no running water or electricity but endless charm.
It was a matter of time before Alexandria's chaotic urbanization engulfed and devoured the city's outlying areas, Agami included. "This is when I began exploring the coastal areas to the west," says Farnawani. A new-frontiersman with vision he recognized that Egypt's future lay far beyond the densely populated Delta. "Each visit to the North Coast meant I had to dig into my own pockets and produce seed money so as not to lose matchless opportunities". Thus large chunks of seaside spots were earmarked for later development.
During his coastal journeying, Farnawani pinpointed no less than 10 areas with high potential for resort development. For each of these he placed a down payment with the local Bedouin elder coupled by a handshake. Two of these areas would eventually give birth to Diplomassiyeen I and II.
Those directly involved in the discovery of CD2's location were Farnawani and a group of concurring colleagues including former ambassadors Hassan Fahmi Abdelmeguid and Mahmoud al-Falaki.
Besides Farnawani and his forward-looking group the principal players in the consolidation of the CD2 project were the Arab Bedouins and the Egyptian government. The former were the historic owners of the area. For centuries they had grown figs and grazed their camels, sheep and goats on these lands. But with the coming or a new era it was to the Bedouins' benefit to sell part of their ancestral land rather than have it expropriated by the state.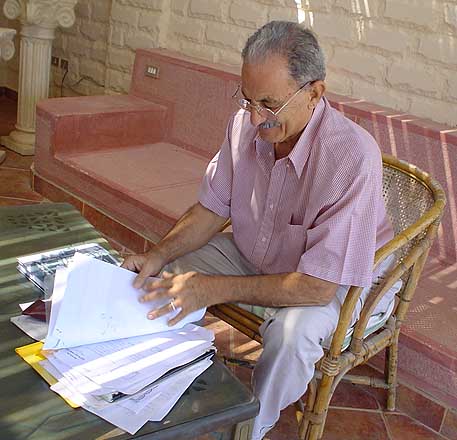 Ambassador Taha al-Farnawani
Representing the four local tribes at Sidi Abdelrahman were several elders who received assurances from Farnawani that if the project came about their kith and kin would find employment in the new resort. It is therefore no coincidence that over half CD2's guards and security personnel are presently hired from among the local Bedouins.
It was for the Egyptian government to legalize the transfer of ownership, no easy task when you have to deal with countless bureaucracies including Desert Reclamation, Tourism, Antiquities, Housing and Re-construction as well as the Matrouh Governorate, the Defense Ministry and the Coast Guards. Farnawani recounts how each time he jumped a hurdle several new ones appeared from nowhere hence the time it took to cover all the bases.
Meanwhile money had to be raised to appease the Bedouins who at any time could renegade on their handshake, which is what actually happened when the Bedouins in the CD2 area decided to withdraw their commitment to sell.
From their base at Hotel El-Alamein, Farnawani along with Fawzi Mahgoub of the Egyptian Navy and Ambassadors Hassan Issa and Waguih Rouchdi (ex governor of Mersa Matrouh) demonstrated exceptional negotiation skills in order to reverse the Bedouins' decision. "Skills that came in handy when negotiating with Israeli officialdom," recalls Farnawani with humor. Ambassador Taha Farnawani is the author of al-Sira'a al-Arabi al-Isra'ili fi damir diblumasi Misri which aside from hindsight chronicling of the on-going conflict, is seen by his critics as a literary exercise in self-importance. If anything, Farnawani's book evidences that he is not the shy modest type. But then shyness and modesty do not produce a successful resort. It's as simple as that.
One more hurdle yet.
As it turned out the area of CD2 was already spoken for. The presumed beneficiary was Libyan-Egyptian businessman Yehya Omar. An accommodating arrangement was eventually reached whereby all parties could have a piece of this unique location. A prerequisite however required Farnawani and his colleagues to incorporate themselves into a legal entity such as a cooperative. Better still if the cooperative was affiliated with a ministry or its employees' hence, the "Diplomassiyeen" in the resort's name.
Almost two decades would pass between the time when the first application was made for land ownership and the laying of CD2's cornerstone. During that time Farnawani had done several postings abroad (Syria, Switzerland, Morocco, France, Zambia, Zimbabwe) which ultimately meant that his brainchild alternated between action and hibernation.
In his spare time Farnawani's deliberated on how best to create a seaside resort. These included the kind of rules and regulations that should apply; how to cater simultaneously to different age groups and income-earners, and what were the long term and short-term benefits of such a resort. There were also concerns of how to generate income during the low season especially since the resort would remain unused almost 9 months a year.
If the answer to the last question seemed the least complicated, it never materialized however. At a meeting with Gilbert Trigano, Club Med's CEO told Farnawani he could easily channel tourists to Egypt's North Coast during winter "once appropriate accommodations were available." But first, Farnawani would have to remove Club Med from the Arab League's Boycott List. He did.
"Years later," says Farnawani, "I informed CD2's Board of the off season time-share concept yet somehow the idea did not sink well and remains unlikely to this day."
Once retired, Farnawani devoted himself full-time to the creation of CD2. "To begin with a number of important operational items had to be addressed such as the resort's general layout, the placing of public utilities, the distribution of chalets, services and facilities, examining growth potential at a later stage etc."
It was up to Farnawani to come up with the answers but things did not always go his way. For instance it was the North Coast Development Authority that had the last say in 1991 regarding the construction company (al Motaheda Co.) that was going to 'win' the main tender.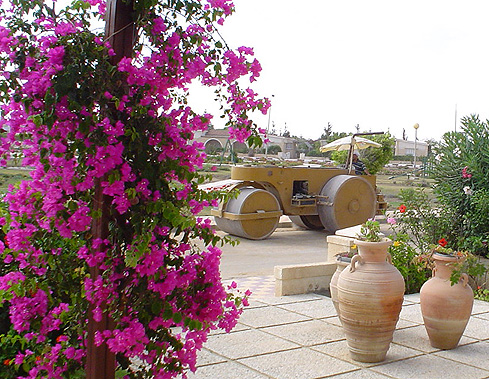 leveling roads June 2004
Despite continued meddling by the North Coast Authority and its proxies, everyone involved in the making of CD2 realized early on that the ultimate decision maker was Ambassador Farnawani. He would occasionally exercise a self-styled veto whenever he felt something was amiss. He candidly admits how he intervened by force several times. "Once when the consultant wanted to place a shopping mall and mosque smack in the middle of the compound, and another time when the same consultant wanted to factor the cost of the mosque into the overall price tag." To overcome this problem Farnawani recommended the mosque be built downwind from the compound and by public subscription.
The 248 feddans that make up CD2 were originally earmarked as a summer resort for active and retired diplomats. And since the three-and four-bedroom chalets by the sea came with large tabs it was natural that their occupants were high-ranking diplomats. "Even so, they did not refrain from complaining that the prices were too high!" laments Farnawani.
In order to render the price attractive Farnawani suggested that the 82 chalets earmarked for Phase II should be sold at a premium to members of the business community. Hence the creation of 'al-Sharkia' (also nicknamed 'istismari' or investors area) located at the eastern section of CD2 on an aggregate surface of 200,000 sqm purchased from Libyan businessman Yehya Omar.
"In order to render Phase II more attractive it became necessary to change its general layout so that it appears less encumbered than the rest of the resort," remarks Farnawani. His initiative was an instant success as evidenced by the list of chalet-owners that reads like a roster from Egypt's Fortune 100. Soon enough, the members of this group proliferated across the resort almost outnumbering the less affluent diplomats. Many of the latter were only too happy to sell their quasi-subsidized chalets at astronomical profits.
Not wanting to exclude junior diplomats with limited means, 104 smaller two-bedroom semi-detached chalets were planned for Phase III further away from the sea. In view of its location south of Phase I and II, the new area was referred to as 'al-Ganoubia'.
Five years later an enlarged prototype of the Phase III chalet was conceived and an entire row constructed further south. Given that this latest addition was built on a rising slope Phase IV is aptly referred to as 'al-Elweya'.
Internal regulations notwithstanding and to ensure his brainchild would not be harmed, molested or raped as was the case with so many suburban settlements, Farnawani took CD2's overall blueprint and had it certified by both the Town Planning Division and the Notary Public at the Mersa Matruh governorate. "This was my long term guarantee that the resort's public gardens and open areas would remain protected so as not to be exploited at any future time for the erection of additional chalets, and that existing chalets would not sustain uncontrolled structural changes. Thus any deviation from the original however small would be punishable by law."
Knowing our tendency to deviate from the norm Farnawani took further safety measures. It is no coincidence therefore that CD2's chalets are all of the one-level type with slanting roofs. This was done on purpose thus preempting anyone from adding a random floor here or there.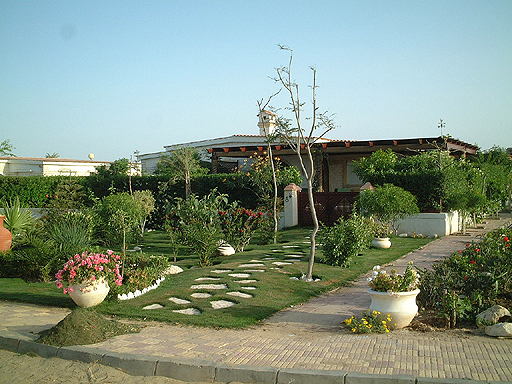 typical semi-detached chalet in al-Ganoubia section; Autumn 2002
From among the many 'making-of-CD2' accounts Farnawani recalls how the first four telephone lines cost the resort LE 88,000 and that when he petitioned Electricity Minister Maher Abaza for a hook-up to the main power line, the reply came that CD2 would have to come up with 12 million pounds. Thankfully a more accommodating interim LE 190,000 solution was found when Farnawani negotiated the extension of a high-tension cable from the nearby WEPCO oil terminal.
There was also the problem with the Coast Guard Department that insisted on keeping its lookout tower right in the middle of CD2's beach. The payoff for its removal was the construction of the two coastguard shelters on either side of the beach.
Another dilemma was who was going to get which chalet. Naturally those who had sea-view would be perceived as more privileged than those who were on row five. Hence it was decided to allocate the chalets by lottery privileging those who signed up earlier and paid first.
But not everyone was happy by the lottery's outcome and frequent accusations of nepotism and favoritism were heard. More grumbling when the then Foreign Affairs Minister Amr Moussa was given a choice seafront location a far cry from his back row position at the older CD1.
Still more dissent by the usual suspects when it was discovered Farnawani's chalet was at the center of the front row and that members of his extended family were equally privileged.
In his own defense CD2's founding chairman claims that "Swaps were made following the lottery so that those who preferred being in the more sheltered areas exchanged with those who wanted to be on row one."
"As for Moussa's relocation from CD1 to CD2, this was an excellent sales coup. With him came a whole bunch of camp followers." Others would agree that the minister's presence apparently assured the resort's success, as later demonstrated when President Mubarak occasionally dropped in for a game of backgammon.
"Looking back to those days" says Farnawani, "I was expected to become a land surveyor, a contractor, an arbitrator, a negotiator, a designer, a salesman, a lottery manager... in short a magician! It was natural therefore to have critics."
One dispute where Farnawani concedes defeat is the Clubhouse. While he had a far less pretentious vision of how this community center should look, the architects at Sabour & Associates thought otherwise. Moreover, the Minister of Housing & New Communities was due in the summer of 1993 for the inauguration of Phase-I (consisting of 315 chalets) and it was imperative that the clubhouse be ready by then. Hence, the clubhouse's completion in the record time of four months in contrast to Phase-I, which took over two years to complete. "These were two very long years given that I drove from Cairo once and sometimes twice a week in order to supervise the day to day progress."
During his time as chairman (1988-2000), whenever a dispute or disagreement arose between chalet owners and management Farnawani resorted to give-and-take with confrontation as a last resort. "I tried to appeal to the chalet-owner's good sense explaining that the good of the whole came before the good of the individual."
While CD2 wags like to say otherwise it is now agreed that during Farnawani's administration exceptions and favoritism were at an all time low. Moreover it is thanks to Farnawani and his levelheaded board noisy scooters, motorbikes, jet skis and other accident-prone contraptions were banned from the resort. "Many times I had to put my foot down regardless of influence, rank and title," he relates with a crafty smile. "All it takes is a single flawed precedent and soon enough the spiral of chaos will take over."
As though to substantiate his last statement Farnawani swiftly produces several letters in which he politely turns down requests for, among others, extension of deadlines, an extra air-conditioner, the conversion of a garage into a room and other such madcap suggestions.
As it turned out some of these requests came from active and former cabinet ministers. Despite his bon vivant bearing Farnawani is not a man one can easily intimidate.
Although he never made it to the presidency, Farnawani settled for the Lilliputian republic of CD2, which he ran as a benevolent autocrat putting his fine-tuned diplomatic skills to the test. Today, as CD2 settles into its second decade and as exceptions and solicitations for preferential treatment start rearing their ugly heads, many are those, even among Farnawani's various critics, who long for his no-nonsense, can-do days. And although he wasn't proclaimed chairman-for-life, he is remembered nostalgically as the resort's founding father and primo benefactor.
Email your thoughts to egy.com
© Copyright Samir Raafat
Any commercial use of the data and/or content is prohibited
reproduction of photos from this website strictly forbidden
touts droits reserves