CAIRO - As Egyptomania rages on in France, protractors and detractors --very few of them-- argue among themselves in page-long editorials on the merits of celebrating two hundred years of Franco-Egyptian cultural cooperation and exchange, a euphenism for 19th century French colonialism. Yet when all is said and done, facts on the ground prove that what started in 1798 with Napoleon's brief but bloody Egyptian military campaign, ultimately led to two centuries of mutually beneficial exchanges between France and Egypt.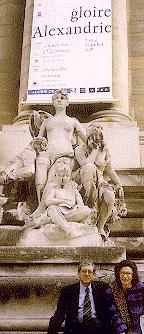 There is nothing new with foreign invasions. Throughout history Egypt, like any other strategic place on the globe, has been the target of invading armies some luckier than others. With time events even as distasteful as military defeats get blurred. Asked about the impact and significance of the Franco-Egyptian bicentennial celebrations, several taxi drivers and an editor of a town paper replied that it had to do with the World Cup.
Meanwhile, French organizers of the year-long bicentennial celebrations need not have concerned themselves with mainstream Egyptian reaction. Unlike France where come rain or sunshine, Monsieur and Madame Tout-le-Monde spend hours standing in serpentine queues in order to get inside the Louvre, the Petite Palais or the Institut du Monde Arabe, all three currently exhibiting exquisite treasures encompassing four millenniums of Egyptian history, you'll be lucky to find a handful of Egyptian faces in comparable venues. In fact, privileged Egyptian visitors to France would much rather spend their time shopping at Tati and Galleries Lafayette or sip a French expresso at a sidewalk cafe on the Champs Elysees. Similarly, an exhibition of French art or artifacts in Egypt would hardly be a crowd drawer. Different strokes for different folks.
Those nonetheless aware or in touch with the on-going celebrations are a microscopic minority in a country trying desperately trying to recover from decades of failing economy. Egyptians, 66 millions of them, have other things on their mind. Rags to riches is one of them especially as more and more stories emerge about people who made it big from nothing in a relative short period. With the arrival of Jaguars, luxury gated communities and exclusive clubs for the privileged, there seems to be nothing else in the society sheets and the rag press. Undoubtedly, the state's current flirt with capitalism, familiar in the West but new here, has lead to a lot of expectancy and euphoria. Yet the widely read opposition press is full of stories on corruption, nepotism, cronyism and the lack of accountability. How the current economic policies are favoring the few rather than the mases.
Perhaps this explains why mainstream Egyptians, most of them close to the poverty line, took a keen and markedly sympathetic interest in the troubling events in Djakarta ignoring the page-long "scoops" covering President Mubarak's recent state visit to France. Whether in coffee shops or aboard the mass transport system conversations centered on the fall of Suharto's 32 year dictatorship. No one seemed to notice the 16 colored pictures of Mubarak splashed across Egypt's largest government-run daily al-Ahram. As it happens, most of the photos covered the official launch by Presidents Mubarak and Chirac of the La Gloire d'Alexandrie exhibition in the Petit Palais, the opening of the new Egyptian section of the Louvre and the topping in gold of the Egyptian Obelisk on Place de la Concorde, all three events taking place in Paris within the context of the Franco-Egyptian bicentennial celebrations.
That is not to say that the bicentennial celebrations were launched without opposition. But since the criticism came from the usual suspects it lacked credibility and did not hold water. Once again the same identifiable clique, forever looking for opportunities, were trying to make themselves heard. To paraphrase a senior editor of a French-language paper in Cairo they are the same self-perpetuating coterie of praise-writers who one day will shower Sadam Hussein with praise and the next day claim he is the devil incarnate. Ask them to name the generals and two wives of Napoleon and they are at a complete loss.
It is also no secret that some detractors of the bicentennial celebrations are the sworn foes of the auspicious Egyptian minister of culture, Farouk Hosni. Since Hosni was one of the main promoters of these celebrations, here was another opportunity to slander him for unpatriotic behavior, one who condones colonialism disguised as culture exchange.
As the inimitable Egyptian exhibits in the Louvre, the British Museum or New York's Metropolitan testify, for four millenniums Egypt operated on willpower, rising or falling, victorious or defeated, yet always climbing back to its feet. So that in the final analysis whether or not to celebrate the Franco-Egyptian bicentennial is just another story for the media to chew on.
Photo: Conservationist Mohammed Awad of Alexandria and friend in front of Petit Palais