egy.com suggests following articles
EGY.COM - PROBLEMS & ISSUES
DOES IT BITE?
Samir Raafat
Cairo Times (unedited version), March 5, 1998
Will it have teeth this time around? Or will it simply fatten an already overloaded scrapbook chock full of well-intentioned directives, decrees and executive orders? For years, there has been a steady flood of bills and legislation that pretend to deal with the city's green areas and the preservation of our "khedivial" architectural heritage, a term loosely used to denote Cairo and Alexandria's late 19th and early 20th century architecture.
The latest directive dealing with the latter appeared on the front page of the al-Ahram newspaper of February 20. "No exception shall be sanctioned regarding granting of permits for the demolition of palaces , mansions or villas. In the event such a permit was issued prior to this directive, the new construction should not surpass in height that which it has replaced. This decree is applicable throughout Egypt."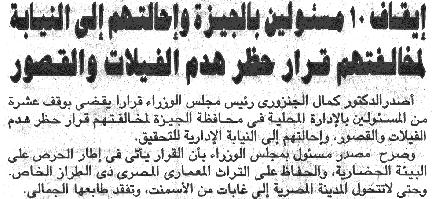 This item appeared in Al-Ahram's front page of March 8, 1998.
If we are to believe the story, heads at City Hall will roll. It is the prime minister himself who will go after the offenders, namely those culprits who, as a matter of routine, issue municipal permits enabling developers to pull down mansions, villas and town houses in order to erect newer, taller, more modern -- and more lucrative -- buildings in their stead. "Any demolition permits in breach of the above prime ministerial directive shall be in breach of the law with the commensurate penalties immediately applicable. Punitive actions shall be taken against any official who issues such permits and against the head of the municipal or town council who refrains from enforcing this directive."
But do we actually need another ministerial decree? Isn't it really a matter of putting some teeth in those already in existence? Let's face it, as long as the punitive measures remain affordable or inconsequential, the attitude will be one of 'who cares'! Granted there is a detectable difference in direction in this last one. For the first time the culprits are identified as government civil servants, people on whom the prime minister has direct control over. We'll see how that goes. The proof is in the testing, if one were to paraphrase a high profile head of state who, referring to a notorious directive in another part of the world, made it clear that he does not believe Saddam Hussein will adhere to the UN's latest wishes.
In the last couple years, literally hundreds of villas and mansions throughout the country, mainly in Cairo and Alexandria, have been torn down (one of them, the villa of architect Charles Ayrout on al-Baron Street, Heliopolis, not far from the presidential palace) so that by now we are all familiar with the practical methods of doing away with our architectural heritage. Bulldozers are like the secret police. They wait till the neighbors have all gone to sleep in order to arouse as little attention as possible. At an early hour, say around 4:00 am, they creep up to the victim villa. Without even knocking at the door, they swoop down and ensnare their prey. Within an hour or two it is all over, the victim has been reduced to naught.
When the neighbors awaken the next morning, the victim has disappeared forever. All that is left is a vacant lot. But do the bulldozers act alone, or are they backed by people in high places?! The answer by now is evidently clear. Which brings us to whether or not the government is really getting serious about our urban future.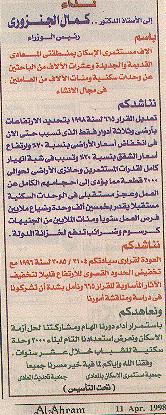 This front page ad in al-Ahram of April 11, 1998 was placed by the so-called "Maadi Housing Investors". It calls for Prime Minister Kamal Ganzouri to repeal his directive No. 665 of 1998 which places a height limit on new constructions in Maadi (the directive is flaunted even as these lines are typed in).
If the prime minister succumbs, what was once the green suburb of Maadi will join the ranks of Mohandessine and Nasr City - ugly districts characterized by tasteless concrete high-rises.

We all realize that our cities will continue to grow and expand and that inevitably buildings will be torn down and others will come in their place. But instead of ripping out at random, why not identify the structures which are not landmarks and those which are safety hazards. Countless of these are crying out for removal, yet instead we go after the one-of-a-kind type.
Recent events proved that legislation alone only pits a few historic landmarks (the house where Lawrence Durrell lived in Alexandria) and their aficionados against developers and we all know who usually wins. It must be evident by now that much more important than new ministerial decrees, we need a positive plan for urban development. We need to identify our landmarks and key historic corridors - bunched buildings which form an integral unit representing a specific kind of architecture. We need a bona fide architectural heritage trust.
Then, we can start figuring out what can be removed, what remains and what comes next.
A clear and sensible plan will simultaneously create constituents in the neighborhood that will protect it, as well as raise the real estate value of the entire area. It has been done before in other cities facing problems similar to our own. We do not need to reinvent the wheel. Even Havana, Cuba is ahead of us in this respect.
And what about our diminishing green? The state along with the private sector is spending millions of dollars building new settlements with names like "Panorama", "La Siesta", "Dreamland", "Mirage", "Utopia." etc. In their aggressive media campaigns these nirvanesque developments all stress the same fantasies: Green belts, green golf courses, gardens, trees, shade and a non-polluted environment.
If green sells. If green is good for you. If green has become the catchall. If green will make you RICH! Why then, do we need so much ordinances and decrees to protect the little green that remains inside our cities? Are we really talking "Utopia" here or are we disillusioning ourselves into "myopia"? Something is very wrong here.
The problem I believe lies not with the absence or presence of new legislation. The problem is with the legislators themselves.
Any suggestions?

FACTOIDS ON SOME OF THE NEW GATED COMMUNITIES BASED ON ADS IN AL-AHRAM:

Al-REHAB CITY: Promoters: Talaat Mustafa Group (50 years expereince); Bankers: National Bank of Egypt and Misr International Bank. Location: does not say.Prices: N/A; Tel: 335-2725

UTOPIA 'The Model City', '91 Villas only for like-minded people and pocketbooks': Promoters: does not say: Bankers: Bank of Alexandria; Location: 6th of October City; Consultant: Zein Designing & Consutlant; Prices: N/A; Tel: 337-1882

AL-HAYAT RESIDENCE 'Elegance' Promoters: International Company for Iskan & Taameer: Bankers: Bank Misr; Location: extension of Heliopolis; Consultant: N/A; Prices: Start from LE 620,000 for 510 sq.m.; Tel:290-7016

DREAMLAND 'Legend City' Promoters: Bahgat Group; Bankers: National Bank of Egypt; Location: west of Cairo near Fayoum Highway; Consultant: N/A; Prices: N/A; Tel:338-1223

AL-SARAYA (The Palace) 'Everyone's talking about us' Promoters: Bautex; Bankers: Bank Misr; Location: 6th of October City; Consultant: N/A; Prices: N/A; Tel:336-6146

AL-NAKHIL 2 ;Promoters: Modern Engineering Co.; Bankers: Egyptian Land Bank; Location: 6th of October City; Consultant: N/A; Prices: N/A; Tel:305-9016

YASMIN CENTER; Promoters: Modern Engineering Co.; Bankers: Egyptian Land Bank; Location:al-Oboor City; Consultant: N/A; Prices:N/A ; Tel:305-9016

LA SIESTA VILLAS 'Free from pollution and crowds!'' Promoters: N/A; Bankers: Saudi Egyptian Bank; Location:Cairo-Alexandria Desert Road (near Cairo); Consultant: N/A; Prices:N/A; Tel:304-0276.

AL-YASMIN ' Promoters: Eastern Weavers Co.; Bankers: N/A; Location:10th of Ramadan; Consultant: N/A; Prices:From 199,000 ; Tel:267-2121.

AL NAKHIL 'Everything has been taken into account' Promoters:Eastern Weavers Co.; Bankers: N/A; Location:al-Shorook City; Consultant: N/A; Prices:N/A; Tel:267-2121.

BEVERLY HILLS 'For better living ' Promoters:SODIC (6th Of October For Development and Investment; Bankers: National Bank of Egypt; Location:On 2,550 acres on the Cairo-ALexandria Desert Road (Cairo side); Consultant: N/A; Prices:N/A; Tel:N/A.

Email your thoughts to egy.com
© Copyright Samir Raafat
Any commercial use of the data and/or content is prohibited
reproduction of photos from this website strictly forbidden
touts droits reserves