egy.com suggests following articles
EGY.COM - PROBLEMS & ISSUES
The Cairo Architectural Heritage Trust:
THE LONELY CAMPAIGNER

by Mohammed Ali Ibrahim - Editor in Chief
Egyptian Mail, January 25, 1997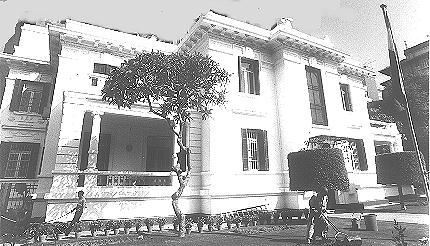 When author-columnist Samir Raafat came to me last May 1996 with the proposal that The Egyptian Mail undertake an unprecedented campaign to launch a Cairo Architectural Heritage Trust, my first reaction was, 'who is he going to antagonize this time?' for I was well aware that Raafat's albeit spicy and at time controversial articles had, on occasion, ruffled a few lordly egos. What cause, or who's feathers, was it going to be this time?
Even before his book on Maadi appeared in May, 1994, in which he sounded off the alarm of the disappearance of so many of this suburb's unique villas and gardens, Raafat had been a regular contributor to The Egyptian Mail's Page Three. It was there that he published an entire series of articles on Cairo's colonial architecture and monuments. The range was as interesting as it was diverse. Some of you may remember his two-part narrative on the Gezira Sporting Club or his detailed article on the neighboring Anglo-American Hospital. There was also the absorbing memoir on Victoria College and the history of two of Cairo's downtown department stores, Cicurel and the Welsh-owned Davies Bryan. In his three part series entitled "From Badia to Abbas" (title refers to Casino Badia Masabni and Khedive Abbas Bridge), Raafat describes in historical detail the great mansions that once graced Giza's Riverside Drive. These articles solicited considerable interest with excerpts reproduced in other magazines and newspapers.
There were many other articles of the same genre. All of them sounded off the by now familiar alarm that if we don't take drastic steps to curb the on-going 'architectural terrorism,' Cairo was going to loose most of its' late 19th and early 20th century buildings and monuments.
Throughout his articles, Raafat laid the blame for this sorry state of affairs on what he perceived to be the public's empathetic approach to community issues and its disdain for our recent history. There was an ascending inward-looking phenomenon which Raafat correlated with the alarming state of cultural deterioration. The "why should I care, so long as I live comfortably within my own space" attitude was taking over.
To his utmost chagrin, Raafat discovered in May 1996, that Egyptians were not the only culprits involved in the destruction of Cairo's architectural heritage. Eager to assist them in their favorite pastime were those very people and nations who are known for going the extra mile whenever they need to save a tree, a porpoise or an old windmill.
In so many respects what was about to happen was a classical deja vu. Cairo was going to be deprived of just another one of its colonial villas. So what?
The difference this time however, was that the villa on death row would be terminated by a specially imported 'Made-in-Holland' wrecking ball.
For some time now, the Dutch embassy in Cairo had been facing logistical problems. Having expanded considerably since the days when it had purchased its stately premises back in the 1950s, the Dutch embassy understandably needed more space. The practical and cheapest solution was for the Dutch government to replace the villa with a modern office building. Demolition and building permits were submitted to the concerned and local authorities. Without so much as a protest, these were duly approved by the Cairo governorate and the Egyptian ministry of Foreign Affairs.
The stage was set. Within months, the wrecking and building crews would arrive and another one in the serial killing episode of our cultural heritage would be committed right under our nose. Cairo would watch complacently as yet another villa bit the dust.
This time around, however, one person and his supportive friends, an English architect (Nicholas Warner) amongst them, were going to make the difference. And this is precisely what Samir Raafat had come to talk to me about in early May 1996.
Raafat suggested that The Egyptian Mail start a campaign on its own for the launch of a Cairo Architectural Heritage Trust, subtitled for the occasion "Double-Dutch. No one else had done such a thing before. Raafat insisted that if The Egyptian Mail took the lead, others would surely follow. His main argument was, and I quote from his article "WHERE IS THE CAIRO ARHCITECTURAL HERITAGE TRUST?" dated May 18, 1996:
"The Dutch embassy controversy is the break we have been waiting for. It could become the rallying point for the creation of the belated Cairo Architectural Heritage Trust or some similar organization. Should we succeed in crossing this Rubicon, as unimportant as it might seem today, this precedent may become the most consequential Cairo milestone this decade."
With my wholehearted approval and support, Raafat's Double-Dutch campaign in the Egyptian Mail went on unabated for the next four months. It ended on Saturday, August 3, 1996, with his victorious article "Double-Dutch... Finale!"
In this age of the information superhighway, the Dutch embassy controversy had made it's way back to Holland where it was highlighted in both the Dutch press as well as in Holland-based preservation and conservation circles. More importantly, it made its way to the Dutch parliament where sympathetic Dutch legislators extracted a welcome commitment from the Dutch minister for foreign affairs, The Honorable van Mierlo, that his ministry would not pull down their villa in Cairo. The ministry would explore alternate proposals for the solving of their logistical problems.
The Dutch people and government had responded positively to the campaign. By stepping down on their original decision, they had proven their merit as Europe's greatest conservationist. A fact that would not go un-mentioned at an eventful meeting that would take place on January 15, 1997, at the Mubarak Public Library in Giza.
As hoped by Raafat, the 'Double-Dutch' campaign and it's happy ending served a dual purpose. Not only did it save the Dutch embassy villa from the demolition crew, but, better even, it galvanized the support of the local media and emboldened others with similar interests to speak out and take action. Subsequent series on Cairo's colonial architecture were published in other newspapers and welcome copycat campaigns started to appear everywhere. Even the Cairo salons had galvanized themselves into action with several Heritage societies in the process of formation. Cairo's late 19th and early 20th century architecture had become a priority at last.
On January 15, 1997, under the auspices of first lady Mrs. Suzanne Mubarak, a highly mediatized seminar on the launching of a Cairo Architectural Heritage Trust took place at the Mubarak Public Library in Giza. This well attended affair, coming eight months after a lonely campaigner's cry of "WHERE IS THE CAIRO ARCHITECTURAL TRUST?" signifies that all along there had been keen listeners.
The Egyptian Mail's 'Double-Dutch' crusade started the ball rolling in the right direction. Its editors and staff are very proud to have taken part in this denouement of events and at this point in time wish to congratulate all the others that have followed suit. It is now for the community at large to keep the momentum going.
Email your thoughts to egy.com
© Copyright Samir Raafat
Any commercial use of the data and/or content is prohibited
reproduction of photos from this website strictly forbidden
touts droits reserves