egy.com suggests following articles
EGY.COM - PROBLEMS & ISSUES
W HEN W AS T HE L AST T IME Y OU P LANTED A T REE?

Samir Raafat
Egyptian Mail, Saturday, December 7, 1996
WITH all those skyscrapers and condominiums going up in Zamalek hard to believe this was once Khedive Ismail's jardin des plantes.
Known in the past as Geziret Boulak or Boulak Island, Zamalek was originally two islands before these were artificially merged two centuries ago. In the second half of the 19th century the island was a depository for Ismail's exotic and imported plants. The plant nursery extended southwards from his Gezira Palace (today Marriott Hotel) up to the island's southernmost tip.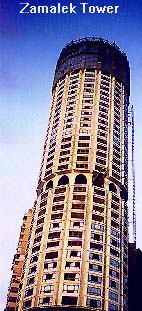 It was on these gardens or part thereof that the Gezira Sporting Club was created in late 1882.
Captain Stanley Flower introduced the Fish Aquarium (Fish Garden) two decades later on a small part of the remaining Khedivial gardens that boasted several artificial Grottos.
For a long time thereafter the Fish Aquarium was home to a rare collection of African fishes. These inhabited the 24 especially constructed water tanks. The garden and the tanks are still with us today albeit partly denuded and changed from their original function. The fish are gone and the surviving trees are fighting for their survival.
But if the fish seem irreplaceable the trees can still be saved.
Together with the Association for the Promotion of Services in Zamalek (APSZ), the Organization for the Embellishment & Beautification of Cairo under its present chairman General Magdi Mohammed has embarked on a campaign to trim and prune Zamalek's long neglected trees. Starting at the island's north end slowly inching their way to the rest of the island.
On the subject of Zamalek's north end -- 'Northend' is how the island's former British colonial residents referred to this part of Zamalek. In those days the entire area consisted of a few villas planted amidst green fields. Their names denoted the times: Villa Ascot, Green House, Sun House, Villa Fiorenza, Villa Sonenblik, Roemer House, Villa Giglio, Iole House, La Briffa, Happy Days, etc.
The tallest villa seen at a distance was Baxter House, which consisted of three floors and situated near what became Bahgat Ali Street. The other three sections of Zamalek Island were called Gezira-Grotto, Gezira proper and Nozha (near the Anglo-American Hospital).
According to APSZ founder Mrs. Guzine Hussein Aref, there has been considerable support for the tree-pruning campaign. "Residents are cooperating even though a few were unwilling to remove their cars from the work-in-progress area." But, according to Guzine, "the effort continues and new trees will be planted where needed come February, March 1997."
For Guzine the major obstacle for this latest effort is lack of funding. That is why it is imperative that Zamalkawites participate more directly toward the greening of their district. Although very commendable it is not enough that a plant nursery located on the island's western side donated several trees to the island. Many more are needed to compensate for those that died or were truncated by cars and by the endless digging up that goes on in the streets.
Here are few suggestions on how the APSZ could raise funds for its valiant efforts.
First the APSZ should require every Zamalkawite who owns a cellular phone to contribute an ornamental tree choosing between an acacia, a ponciana or a jacaranda.
Secondly, for every illegal floor added to a Zamalek building its owner should pay a fine of 100 royal palms.
Likewise our friends from the embassies should provide as many trees imported from their respective countries as there are No Parking signs, iron pickets and chains surrounding their residences and offices.
Furthermore the ministry of education should offer the island a potted sapling or bougainvillea for every student enrolled in the over-congested Zamalek schools.
And for the nefarious offenders who erect huge circular towers, they must produce giant cacti on which they should be made to sit on the rest of their lives. And for every one of those Hag Megabucks type weddings in either one of Zamalek's five star hotels, half of the proceeds of the flowers ordered for the event should go to the treasury of APSZ.
As for Zamalek's commercial entities (shops, restaurants, hotels, floatels, offices) who invariably charge a huge mark up on most of their products, they should be made to foot the costs of maintaining all these trees: pruning, trimming, watering, manuring, protecting etc.
It's high time we put Molokhia capitalism to work for the benefit of the community at large! Between them, the above categories could turn Zamalek into a magical forest or a tree exporter.
At this point however I must interject that when Maison Thomas Bros., that veteran 26th of July grocery cum fast-food, planted on its own initiative two decorative trees on its side of the pavement, the grocery was duly penalized by the municipality.
A few days later, the trees were summarily removed!
Email your thoughts to egy.com
© Copyright Samir Raafat
Any commercial use of the data and/or content is prohibited
reproduction of photos from this website strictly forbidden
touts droits reserves