egy.com suggests following articles
EGY.COM - PROBLEMS & ISSUES
MENA CONFERENCE

by Samir Raafat
Jordan Star, November 14, 1996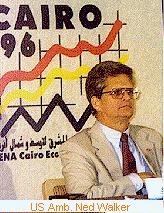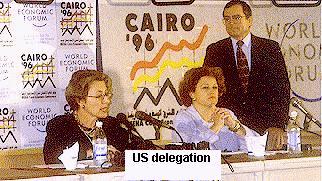 CAIRO-- A year ago in Amman, three days of speeches and banquets were devoted to the idea that the best way to promote peace is to make it pay. This week in Cairo the same parties met for their third such gathering, only this time the word summit has been replaced with 'conference' and the usual antiquated summiteers are conspicuously absent.
This move to downgrade political and government attendees to ministerial level was to avoid uncomfortable face-offs with Israeli Prime Minister Benjamin Netanyahu.
Despite record attendance--500 businessmen reportedly came from Egypt alone. The conspicuous absence of top ranking officials underscored how economic Middle East/North Africa parleys remain susceptible to local political climate. The region has yet to move beyond politics and diplomacy, into the hardheaded realm of business and trade.
If Arab countries remain sharply divided over how fast to establish normal relations with Israel, they seem closer today in spirit than they had ever been since Iraq invaded Kuwait six years ago. If anything, the election of Israel's Likud-led government last May helped narrow down existing divisions among hard-line and moderate states. This was clearly in evidence at the Arab Summit held in Cairo last June.
But as relations soured between Israel and Egypt, and between Israel and its new regional 'friends' confusing interchanges of accelerator and brakes had everyone guessing whether or not there would be a third Mena summit.
Eventually, and with a lot of international lobbying, the way was paved for a conference. And if Egyptian media evidenced lukewarm support all along, a few days before the conference it galvanized an upbeat rendition of that event so that reports moved from page nine to the covers of the semi-official dailies. Meanwhile television devoted hour-long blitzes on the advantages of such an economic expo.
Tuesday's television coverage of the opening session showed a cautiously optimistic President Mubarak who did not fail to underline the importance of a political settlement in order to reap the economic benefits. The day's events were carried live on Egypt's local and satellite television channels. Viewers were treated to almost every handshake while photo ops and exchange of business cards were in evidence all across Nasr City's palatial convention center. Also aired were pep talks and side promo shows as each country or minister drummed up support for this of that mammoth project.
Routing for their illustrious dad in his efforts to turn this conference into an Egyptian success were the dapper Mubarak scions. Once the president left the scene TV cameras had a hard time figuring out which Mubarak son to focus on. The choice was between banker Gamal Mubarak driving the point Egypt was the safest place to invest these days, and businessman Ala'a Mubarak who, like the rest of Egypt's burgeoning business class, has a lot at stake at how things turn out on the investment side of the equation.
Meanwhile opposition papers and the public at large remained ambivalent with reactions ranging from total rejection to mild indifference. Gamal Badawi, editor of the favored Wafd daily reiterated in his Tuesday column how Israel plans to dominate the region economically as it does militarily: With total impunity.
"Israel still thinks it should be the superpower in the area. It has this racist idea that the genius Jewish mind, cheap Arab labor and rich Arab capital can all be combined to its advantage" exclaimed Badawi.
What remains disconcerting is the amount of Arab and Egyptian intellectuals who think like Gamal Badawi. And as long as Israel's incumbent prime minister does little towards allaying their anxieties, can anyone really blame them?
Email your thoughts to egy.com
© Copyright Samir Raafat
Any commercial use of the data and/or content is prohibited
reproduction of photos from this website strictly forbidden
touts droits reserves