egy.com suggests following articles
EGY.COM - PROBLEMS & ISSUES
THE DARKER SIDE OF SCHENGEN
by Samir Raafat
EGYPTIAN MAIL, June 3, 1995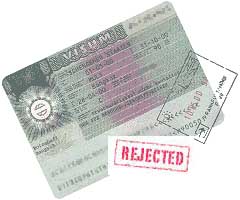 SUMMER'S round the corner and it'll soon be time to sweat it out at the Italian or Dutch consulate as you queue for an expensive tourist visas. While you probably won't notice any discernible changes at the bullet proof visa counters where you have to shout your financial history and show your credit cards to a condescending Eurocrat or his self-important proxy, nevertheless, the keen observer will note the a difference in the general mood. Yes, internal procedures have changed once again but this time radically.
Welcome to Schengen.
On March 26, the Schengen Convention came into effect meaning seven European Union members -- German, Holland, Belgium, Spain, Luxembourg, France and Portugal -- now enjoy open borders between them.
OK, so the much-ballyhooed Schengen Area is born. Great, bravo, wunderbar! But I seem to recall nationals of these countries were already traveling within the Schengen area without visas or passports, using the ID cards instead. How I envied then gliding through the EU-MEMBERS ONLY checkpoints as I waited patiently for my turn to be interrogated by the Sikh passport officer at Heathrow or the Guadeloupian gendarme at Charles de Gaule.
So what's all the fuss about and what's Schengen got to do with it?
Here's a sample of what's cooking behind the scenes for you and me:
On the one hand you no longer have to sacrifice an entire fifteen days doing the rounds of the Schengen embassies. One of them is enough and you'll be able take the kids to EuroDisney, spend a few thousand dollars in Spain's Corte Ingles and later have your medical check-up in Badgastein near Outer Bavaria. Yes, as of this month you have the advantage of the one-stop visa. You can stand at the embassy queue of your own choice. In Garden City there is the Belgium Embassy queue while Zamalek offers several alternatives: Germany, Holland, Spain and Portugal. If you live in downtown Cairo check out France on Sheikh Fadl Street where you will meet the antagonistic Madame Non.
At any one of these stops you can apply for a Schengen 90-day short stay visa. Germany is a favorite because the street bordering the embassy is shady and there is a large wait paddock. This way your friends won't see you standing on the trotoir should they drive by in their Mercedes. Also the visa there is apparently cheaper! Something to do with exchange rate or reciprocity.
The friendly visa personnel will serve you with a newly designed application form which tells you to list the Schengen countries you intend to visit and which country is your primary destination. According to new visa regulations, the initials of each Schengen member country must be appropriately ticked.
If you ONLY want to go to EuroDisney, you tick France. In this case, the discretion of accepting or rejecting you application falls within the French consular officer and the French Surete. This means your name need not be cross-checked against Schengen's Big Brother computer list in Strasbourg.
On the other hand, if you want to call on Mickey Mouse at Bercy (France) AND visit Nefertiti at the Berlin Museum (Germany), then you have to be checked and vetted by Big Brother.
In other words, you can no longer count on your dependable pals at the Benelux embassies or your tennis partner at the Spanish consulate, or for that matter on any one of their counterparts in the other Schengen embassies. As of now none of your diplomat friends can no longer help you out as they did in the pre-Schengen days. We are now all going to be dependent on Big Brother.
Of-course you can retaliate by not inviting them to your cocktails and poolside parties.
From an Egytpto-Arab-African point of view, these are sinister developments.
Schengen visa officers wherever they are: Cairo, Istanbul, Katmandou, Bamako and Asuncion, are now more vigilant then ever before. Even as these words are being written, routine exchanges of information between Schengen consular officers in Ulan Bator and Islamabad are taking place. Chancellery fax machines are spewing names of undesirables a dozen per minute.
Example: Mao Dung stole a bottle of milk in '93 in Maastricht; Betina shoplifted a pantyhose at Gallerie Lafayette last winter. Negus the 50 year old student from Khartoum University has three pages missing from his Somali diplomatic passport; Milan the Bosnian refugee resembles Mengelevich the wanted Serb war criminal; Zafar Khan pausing as an Afgan CIA operative was first apprehended in 1989 for selling newspapers on a Vienna street corner and three years for faking a transit visa through Germany..
The system is such that even EU's non-Schengen members are joining the tell-all network now accessible thanks to computerized telecommunications.
But what happens when Bettina's shoplifting charges are dropped in France? Although the light-fingered South American is now technically legible for a national visa to France, her file is still active in Big Brother's computer list! As a result Bettina is still barred from entry into the rest of the Schengen area.
How about statutes of limitations between the Schengen countries?
What happens to the unlucky Kurdish reporter who, high on homegrown cannabis, wrote something which displeased Frau Kaiser the forbidding cultural attache serving in Luxembourg's legation in Monaco. Does the disgruntled Madame Kaiser have the power to bar the unfortunate Asian from entry into the Schengen area? Will he forever be denied access to purchasing designer shirts from Tati in Paris?
How about Moslem sounding names and African faces that get confused with those belonging to ex-freedom fighters. We all heard stories about the Laila Khaled and the Angela Davies look alikes who were put through the grinder each time they landed at a European airport.
Is Schengen's Big Brother system foolproof and abuse-free?
As Europe bridles at its ethnic minorities and as more anti-immigration and extreme right parties gain ground in elections, we are witnessing the simultaneous ganging up of the Schengen Seven. Tomorrow the list grows to include Austria, Greece and Italy. After they crack down on legal and illegal immigration and shut their porous borders in the face of Asians, Turks and Albanians it'll be the turn of the Scandinavians to join. By then Big Brother will have become Frankensteinesque. Shoot a Caribou in Laponia and kiss you summers in Marbella good-bye.
Somehow it all brings bank the 1960s awards winning film Pain et Chocolats when Swiss authorities summarily deported an Italian migrant worker because he had peed in the dark behind a tree in an empty Geneva public park.
What is meant as a major step towards 'freedom of movement' is cleverly tailored so that it means freedom of movement for Western Europeans to the gradual exclusion of all other people and races. We must therefore get used to the idea that freedom of movement for the 'rest of us' will be possible only after we pass Big Brother's test.
Take it from me and put it in the bank. Next time you're planning a trip in the Schengen Area, be sure to fill your application scrupulously accurate and that your wife, kids and poodle are on their very best behavior. You never know when Big Brother might be watching from some camera near you.
Bon voyage!

Reader Comments


Subject: the darker side of schengen
Date: Tue, 14 Jul 98 17:57:52 PDT
From: Marion Godager Tveter

Brilliant!!!!
Marion G. Tveter, Norway.
Schengen-sceptician and Member of European Youth Parliament

Email your thoughts to egy.com
© Copyright Samir Raafat
Any commercial use of the data and/or content is prohibited
reproduction of photos from this website strictly forbidden
touts droits reserves