egy.com suggests following articles
EGY.COM - JUDAICA
ROBERT NAHMAN - END OF HIS ERA
Samir Raafat
Cairo Times, November 10, 1999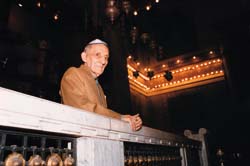 Perhaps his passing away caused little more than a femtodent in Cairo's overwhelming statistics bureau. For sure, no one, whether inside or outside the bureau, realized that Egypt was not only farewelling an 80-something mortal, but it was also ushering out a significant chapter in its bounteous multi-ethnic, multi-cultural and multi-religious history. A chapter which started in the days of Pharaoh, and which continued to expand and contract ever since.
The significance of the sparsely attended burial which took place at the desolate cemetery of Bassatine, is that with the departure of Robert Nahman, Cairo had just lost 25% of its male Jewish population.
Born in Egypt in the first quarter of this century, Robert lived most of his life in downtown Cairo, first in an affluent building on Soliman Pasha Street, and towards the end in a small apartment on the 5th floor of an indiscriminate old building near Bab al-Louk.
In one of our last encounters Robert told me how he remembered when Egypt was home to over 100,000 of his co-religionists and when avenue Soliman Pasha seemed populated with his mother's extended family. "The Mosseris were everywhere you looked on that street. They owned two smart villas at Nos. 7 and 9 Avenue Soliman Pasha where it intersects Rue Bostan."
Robert's godmother Esther (Mrs. Albert Vita Mosseri) lived at No. 9 with her extended family while an Aunt Alice (Mrs. Jacques Mosseri) lived at No. 7 with her own large brood. During WW-2 Alice Mosseri's house became the Victory Club, a British cultural hub targeted by arsonists during the January 1952 burning of Cairo. Whereas Club Mohammed Ali and Immeuble Matossian still stand facing one another across Bostan Street, the Mosseri villas were pulled down and replaced with office buildings.
There were Mosseris as well at Nos. 8, 11, 13, 15, 23, 29 and 32 Avenue Soliman Pasha. As for Robert's family, they lived at No.1, in the old Soussa Building.
While not as rich as the Mosseris of Garden City and Giza, the Nahmans had made a name for themselves in khedivial Egypt. Robert's ancestor Matattias Nahman was one of them. A merchant from northern Greece, he arrived last century to cash in on the boom created by Mohammed Ali's Modern Egypt. The owner of an imposing mansion in the center of the capital's commercial district, Matatias took to entertaining important hotes de marques. Among his guests were members of the Austrian Habsburgs. "It had something to do with my grandfather being educated in Vienna," recalled Robert who vaguely remembers the mansion's gold ceilings and other fancy accoutrements.
Because of its enviable location between what used to be the Theatre de l'Opera and the Daira Sania headquarters on Ataba Square (later Mixed Court Tribunals, now the square), Palais Matatias was sold many times over. If he ignored who were the building's last owners, Robert was aware that the demolition ball was on its way to flatten its remains. "This landmark structure was designed in the early 1870s by Ambroise Baudry, a French architect who built several other important villas during the last quarter of the 19th century. I read somewhere lately that he also designed the nearby pedestal of Viceroy Ibrahim's statue on Opera Square."
Ironical isn't it? That Cairo's remaining Nahman and the landmark Matattias (Nahman) building should exit the same year as though by agreement nothing was meant to remain of this once thriving kith.
A Nahman who also made it big was Robert's Uncle Maurice who, for a time, was one of Egypt's biggest antique dealers specializing in the Pharaonic era. Probably because he hadn't seen it, Robert failed to mention that this Nahman had featured as the mystery antique dealer-middleman in Shadi Abdel Salaam's award-winning film "The Mummy". For several decades, 'Maurice Nahman Antiquaire' at 27 Cherif Street (now a branch of Bank of Alexandria) was a must for Egyptologists the world over.
Another uncle, celebrated banker Victor Nahman, banded into the wealthy Rolo family of Alexandria. His daughter Celine married department store baron Salvatore Cicurel. "Cicurel, one of the most dashing members of Cairo's Jewish community and later it's president, dumped her for his secretary who provided him with an heir. She died a very unhappy woman" recalls Robert.
Preceded by eight sisters, Robert was the only son. As a result, his youth was punctuated with caprices catered to by a dotting mother and affably ignored by a merciful father. It was therefore during his early teens that Robert took up what quickly became his lifetime passion: horses. "Betting rather than riding and it all started with Arnous" recalls Robert with a smile so big it brought out the unseen wrinkles of eight decades.
"One day during our traditional Saturday lunch, I overheard my mother's cousin Joseph Ada of Alexandria tell her how anyone short on cash should bet on Arnous." A cursory glance at the day's French-language papers and one quickly realized Ada was referring to Baron Empain's prize horses mounted by the popular jockey Stefano.
Robert, barely 14 years old that afternoon, took the pointer and with LE 2.20 out of his LE 3.00 monthly allowance, bet the entire board at the Gezira Sporting Club. His winnings amounted to LE 280.00 (in today's terms would be the equivalent of over ten thousand pounds). Hurrying home to break the big news, Robert was greeted with a resounding smack from his mother. "She sequestered my winnings from which she eventually bought me a suit," sighed Robert as though it had all happened yesterday.
Despite his mother's alternating supplications and threats, Robert Nahman became a regular face at the races. When he couldn't make it to the club he hung out at the bookmakers on Emad el-Dine Street. The two-timing punter soon became an expert on Cairo's paddocks. "The best horses by far came from the stables of Baron Empain (son of the founder of Heliopolis) and sugar king Ahmed Aboud Pasha. Aboud's Arabian filly Boule de Neige brought me many a tidy sum" recalled Robert.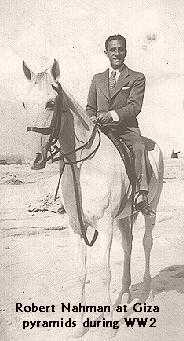 In Alexandria the Benachi, Smouha and Choremi liveries were considered the best. Other reputable stables sported the Levi and Ades colors. Monsieur Raji Coutran, owner of al-Ahram readywear--Malabess al-Ahram was a latecomer. According to Robert, Coutran's stables of courtesans were almost as beautiful as his horses.
And there was Mohammed Sultan Pasha, one of the largest landowners in Upper Egypt. The pasha having one day assured anxious betters that his favorite was a sure winner, reimbursed everyone when his horse didn't make it to the finish. "And," Robert adds excitedly, "whenever his horses won, Baron Empain offered rounds of champagne to his trainers Chaoul and Romano, and to a whole retinue of friends at Le Perroquet."
After the pashas and barons disappeared things went into a steady decline. None of the old largesse exists today. No royals or businessmen strut around the enclosures with their beautiful wives and girlfriends. "All one finds at the races now are scum and cheats--de la racaille!" exclaimed Robert. It was obvious he had kept up his old habits. In fact, until the end, anyone who wanted to meet Robert had the choice of either waiting for him when he arrived for Shabat services at the Chaar Hashamain Synagogue on Adly Street, or go to the Saturday races at the Gezira Club. The two venues were not mutually exclusive.
Robert sorely missed the exciting days when Maurice Silag, one of the two Hungarian Geza brothers, dominated the course and when his competitor Garcia dropped dead at the races. "These celebrated jockeys rode alternately for the Matossians (tobacco), the Cozzicas (alcohol) or the Cordahis (cotton)." Names forgotten today, but still familiar to Robert who had gone to school with their sons.
A graduate of the Lycee, the Jesuites and l'Ecole des Freres, Robert spent his childhood with Egypt's finest. Although he never made university--another caprice no doubt--he obtained a clerical apprenticeship in the cabinet of Maitre Ralph Green on Soliman Pasha Street, conveniently located opposite Café Riche which boasted a leased line to the club races.
During WW-2 Robert found lucrative employment with the Red Cross at the American army base of Huckstep not far from Payne Field Airport. He proudly evoked a 'Thank You' certificate received from President Roosevelt just two days before the American president died.
Another wartime tragedy with untold consequences for Robert was the unexpected death of his wife while in labor taking their unborn child with her. "We had been given a military honor guard at the Eliahou Hanabi Synagogue on Alexandria's Nabi Daniel Street only 17 months earlier." Robert never re-married.
Even before the few remaining thousands of co-religionist packed and left after the June 1967 war, Robert had made up his mind. "I've always had the choice to leave with the others. I could have relocated elsewhere but I didn't want to. That is not to say I haven't visited my relations in Europe every other year... now less and less because of age considerations." Until the end, Robert was one of the stalwart members of his palling community never missing a religious or merry occasion whether in the temple of Ben Ezra in Old Cairo, the small Maadi synagogue on ex-Mosseri Street, or during High Holidays at Chaar Hashamain in downtown Cairo.
In the 1980s one of Robert's sisters and her family came to visit from Italy. After Sadat's historic trip to Jerusalem other relatives came for short visits. Some urged him to leave but his answer had always been the same. "I am here for love of Egypt where I've always lived as a king. Several generations of Nahmans rest at the Bassatine Jewish cemetery and I shall join them at the given time."
Robert, looking frail and whereto when he expressed his sentiments in perfect French sounded very definite. He was going to be buried in the land where Prophet Moses was born and where it all began for his people.
His request was honored on Thursday, 21 October 1999.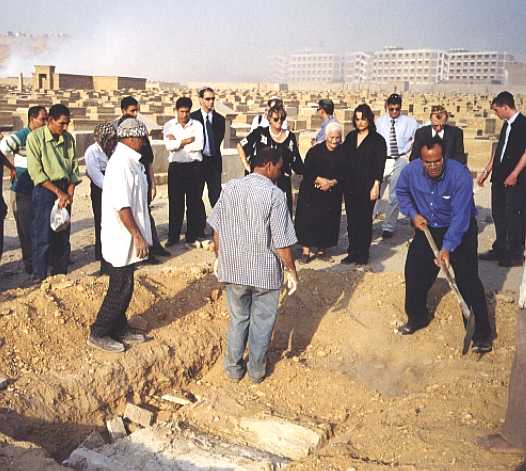 Click here for for Nahman family tree.
---

Reader Comments


Subject: Robert Nahman article.
Date: Fri, 18 Feb 2000 10:03:26 -0500
From: Carine Nahman


Hello sir,

My name is Carine Nahman and Robert Nahman was my uncle. I am very proud to see how loved he was and I want to thank you for the nice article you wrote about him. My sister should be writing to you very soon with more details concerning the family. I juist want to let you know that I cannot see the pictures that are attached to the document that was written on November 10, 1999. I would really like to see them. I was told that something must be wrong with the link.

By the way Robert had a brother (my father) who is still alive and his name is Maurice Nahman. But as I said before, my sister Silvana will write to you with alot of details concerning our family.

Thank you again for this nice article and if you are aware of something else that was wrtitten concerning the Nahman family, please let me know.

Carine Nahman

Email your thoughts to egy.com
© Copyright Samir Raafat
Any commercial use of the data and/or content is prohibited
reproduction of photos from this website strictly forbidden
touts droits reserves