egy.com suggests following articles
EGY.COM - JUDAICA
THE MAADI SYNAGOGUE:
If it lights up, it's Yom Kippur

Samir Raafat
Cairo Times, October 2, 1997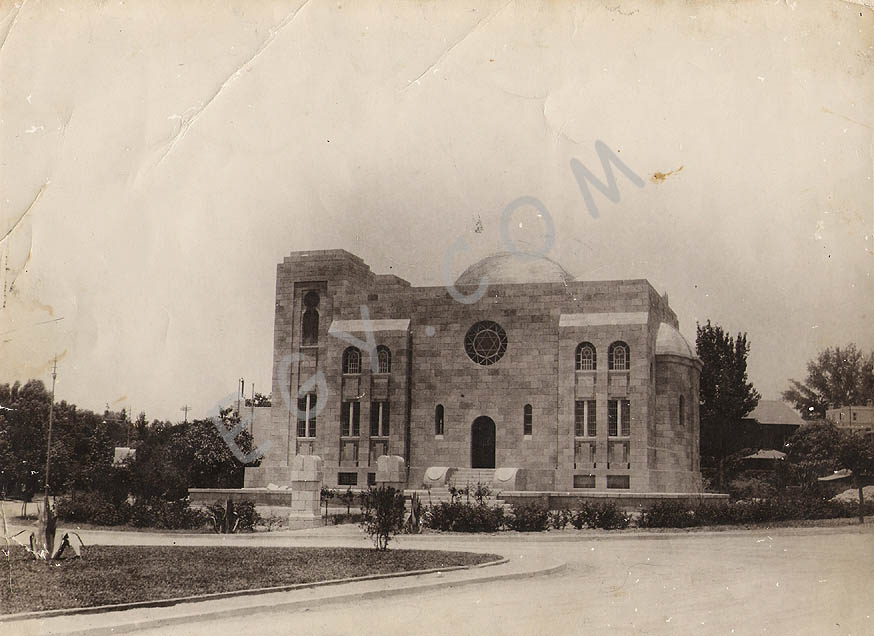 Meyr Y. Biton Temple when it was first built in the early 1930s (photo courtesy Nora Orbach)
If it lights up then it's Yom Kippur, exclaim those who live nearby. They are referring to the Maadi Synagogue which stands forgotten at the intersection of Maadi's Roads 13 and Orabi (ex-Mosseri Avenue).
Once every year, the desolate Meyr Biton temple comes alive when for two nights running, lights and chants filter out of its geometric shaped stained glass windows. One of the two high holidays on the Jewish calendar is Yom Kippur or Day of Atonement. It is the last of the ten days of penitence, the first being Rosh Hashanah which is the equivalent of New Year. And since the Jewish New Year starts on October 1, expect the Maadi synagogue to jolt awake on October 10 and 11.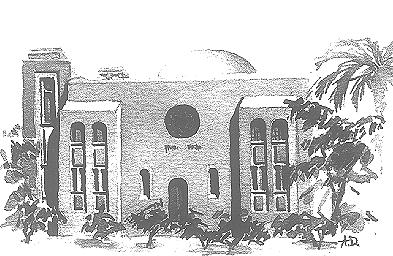 But why congregate at the Maadi temple and not Chaar Hachamayin, the centennial pharaonic like temple located on Cairo's Adly Street?
Perhaps the answer lies in Old Cairo where the learned medieval scholar Maimonides once advised that 'every man should confess his sins and turn away from them on Yom Kippur.' His idea was that mortals should enter Yom Kippur with a clear conscience. Somehow this means Talmud observing Jews are forbidden from eating, drinking, washing or even wearing shoes on Yom Kippur! By extension, no driving, cycling or commuting. With that in mind, Maadi's practicing Jews are left with two options: either stay at home unable to watch TV or answering the telephone, or walk to the nearest synagogue which in this case happens to be Meyr Biton.
In addition to the adjacent apartment building and its interconnecting garden, the temple was also created by Meyr Yehuda Biton in 1934. Not only was Biton Maadi's primo interwar landscaper when the town was still run by the Delta Land & Investment Company, but it is thanks to his lifetime dedication to the beautification of Cairo's garden suburb that different trees still line Maadi's avenues, streets and midans. Until WW-II Biton was in charge of Delta Land's prolific apricot, prune, almond and apple orchards which occupied large chunks of Digla and the area east of Road 18. Long after he died in the 1940s, Meyr Biton was remembered as one of Maadi's unique characters. Called Khawaga 'Batoun' by Maadi's gardeners, they feared and respected him knowing he did not tolerate laziness or loitering on the job --they were forever alert should he catch them napping as he made his endless rounds on his reliable donkey. Another telltale sign that Maadi's landscaper was patrolling the shaded streets was the bobbing Australian bush hat with which Biton never parted, a legacy from the Australian Light Horse Brigade that had camped in Maadi during WW-I. Maadi's gentiles on the other hand refered to him as old Mr. Mangos & Bananas, a play on his initials.
Once Biton and his wife (Regina Chamma Levi) completed the purchase of the 3,174 sq.m. tract of land from the Delta Land Company they entrusted the design and building of the Maadi temple to Delta Land's engineer Isaac Kipnis. If part of the construction funds came from the Bitons own pocket, the rest was came in the form of donations from Maadi's Jewish community, not all of them practitioners. A picture taken during the 1933 groundbreaking ceremony shows Maadi's grandees were in attendance -- Moslem, Christians and Jews. Seated next to Egypt's Grand Rabbi Haim Nahum is financial mogul Elie Mosseri Bey, Delta Land's chairman. It was in his honor that the street running from one end of Maadi to the other was named Mosseri Avenue (today Orabi Street). Missing from the picture however is Maadi's part time rabbi, Albert Ferro.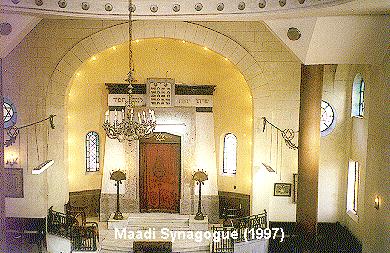 The temple's congregation included two presidents of the then thriving Cairo Jewish community. If Salvatore Cicurel Bey of the famous Cicurel & Oreco department stores represented the Sephardic community, court jeweler Isaac Liscovitch presided over Cairo's Ashkenazim. Maadi's Jews also included a pasha and several beys. Emanuel Mizrahi Pasha whose house would one day become the Mexican Embassy residence, is heeded not for having been King Farouk's trusted lawyer as much as for being history's last Jewish Pasha. (Titles and honorifics abolished after 1952 coup which toppled Farouk).
Because Maadi did no lack in prominent and not so prominent Jewish khawagas and businessmen, weddings, Bar-Mitzvahs, Purim, Hanukah, Yom Kippur, Pesach and Rosh Hashanah were routinely celebrated at Maadi's temple. During WW2 the shofar was heard even as Rommel advanced towards Alamein. It was during that period that all of Maadi turned up at the black-draped temple for the memorial service of Micheline and Paulette Hazak, two schoolgirls at the nearby Miss Purvis School (today Canal School) who were victims of the typhoid epidemic. If anything, the above manifestations, both sad and happy, added character, color and diversity to Maadi's rich cultural life.
Today, neither the temple's expatriate worshippers nor Maadi's citizenry for that matter know the story of the synagogue. To them the name Biton is simply an engraved inscription on the face of a dusty Maadi landmark.
Email your thoughts to egy.com
© Copyright Samir Raafat
Any commercial use of the data and/or content is prohibited
reproduction of photos from this website strictly forbidden
touts droits reserves