egy.com suggests following articles
EGY.COM - JUDAICA
FORGET THE PRESS AND
CHECK OUT THE SITUATION ON THE GROUND

Samir Raafat
Lead editorial: Egyptian Gazette on March 10, 1997
FOREIGN Minister Amr Moussa was chastised in Washington about rampant media anti-Semitism in Egypt. In New York, the New York Times published a one page advertisement elaborating the issue just as President Mubarak began his US tour. The accusations were founded on reports and editorials from the Egyptian press. Not unlike free and semi-free press elsewhere, there have been occasions where criticism of the Jewish State's policies denying the rights to an entire people - the Palestinians, have fudged some of the issues at hand. Nobody's perfect.
But what is the situation on the ground? What is really happening in Cairo and Alexandria where Jews, albeit in small numbers, live. Are they, as the anti-Defamation League alleges, the butt of anti-Semitism? Are they being denied their rights to live a decent life? Are the corralled into ghettoes? Are there claims to pray at the disputed synagogue on Sabbath disputed? Are they unable to celebrate Rosh Hashanah, Sukot and Yom Kipur in the Meyr Biton temple in the suburb of Maadi where most of the Israeli diplomats live, drive, shop and play softball? Are Jews in Egypt refused their savings in the banks? Because it they are, then please, will someone point it out to us.
What we see in Cairo are Jews from all nationalities including Israelis leading a regular life. By far the largest amount of expatriate Jews are Americans. Like other Americans, they eat, sleep, jog, attend parties, date, watch movies and munch non-kosher Big Macs. Like the rest of the expatriates they lead a comfortable life in no way different from American Christians or American Moslems. They are not socially ostracized and are omnipresent at all the social functions. They are invited to give public talks at civic associations and community organizations. They are welcomed in the homes of Egyptians across the social spectrum ranging from the very privileged to the very modest.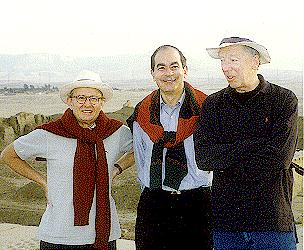 And if anti-Semitism hate is rampant here, as the New York Times ad implies, why then have several Jewish members of US-related organizations operating in Egypt choose to remain after their contracts ended. Why did a US-AID expert take up a job in an Egyptian environmental office after he was discharged from his US government job? How come these are so Jews of all nationalities working in the Egyptian private sector (hotels, banks, beverages) occupying the senior most positions? They could have walked out. But they haven't.
Why was it never contested that the principals of Cairo's' most sought after school is Jewish with an Israeli wife whose sons served in the Israeli army? The couple have been in Egypt for five years. Would they have stayed if they had been subjected to anti-Semitism? And if Egyptians subscribe to Western-type bigotry and anti-Semitism, would the power and moneyed elite have sent their children to the school in question where a proportion of the teachers are Jewish?
Several of the most senior members of the Israeli Embassy in Cairo - from the ambassador Zvi Mazel to the consul Joshua Gabby - are serving in Egypt by their own choice for a second time. Mazel had the choice of going to Brussels, yet, when Egypt came up, he didn't hesitate. This is where he wanted to go and this is where his son Yosi celebrated his Bar Mitzvah in the early 1980s with Egyptian guests attending. Would he or his Jewish French-born wife have accepted to come back if they were the butt of anti-Semitism?
Would the Jewish community of Cairo have spent any money on renovating the offices of the Grand Rabbinate giving it its much overdue paint job if they felt that it would be the target of anti-Semitic graffiti, like what you see all over Western capitals from Hamburg to Carpentras? Would Lord Yehudi Menuhim have accepted to perform in the Cairo Opera and would Lord Rothschild have wintered in Luxor if Egypt was indeed the country of hatred and discrimination?
What we are never told in the Western and Israeli Press is how, when the 'civilized' West was sanctioning the worse kind of anti-Semitism half a century ago, Egypt was a safe haven for its resident Jews and those fleeing the cauldrons of Europe. We never hear about Jews having participate in the country's economic, political, social and cultural life unimpeded from the discriminations that had denied them a humane existence in Europe.
Even after the creation of the State of Israel in 1948, Jews formed an integral part of Egyptian society. Yet, in order to discourage over 50,000 of them from staying on, Israel found it necessary to resort to covert operations in Cairo and Alexandria in order to destabilize the situation and make it untenable for Jews to remain. Up until today the full implications of the 1955 Lavon Affair or Esek Bish have not come to light.
Then came the invasion and occupation of Sinai by Israel in October 1956 and again in June 1967. The rest is history.
Unfortunately, more often than not, what we heed in the West is only what Israel's American lobby wants the world to hear. If the Egyptian press is due for criticism, the same can be said about the free press elsewhere which distorts the facts with equally devastating repercussions on the people they are supposedly defending.
Caption: author of article flanked by Lord Jacob Rothschild (tall man) and Egytpian-born banker Gilbert de Botton (grand son in law of Sir Issac Wolfson), Temple of Edfu, 1996.
---



Email your thoughts to egy.com
© Copyright Samir Raafat
Any commercial use of the data and/or content is prohibited
reproduction of photos from this website strictly forbidden
touts droits reserves