EGY.COM - VICTORIA COLLEGE
VC BULLENTIN BOARD

Following announcements are from various Victoria College Associations and individuals
---
Date: Sat, 19 Feb 2005 07:19:29 +0100
From: "Jean-Louis Tamvaco" tamvaco@noos.fr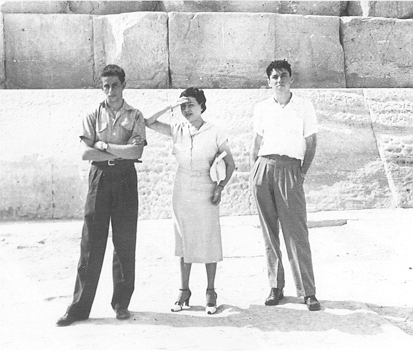 Samsoun Kelada, Aziza and Jean-Louis Tamvaco
I am sending you herewith sad news. This concerns the death of VCA boy: Samir Kelada Antoun who passed away last May. Samir Kelada Kelada Antoun nicknamed Samsoum pased away during the first days of May 2004 in Alexandria. The sad news came from his sister Zizi (Mme Aziza Fahmy) along with her New Year wishes. Samsoun and I had been inseparable friends since Prep school Form I, but he had been first in the VC Kindergarten before I was enlisted. He and I invariably spent our Christmas vacations in Aswan in his family's property, on an island on the Nile at Aswan facing the Elephantine Island and the Kitchener botanic garden, also on an island. I unfortunately lost contact with him after I left for France to study art. He was not much of a writer and had already started to live like a new Robinson Crusoe! He was born around October or November 1930 in Alexanndria, thus my senior by a few months, since I was born on May 29, 1931 in Alexandria.
---
Subject: Victoria Reunion
Date: Fri, 02 Feb 2001 10:37:32 -0500
From: Costa Caradimitropoulo
Organization: MGA Systems, Inc.

I am Costa Caradimitropoulo, Alex VC Class of 50. Friends were Samir Zalzal, Fayed Pharaony, George Bachour, Fouad Yazgi, Laki Apostolides etc.. We have reunions every year and now we have combined with EGC and Sacred Heart to increase attendance. We mail out the programs and hope that our friends will join us. In July 2000 we had it in Agadir, Morocco, this year in September we are organizing in Antalya, Turkey. we usually have about 65 to 70 people coming. Is there any way we can post the programs for the next reunion? By the way we are e-mailing the programs instead of mailing. We need more people from Egypt, we have enough from the rest of the world. Nice job you have done with the site. Bravo.

---
Subject: VC REUNION IN UNITED STATES
Posted on: Tue, 19 Dec 2000 14:39:47

My name is Hala Askar and I am a graduate of Victoria College of Alexandria, Class of 1981. I live in Dallas, Texas and have discovered primarily through this website, that 5 other classmates are also living in the US. We are planning a small reunion over the weekend of June 2nd, 2001 in Washington DC. We are not just restricting it to our class, but we are extending the invitation to all Old Victorians who are interested in joining us in rekindling fond memories of mutual teachers, events and, ofcourse, Alexandria. Please contact Hala at (214) 373-0756 or e-mail
---
Alexandria-born Old Victorian Gilbert de Botton passed away in France aged 65. Read his London Times obituary of 30 August 2000.
---
Mini meeting expected to take place in Los Angelos last week of August 2000. Contact Elie Moreno for details.
---
Subject: Hani Khadr passes away
Date: Fri, 13 Feb 1998 18:55:17 -0500
From: Hani Badawi
Subject: Sad News
It is with great sorrow that we announce that Hani Khadr (VCA - Class of 1962) passed away last week after a short fight with cancer. Our sorrow, grief and condolences are extended to his family. Two of his brothers (Abd El Aziz Khadr and Adel Khadr are also OV's, classes of 1964 and 1969, respectively).
---
A wedding fit for a pasha: Elie moreno's post-nuptial celebrations in Cairo. (posted on November 23, 1998)
Also visit consult Elie moreno's homepage on the Sharm al-Fsheik meet ot April 1998 posted on May 10, 1998
---
Subject: FERNANDO SCIAMMAS CLASS OF '54 - A MATTER OF IMPORTANCE
Dear friends
I would like to take this opportunity to solicit your assistance in a matter which is of the utmost importance. Several years ago, a schoolmate of ours Fernando Sciamas (ne Chemmas) Class of '54 suffered a stroke which has changed the course of his life. As a talented architect in Florida, his future was bright, and his financial security guaranteed. After the stroke, things started to go downhill for him financially, and now, he is in the sad position of having to sell his home. Worse, his home was recently burglarized, and his source of livelihood, his computer and architectural software were stolen. Since software cannot be insured for loss, he found himself in very difficult financial straights. Marc Franjiadakis, who is a close friend of his, and who spoke to him last week, suggested that maybe we, his schoolmates, could help by contributing $200 (or more) to an account set up purposely for this matter. Nigad Saladin ('55) in coordination with Fernando's cousin Victor ( ne Fawzi) Lichaa ('54) opened an account at the Bank of America in Nigad's name to be used as a conduit for sending funds to Fernando in his time of need, without hurting his feeling too much. The details of the account which is now open are:
Sort Code 121 000 358
Account # 05973 60100
Bank of America, 110 Alamo Plaza, Alamo, California 94507, USA
Nigad Saladin's fax number in Leipzig, Germany is: 49-341-996.9305
Nigad's new address (as of Feb 24) is: c/o IAB Prager Strasse 40, D-04317 Leipzig, Germany.

---
Important message for the Class of '56 & '57
It all started in Los Angeles this past July 1997 when Farid Ezzat, Elie Moreno and Talaat Badrawi - all Class of '56 - got together with their wives at Elie's pad on Wilshire Blvd, and then, as guests of Moreno, had a sumptuous dinner together at Mr. Chou's in West Los Angeles. They had such a great time reminiscing and just plain goofing off, that they decided that it might be a good idea to organize a private reunion of what they aptly called the "Last Victorians."
This idea, was circulated to some '56 graduates with known email addresses including Samir Guirguis , and Philippe Bercovitch and others to elicit expressions of interest to this proposed reunion, and the response was positive. Subsequently, Elie Moreno had a small get together in Egypt with some of the '56 classmates like Ashraf El Sherif Hussein Shahine and others, and again, the response came back positive.
Not as to appear too elitist, the consensus of opinion of who qualifies as a "Last Victorian" was expanded somewhat to include the classes of '52-'57. Also, in deference to seniority, anyone who graduated prior to '52, & is still around and kicking, is welcome, and is automatically entered in a very rarefied group of Victorians upon which the newly minted prestigious title of "Ancient Victorian" has been bestowed
In order to organize the proposed gathering successfully, we had to establish certain parameters & address some issues. The following are some of our ideas that we hope will meet with your approval.
1. The logical location for such a gathering would be Egypt, and the reason is twofold, (a) sentimentality & (b) reasonable prices.
2. Many friends haven't visited their alma matter for a very, very long time, and it would be heartwarming if they could have this opportunity once again. Also, others, haven't been to Egypt since the late '50's, even though they were born and raised there, and a reunion such as the one being proposed, will give them a good excuse to come and visit their old stomping grounds.
3. The fact that Egypt is still cheap, enables us to organize such a reunion within most budgets.
Assuming that we all miss one another enough for the guys traveling from abroad to allocate 10 days in Egypt, we propose the following agenda :
* Three to 4 days in Sharm El Sheikh, Sinai to include snorkeling or Scuba diving, & a one day boat trip to Ras Mohamed at the tip of the peninsula. Single day side trips to St.Catherine's Monastery, or to Petra in Jordan can be readily arranged
* Two to 3 days in Cairo for reminiscing (visit to Victoria College, Maadi), belly dancing show, Sound & Light show by the Pyramids, visiting our homes, and doing some shopping.
* One day at someone's country home in the Delta.
· Three to 4 days between the exquisitely restored Cataract Hotel in Luxor, & the Winter Palace Hotel in Aswan for some culture, & intellectual discussions. Or alternatively, a 4 nights Nile cruise between Luxor & Aswan (or vice versa)
· * Alexandria & the North Coast optional for those who have the time & inclination.
* Any other suggestions from anyone reading this message.
The timing of this happening is proposed to be some time in March, but in order that we may organize it properly, we need your feedback, and expressions of interest ASAP.
This message is going to all of you for whom we have email addresses, and a hard-copy is being mailed to all the local Last Victorians who are devoid of email.
For those of you living overseas & who have receive this note, please forward it to the attention of other Last Victorians living in your own country, or close by, either by email, and lacking that, by snail mail.
It would be great if we can bring this reunion to fruition, so all of you out there pitch in and make it a success. We would like to hear from you by November 15 at the latest.
Our best wishes to all.
Talaat
PS: The volunteers who are trying to put this together can be reached at the coordinates shown below.
Ashraf El Sherif
Phone/fax: 2-02-340-7992
Address : 4a Ibn Zinky St. Apt.10
Zamalek, Cairo 11211
Egypt


Talaat Badrawi
Phone: 2-02-585-0436
Address: 24 Ahmed Kamel St.
Giza, 12111
Egypt

---
For a copy of VCNA (Victoria College North America Association magazine) contact:
51 Worcester Road
Rexdale, Ontario M9W 4K2
Canada
tel (416) 213-4581
fax (416) 213-4586

The magazine is edited by: Adib H. Barsoum
R.D. #7, Old Route 30
Greensburg, Pennsylvania 15601
USA
tel (412) 537-9100
fax (412) 539-7074

Email your thoughts to egy.com
© Copyright Samir Raafat
Any commercial use of the data and/or content is prohibited
reproduction of photos from this website strictly forbidden
touts droits reserves