egy.com suggests following articles
EGY.COM - PROBLEMS & ISSUES
WHATEVER HAPPENED TO HIPPOCRATIC OATHS?

by Samir Raafat, EGYPTIAN MAIL, September 23, 1995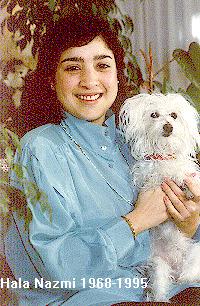 HALA died in her late twenties. Could her sudden departure have been avoided is the painful question her parents will have to live with in the years to come as they gradually recover from their initial shock.
I've known Hala all her life. She was my neighbor as well as the only daughter of a childhood friend. I remember when she first arrived in Egypt, a crying bundle in nappies. Her father, an officer in the Chemical Engineers Corps was doing post-graduate work in Leeds when along she came. As her dad pursued his studies in the U.K. Hala's mom, the scion of a landed family, kept house. Hala, in the meantime, spent her early yearss with her maternal grandmother in Maadi.
When her parents returned to Egypt it was smooth sailing all the way: First, Hala welcomed the arrival of a younger brother, then she was off to the German school in Dokki with holidays in Alexandria and summer camps in Europe. By the time Hala's father made general she was studying sociology at AUC full of teen-age dreams and typical adolescent problems. Next came graduation followed by the nine-to-five job. Hala's was at the American Embassy's Protocol Department. Her colleagues liked her and her bosses respected her. On 14 July 1994, she married a young agricultural engineer. Hala was now looking for her place in the world. It all seemed so normal, so ordinary and so happy.
When Hala complained from blurred vision, the ailment was diagnosed as a side effect due to her being a mellitus diabetic. Not taking any chances, Hala and her mom (an AUC graduate) traveled to Boston and checked into the Joslin Diabetic Center. Retinopathy was identified and laser intervention conducted. "If the situation deteriorated surgery was the likely option" said Hala's US doctor.
The intervention improved things only temporarily and a second trip to Boston confirmed a vitrectomy was the best alternative. By then Hala was in early pregnancy and it was either an induced abortion or postponing eye surgery until the fetus nervous system was fully developed. Her case, as the reports would later show, was not urgent. And since Hala chose to keep her baby, the Boston MD recommended that in Cairo she consult an Egyptian ophthalmologist (medical eye doctor) known to him personally.
The eye doctor in question was prominent and needed no further introduction by his Boston colleague. Moreover, Hala learned he had been a school buddy of her late uncle. She was seemingly in good hands. The doctor had a thriving surgery and ran a private eye center in Mohandessine. Although called a hospital, it is an elaboration of his clinic which is situated in another part of town.
At some point in the doctor-patient relationship the eye surgeon demanded Hala go ahead with the operation even though some days earlier he had described her eye situation "under control and improving".
Hala's medical file including that prepared by her primary-care doctor declared her ok: blood sugar-level (glycosylate hemoglobin) controlled; kidney function (creatinine) controlled blood pressure normal. "hy the rush?" asked the mom. Inquiries regarding her daughter's advanced pregnancy and a request to postpone the operation drew an annoyed retort from the eye surgeon. The decision was not open to debate. The operation was scheduled at his private "hospital".
Some patients are familiar with situations when doctors pontificate in their surgery. This was another typical situation where the worried mom was not about to drive a wedge between a doctor and his patient especially since he would soon operate on a sensitive part of her daughter's body. Moreover, the doctor had his plate full and is himself of precarious health.
At 08:00 Tuesday, August 22, Hala, her husband and her parents walked into the eye surgeon's "hospital" in Mohandessine for what was to have been a 12 minute surgical intervention. Once over, each one could get on with his or her life.
But what took place in the next few hours put an end to Hala's life and shattered her entire family.
First, the anesthetist showed up at about 10:15. Because he was unfamiliar with the patient, Hala's mom briefed him on her pregnancy and mellitus diabetic situation. She supplied him with the medical file. Close to 12:00 Hala was rolled into the operating room. At around 12:45 the eye surgeon called Hala's hospital room and informed her mom the operation was a "technical" success. The implication of his words rang no bells at this point. "Hala would arrive shortly once she recovered from anesthesia."
Hala never recovered. Since the "hospital" doesn't have an ICU (intensive care unit), Hala was wheeled back into her room at about 15:00 looking purple in an advanced state of fits and convulsions gasping for breath. Despite primitive attempts by so-called nurses - hair pulling, pinchings, slapping etc. - she did not respond. As there were no signs of progress her mom sent for the anesthetist. He arrived in his green smok and despite the obvious anomalies persisted in re-assuring the alarmed parents everything was under control "it takes some patients 5 minutes to revive and it can take others up to 5 hours."
This was not Hala's first encounter with anesthesia; she had been operated before and none of these frightening symptoms had manifested themselves.
At about 15:30 the eye surgeon came by, stood at the door, glanced at convulsing Hala and summoned her mom into his office to tell her something had "happened" without explaining what. He then asked she be relocated to a hospital in Dokki because his own facility lacked the necessary equipment for that kind of situation. He did not elaborate on "situation". And because his "hospital" had no ambulance, one would be brought from other quarters. Transferring the convulsed patient to another hospital was his primary concern now.
Since the other hospital's ambulance was in Alexandria at the time, a substitute had to be found. Just as Hala's parents contemplated transporting her in their private car an ambulance finally appeared.
An unconscious Hala was admitted into a Dokki hospital at around 17:10.
By then the situation was diagnosed as perilous. "Edema - water in brain and lungs - was one of the statements overheard by the dazed parents. The details that emerged in the next days suggested a distortion of medical truths and emotional situations that were more complicated than admitted.
Hala died at 07:50 on Thursday, August 24 without ever regaining consciousness. Cause of death "severe ischemia", as noted in the eye surgeon's hospital report.
The heart of her unborn baby boy stopped beating shortly before the mother passed away. Earlier tests - alpha fetoprotein & amino synthesis - had evidenced a normal pregnancy.
Hala was the victim of a sudden drop in blood pressure and insufficient oxygen pumped into her system with brain damage resultant. What took place after she was removed from the operating room was to no avail. The damage with fatal consequences had set in even before she left the operating theatre. This was the general unpublicized consensus.
Now if you think this only happens to others, you are mistaken. It can happen to you or to those closest to you especially in these periods of medical consumerism and big 'private hospital' business. Have you noted the amount of private hospitals that have mushroomed all around us. Are regulatory agencies able to cope with this unprecedented surge?
But the real question is: How do you write off something of this magnitude? Who do you turn to for an explanation or for the "what if"? How do you rationalize a situation when someone with no apparent consuming disease delivers himself in the hands of a leading professor for a routine operation and never comes out.
There is always the simplistic rationale: Fate. Her time was up? She answered a call from her Creator.
Right. But fate is one thing and negligence is another. Like the dervished eye doctor, Hala's parents are believers in God and His wisdom. But is it easy to accept death, no questions asked when you are almost certain the untimely departure could have been avoided?
Shadows of doubt wondering endlessly in your mind.
Was the "hospital's" overworked operating room ready for such emergencies? Had the operation taken place in a bona fide hospital would the patient have made it? After all, it was the eye surgeon himself who told Hala's mom (far too late) his hospital lacked facilities for this kind of emergency. Is his poor health affecting his professional capacities and impairing his judgment? Has the devout doctor forgotten his Hippocratic oath? Innocent lives are at risk!
In normal circumstances, unexpected deaths are met with shock, followed by denial, by anger and later by acceptance. But when there is lingering
Doubt, however small, that death could have been avoided, there is no rest. No real acceptance. Only the 'getting used to pain'.
But how do you follow up on your suspicions. The normal procedure is filing a complaint with the concerned syndicate or with the regulatory agency that issues licences to practise and hospital permits. Alternately, protest to the ministry which supervises medical centers, clinics and hospitals ensuring they fulfill their obligations and adhere to minimum required standards. As a last resort you can appeal to the collective conscious of the medical profession and hope they won't close ranks against you. Failing all that, all you are left with is tormented grief and frustrated acceptance.
Meanwhile, where are the citizens action groups?
"Never heard of them."
Where are the watchdog associations?
"Don't exist."
Where are the organizations for the protection of this or that cause?
"The government is responsible so why should I involve myself."
Little wonder apathy is all around us. The vicious circle of "what can I do all on my own?" or how about the famous cop-out "if the government shows an interest then I too will do my bit" ensures we'll forever remain helpless against perpetrators of social injustice, malpractitioners, negligence etc...
And until we do what citizens have done in other civilized parts of this planet, which is active involvement in the community we live in, little will be done for the good of the whole.
Beware, there is a whole world beyond your front door. Look at what happened to Hala. She had everything going for her and yet something went very wrong. Perhaps it could have been avoided. Will you take that chance?
Don't sit on the sidelines. GET INVOLVED. If you know of similar or comparable cases share them with the public. Write Hala's parents at No.7 Road 21 Maadi, EGYPT.
Email your thoughts to egy.com
© Copyright Samir Raafat
Any commercial use of the data and/or content is prohibited
reproduction of photos from this website strictly forbidden
touts droits reserves